Everyone tells you that you must drink more water, but plain water is so boring!
If this statement describes your situation, you may like to check out sparkling water for your hydration needs.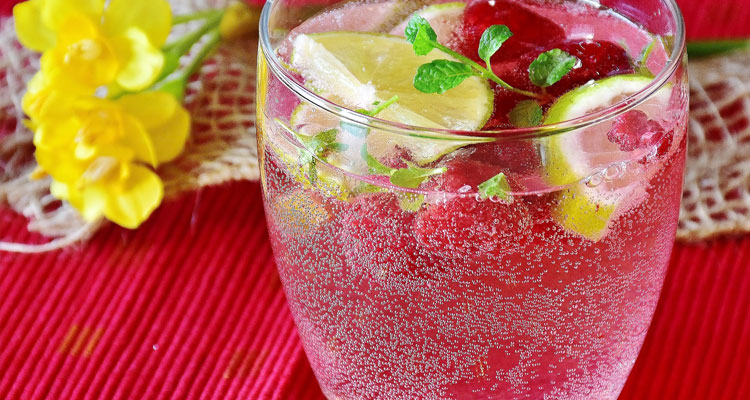 Sparkling water is regular water that has been infused with carbon dioxide to convert it into a bubbly drink. The fizz factor makes it much more appealing than flat water.
There are many brands of sparkling water in the market. However, you should know that not all brands are made equal. While some of them taste amazing with enticing flavors, others are highly disappointing in terms of taste and quality!
So, if you are new to sparkling water, let us save you from numerous trials to locate your favorite and look at one of the front-runners—Bubly from Pepsi Co.
Bubly (spelled with just two 'b's') wins full points for attractive packaging. Bubly cans look spectacular with their picture-perfect, cheeky pastel colors and funky prints.
Most flavors come in a single, saturated color with emojis or cheerful prints like polka dots printed on them. The can color tie to the taste within. For instance, yellow Bubly is mango-flavored while red Bubly is strawberry-flavored water.
Now, put aside the attractive packaging. Bubly still emerges as a popular favorite. So, what sets it apart from types of seltzer?
Let us find out.
How Does Bubly Compare with Other Sparkling Water Brands?
The main benefit of sparkling water is that it makes hydration easy. After all, nothing is interesting about plain, flat water. However, add a little fizz, and it is suddenly very appealing.
Sparkling water is also a good substitute for carbonated beverages. So, it would be a great drink if you are trying to cut down on cola and other aerated drinks.
Most brands of sparkling water do not contain sugar or other additives. Hence, it is healthier than other beverages. Not only will it quench thirst, but it will also make you eager to consume more. Thus, the high demand for sparkling water.
Now, moving on to Bubly and its claim to fame!
The best thing about Bubly is that it has bold and robust natural flavors. However, it doesn't have artificial sweeteners or additives. Bubly is calorie-free as well.
Till the time Bubly entered the market, La Croix was the unbeatable champ enjoying top-dog status amongst sparkling water brands.
However, with Bubly's appearance, La Croix began experiencing fierce competition with certain flavors becoming more popular than La Croix classics.
A notable factor about Bubly is that the flavors are more aromatic than other brands. Users also love the fact that Bubly leaves no unpleasant after-taste.
Now, let us look at the brand itself.
Did you know that Bubly works towards various good causes?
In October 2019, Bubly partnered with Susan.G.Komen to raise self-awareness about breast cancer. Apart from featuring Susan.G.Komen branding on their grapefruit-flavored cans, the brand also donated a whopping $100,000 to breast cancer programs.
Bubly also supports the Stonewall Community Foundation that impacts over 600,000 LGBTQ people through leadership programs, grants, and scholarships.
So, it is no secret that Bubly is one of the best sparkling water brands that appeals to not just your taste buds, but also your conscience.
Trying all the Bubly flavors was my summer project. I've always been a big fan of flavored sparkling water. For me, it's the perfect refreshment on a hot day. And I love that there are so many options!
So I went to my local Walmart, and they had a whole display with all the flavors of bubly. I picked up 16 flavors, came home, and tried them all.
Apple
Blackberry
Blueberry Pomegranate
Cherry
Cranberry
Grapefruit
Lemon
Lime
Mango
Orange
Peach
Pineapple
Raspberry
Strawberry
Watermelon
White Peach Ginger
Let me start by saying that there are no bad flavors because what you think tastes bad, someone else thinks tastes delicious!
I picked these out of the 16 because these were the ones I liked the best.
Here are my rankings!
1. Pineapple
I never used to be a fan of pineapple sparkling water. I had tried it before and really didn't care for it. However, this drink changed my mind about drinking pineapple sparkling water. It is so good! I would say this flavor is one of the best pineapple flavored drinks out there, in my opinion. It has a nice strong flavor which I liked.
WHAT WE LIKE MOST:
Delicious when chilled
Thirst-quenching and refreshing
Realistic pineapple flavour
When you are tired, it is especially refreshing and quenching. It is not too sweet, nor does it contain artificial sweeteners.
2. Blackberry
I like the taste of this drink. It is not overly sweet and has a good fruity fragrance. The flavors that were in there were good, but the blackberry flavor did not remind me of blackberries very well.
WHAT WE LIKE MOST:
So refreshing and flavorful
No artificial sweetener taste
Sucralose-free
I recommend this drink to anyone who is looking for a zero-calorie soda alternative that tastes good.
3. Cherry
If you are looking for the perfect summer drink without any of the calories, cherry-flavored bubly is your best bet.
WHAT WE LIKE MOST:
Zesty drink with just a hint of sweetness
Naturally flavored with zero calories
Tastes best when chilled
More tart than sweet
Do you always steer clear of cherry-flavored sparkling water? We understand your predicament. Yes, cherry-flavored sparkling water usually tastes artificial and hence is disastrous!
Fortunately, the cherry flavor from Bubly is different. It comes very close to cherry soda with its subtle tone of sweetness balanced by the sharp tartness. It has no caffeine, no sweeteners, and no colors. So, Bubly gets as close to the original taste of cherries as it possibly can.
Now, be warned that the cherry flavor may not be the best choice for those of you who prefer citrusy sparkling water. This is heavy on the palette. However, if you love the natural tanginess of cherry fruit, you will find this flavor excellent.
4. Lime Flavor
Bubly lime sparkling water is just right in every way—it is mild, refreshing, and thoroughly invigorating.
WHAT WE LIKE MOST:
Original and zesty lime flavor
Very summery flavor
Perfect replacement for soda
Bubly lime-flavor sparkling water is the best substitute for soda and sprite, the bonus being that it has none of the bad stuff like sugar, artificial sweeteners, or calories. So, if you are trying to kick your soda or soft drink addiction, opt for Bubly lime-flavored sparkling water, and you will sail through without a hitch.
This is also a great choice if you are looking for a refreshing drink that isn't heavily flavored or intense. The lime flavor is not only a great drink on its own; it is a reliable mixer as well. The hint of tartness makes it very satisfying and refreshing.
Drink it ice cold on a hot summer day, and it will leave you energized and well-hydrated.
5. Peach
The peach flavor was very subtle which I liked. I am not a fan of overly fruity drinks so this was a great balance for me.
The carbonation isn't overpowering like some other brands but it definitely gets your mouth watering for more.
WHAT WE LIKE MOST:
Smells and tastes pretty good
Delicious zero-calorie drink
Lots of carbonation
So if you're expecting something super peachy, this isn't for you. I would buy this again if it were available in my store again. I also plan on buying this at some point in the future to use as a mixer or just to have on hand!
6. Grapefruit Flavor
If bitter is your style, the grapefruit flavor from Bubly with striking tartness will not disappoint!
WHAT WE LIKE MOST:
Bold flavor
zero fat, sodium, carbs, and sugar
Very fizzy
No aftertaste
Filling
The grapefruit flavor from Bubly comes in the cutest-looking cans. It also has a vibrant flavor profile when compared to other variants of Bubly.
The fruity flavor is distinct, crisp, and refreshing. So, if you love grapefruit, expect to get addicted to grapefruit from Bubly.
This flavor is strong with a distinct aroma. Due to its intense tartness, it is an excellent choice for a carbonated drink. It will fix your thirst immediately, but without any sugar.
Although the grapefruit flavor is active, it isn't overpowering. Hence, it can also be used as a mixer. Add a pop of flavor to tasteless, dull drinks with grapefruit Bubly, and it will keep you refreshed and hydrated when you need it.
7. Watermelon
I've tasted Lacroix watermelon before, but this one is different. The best way I can describe it is like a slightly fruity cucumber. It doesn't really taste like watermelon, but there are some hints of it here and there.
WHAT WE LIKE MOST:
Freeze it slightly for a slushy treat
Smell of fresh watermelon
There's no chemical aftertaste
It's crisp and refreshing, but the aftertaste is a bit weird.
8. Mango Flavor
WHAT WE LIKE MOST:
Available in summery yellow cans
Zero calories and artificial flavors
Carbonation level is good
Bubly mango flavor has an amazing flavor profile that invigorates the taste buds and leaves you craving more.
Mango is not the best flavor for sparkling water, especially since it can be quite sweet and leave an aftertaste. However, Bubly mango-flavored sparkling water is a decent drink.
If you want to enjoy the taste of mango-flavored Bubly, have it chilled. Upon opening the can, the first thing you will notice is its amazing fragrance. A single whiff will remind you of tropical orchards with juicy, ripe yellow fruits dancing in the sun.
As far as taste is concerned, it has a very subtle mango flavor. The drink is slightly sweet, and there is no hint of bitterness. One of the best things about Bubly mango flavor is that it doesn't taste fake. It is fruity and resembles real mango. When properly chilled, mango-flavored Bubly is as delicious as a frozen mango popsicle.
Stock up on this flavor, and you will have an excellent drink for warm days.
9. Strawberry Flavor
Strawberry is one of the tastiest and most aromatic flavors from Bubly!
WHAT WE LIKE MOST:
Well-balanced flavor profile
Not too sweet nor syrupy
Slightest bit of sweetness
It smells amazing
Strawberry-flavored Bubly is spot-on taste and almost as good as real strawberries. We highly recommend this flavor if you are looking for something refreshing and fruity, without any artificial feeling.
When compared to the other berry flavors like cherry and peach, strawberry is undoubtedly the superior choice. It has a light strawberry flavor and just a hint of sweetness. Hence it tastes natural and is excellent when chilled.
If you like sparkling water that tastes like real fruit, Bubly strawberry is one of the best choices you can find.
10. Blueberry Pomegranate
The taste is delicious and refreshing, and it's pretty true to its description. I'm not sure what type of blueberry they used in it but I can say that it is pretty tasty. The blueberry flavor is the most notable flavor I can taste, but it's not overpowering; I get hints of the pomegranate throughout the water.
WHAT WE LIKE MOST:
Cool looking and thirst-quenching
Relatively inexpensive
Smell was long-lasting
Perfect blend of blueberry and pomegranate
The design is fun and there is always a little message on the tab. It's definitely worth considering as a healthier alternative to soda pop or even Kool-Aid to offer your kids.
I also like that it doesn't have aspartame in it!!

Another plus for me is how affordable it is. Compared to other sparkling waters, it's cheaper than La Croix and such a great deal!
To wrap up…
Ever since Pepsi Co introduced the Bubly range of flavored sparkling water, it has been a favorite with the masses. Most of the flavors are fresh, aromatic, and delicious.
We have carefully analyzed the most popular flavors from Bubly, and our verdict is that it is a fantastic sparkling water brand worth trying, especially if you have trouble meeting your daily water requirements.
You will also find these drinks useful if you are trying to kick a soda addiction. Bubly flavored sparkling waters, with their robust flavors, make hydration fun and something to look forward to.
The wide range of flavors from Bubly ensures that there is something to suit most palates. None of the flavors are overpowering or too sweet. If you haven't tried Bubly previously, we suggest that you start with our list. However, Bubly also has a variety pack with different flavors from the range. You may like to explore this option if you would like to stock up on a variety of flavors. And once you do try it, don't forget to let us know which flavor turns out to be your favorite.