Talk about spicy Mexican sauce and Enchilada will simply pop into your head. All South of the border dishes are made complete with this deep red spice slice. With a strong chili base, it's a fine blend of onion, garlic, and tomato.
The enchilada sauce is generally spicy and it is used to make enchiladas, burritos, and other similar dishes. The flavor of the sauce depends on the ingredients used for preparing the sauce and the kind of chilies that are used for preparing it.
The two main types of Enchilada sauce are the Red Chilli version and the Green Chilli version. Enchilada sauce is always authentically homemade for its true zest. This is mainly because of the ingredient quality and specialties in the recipe.
Many families have their own version of Enchilada sauce. This would be having an emotional impact along with the taste. But there are some brands which are known for their traditional taste and quality.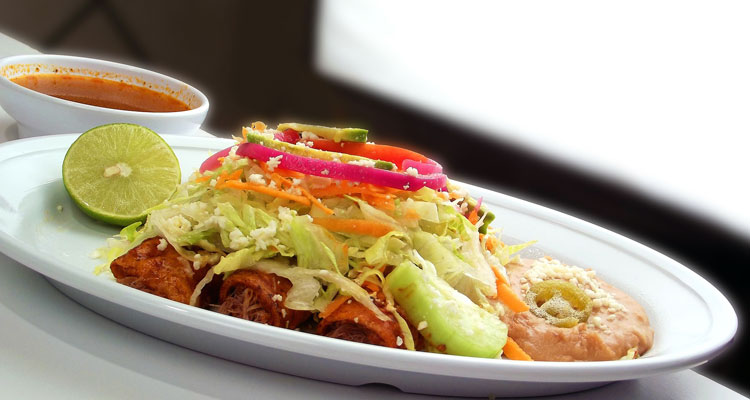 A Detailed Look at Our Top Canned Enchilada Sauce Brands
When it comes to taste the choice is entirely up to you. However, we have given a list of some of the most popular enchilada sauces that you can take into account when purchasing them.
1. Best Mexican: Old El Paso Enchilada Sauce
Old El Paso's Enchilada sauce is one that lies close to the authentic homemade versions. One major feature of this brand is affordability.
REASONS TO BUY
Different quantities of enchilada sauce are available

Comes in a red variety and also a green one

Best for those not interested in too much heat

Works great over slow-cooked meat
REASONS TO AVOID
The cans I received had dents

Does have a bit of vinegar tang to it
Serving Size: 1/4 cup (60g)
Sodium: 290mg | Total Carbohydrate: 4g | Calories: 20
With their history dating back to the 1930s, this enchilada sauce brand is perfect for those mild-flavor lovers. But it goes perfectly with all kinds of Mexican food and even pizzas. The consistency of this sauce is just right for any dish.
I used this sauce to make vegan Cheese Enchiladas with Roasted Veggies and it turned out amazing! The sauce didn't overpower the dish and went really well together. I liked that it wasn't too spicy because sometimes sauces can be too spicy for my taste. I typically prefer green enchilada sauce, but in this case, I prefer red sauce a bit more.
I will definitely be using this sauce in the future to create many other Mexican dishes!
Overall Rating: 9.5/10 (Excellent)
2. Best for Chicken Enchiladas: Las Palmas Enchilada Sauce
REASONS TO BUY
Red and green chili enchiladas are available

You can choose the heat level that suits your palette

The product is Kosher friendly

Doesn't have any artificial ingredients

It's not too spicy, but it has a nice kick
REASONS TO AVOID
We had a hard time finding this sauce at local stores

I found this sauce to be a bit vinegary
Serving Size: 1/4 cup (60g)
Sodium: 340mg | Total Carbohydrate: 3g | Calories: 25
Las Palmas has a history of over 70 years in the Mexican food industry. Their recipes are known for authenticity and taste. The quality of ingredients used is another highlight of Las Palmas. The tomatillos and chiles are handpicked and used with all the freshness.
This enchilada sauce is one that does not overpower the taste of the dishes it is being used in. The flavors match their original taste. Quantity and quality remain equally important for Las Palmas. When used with chicken or vegetables, the sauce enhances the taste accordingly. Normally, most people prefer the red enchilada sauces but this brand is a clear exception. Pulled pork, lasagna, casseroles, and other dishes get a unique twist when you prepare them with Las Palmas.
Overall Rating: 9.2/10 (Excellent)
3. Best Mild Red: La Victoria Enchilada Sauce
REASONS TO BUY
Both the red and green versions are available

No overpowering of flavors

A fine blend of all the ingredients

The right pick for mild heat enchilada sauce brand

The flavors are all very much authentic

Affordable by most people
REASONS TO AVOID
The consistency is a little thicker

Packaging needs improvement

Spicy food lovers may not like the mild flavor of this sauce
Serving Size: 1/4 cup (60g)
Sodium: 480mg | Total Carbohydrate: 2g | Calories: 30
Red and green Enchilada sauces are available from La Victoria. The flavor is mildly spicy for the ones preferring low heat in their sauces. Since 1917, La Victoria has brought us canned Mexican food in its real taste and flavors.
La Victoria has brought a number of different contributions to the Canned Mex food industry. They have made use of many new methods to make people interested in the products. The heat thermometer is one such addition. This was used to know what amount of spiciness is preferred by each person. Thus they could decide on the heat levels to prepare the sauces in. La Victoria brings to you authentic Mexican sauces in their family recipes.
Overall Rating: 8.7/10 (Very Good)
4. Best Green: Frontera Enchilada Sauce
REASONS TO BUY
You can choose either red chile or green chile

Handcrafted with premium ingredients

Made in small batches

The green sauce is tasty
REASONS TO AVOID
Larger size packages or bottles would be good

Not the best choice for people on a budget
Serving Size: 2 Tbsp (30g)
Sodium: 190mg | Total Carbohydrate: 2g | Calories: 10
I had never heard of this product before, so I was eager to try it out. This enchilada sauce comes in a tomato-based sauce that is already seasoned. This is not your typical canned or jarred enchilada sauce. It comes in a pouched packet.
I especially like using this for my vegetarian chili mac casserole. It makes a weekday meal special. The flavor is mild and isn't too spicy, which is something that I really appreciate when making recipes like this one where my kids are eating the same thing as me. Plus I love the fact that there are no preservatives and no added oil.
Overall Rating: 8.3/10 (Very Good)
5. Best Vegan: Siete Enchilada Sauce
REASONS TO BUY
Vegans will love this sauce

This sauce is tasty and mixes well with any food item

Grain-free, dairy-free & non-GMO

Both gluten and soy-free

Doesn't overwhelm your taste buds

Whole30-compliant sauce
REASONS TO AVOID
A little heavy on the garlic and salt

I would like to try a milder version of the sauce
Serving Size: 1/4 cup (55g)
Sodium: 200mg | Total Carbohydrate: 5g | Calories: 35
Siete Enchilada Sauce uses high-quality ingredients and a unique blend of spices that are sure to impress the whole family. Siete comes in two varieties: Red and Green.
I used it on some chicken, beef, and pork enchiladas and they were delicious. I would highly recommend this product. The price is very reasonable and would be great to keep on hand for those nights when you don't have time to make your own sauce.
My homemade sauce was very close in appearance — both have a medium thickness and are deep red in color. Siete's looks just as good as mine, but it tastes even better!
Overall Rating: 7.8/10 (Good)
6. Best Keto Friendly: Rosarita Enchilada Sauce
REASONS TO BUY
For those who prefer a mild spice level in their food

Can be used for any kind of dishes, pasta, nachos, etc

No added sugar makes it more Keto friendly

Good shelf life, if not opened

There is no trans fat in this brand
REASONS TO AVOID
The can packaging is not up to the mark
Serving Size: 1/4 cup (61g)
Sodium: 430mg | Total Carbohydrate: 3g | Calories: 20
Rosarita is a famous Mexican food brand established in the 1940s. The brand uses only good-quality products for carb-conscious consumers.
Rosarita is a popular brand among Mex food lovers. The very important feature of this brand is the keto-friendly recipe. The heat level also makes it perfect for those who prefer mild palettes. The cheesiness in this sauce is very commendable. There is also an option for choosing your preferred flavor. Nacho cheese and Fire-roasted tomato are two variants of the Enchilada sauce from Rosarita. But it is important to point out that this brand is not gluten-free. Hence, those who are allergic can try and avoid this product.
The 20 oz cans contain enough and more quantity to use and store for the family. After opening, the remaining sauce can be stored in plastic containers. And refrigerated. For the next use, it can be made warm by cooking for 30-35 minutes.
Overall Rating: 7.5/10 (Good)
7. Also Consider: Hatch Enchilada Sauce
REASONS TO BUY
No preservatives added

No MSG is added

The option to choose the medium and mild spice level

You can choose the level of spice you prefer
REASONS TO AVOID
Product is pricey when compared to other sauce brands

Packaging can be made better
Serving Size: 1/4 cup (60g)
Sodium: 230mg | Total Carbohydrate: 4g | Calories: 20
Hatch is a food product company that is being known all around the United States. They produce a truly authentic taste for the sauces. Green and red variants of Enchilada sauce are available from Hatch.
Hatch is bringing home all the best sauces in Mexican cuisine. It is also the first company to eliminate the use of MSG. All your favorite dishes can be enhanced with this Enchilada sauce. Organic ingredients and healthy recipes are two main highlights of Hatch. Branded green chilies are available from the annual New Mexico Chile Harvest. Here, the chilies are all handpicked and hence of good quality. These chilies are then washed, peeled, roasted, and packed within 24 hours time. Hatch uses these Branded chilies to make their special Enchilada sauce.
Overall Rating: 7.1/10 (Good)
8. Also Consider: Macayo's Enchilada Sauce
REASONS TO BUY
Macayo's signature roux adds a robust flavor and texture

It has a nice balance of spicy chilis, tomatoes, and spices

Better than their restaurant enchiladas
REASONS TO AVOID
I wish it were gluten-free

I wish this brand was sold at more places
Serving Size: 1/4 cup (60g)
Sodium: 450mg | Total Carbohydrate: 4g | Calories: 30
I love this product. It is perfect for the nights when I want to make enchiladas but don't want to cook from scratch all day. The flavor is very good and it tastes fresh and homemade. Macayo's Enchilada Sauces are made with fire-roasted peppers and simple spices.
It's bright red and rich. I used it on some chicken enchiladas and I can't wait to use it again. There are two versions of this sauce, red and green. The red is definitely the spicier of the two. It had a great flavor, but it wasn't as thick as I expected. The green was very good too with a slightly different flavor. I used both on chicken and it was very tasty!
I would highly recommend this product to anyone looking for a quick, tasty meal that is easy to prepare.
Overall Rating: 6.8/10 (Above Average)
9. Also Consider: Gebhardt Enchilada Sauce
REASONS TO BUY
We enjoyed the spicy chili flavor of this sauce

A great way to dress up your meal!

The brand that's been around for a while
REASONS TO AVOID
I was so disappointed by the new recipe

The packaging of this product could be improved
Serving Size: 1/4 cup (61g)
Sodium: 430mg | Total Carbohydrate: 3g | Calories: 20
I have been using Gebhardt's Enchilada Sauce for the last 5 years, and it's always been my favorite all-around sauce. The flavor reminds me of my mom's homemade enchilada sauce. The taste is great and the thickness is just right. I haven't used it for a while because I couldn't find it in any stores.

I recently noticed that the ingredients are now different and I am very, very unhappy with the new cans. I'm not sure what happened over at Gebhardt but I think they changed their recipe without any warning and without any consideration for their long-time customers. They have ruined my favorite product.
I miss the old recipe, but I'll still eat and buy this product.
Overall Rating: 6.5/10 (Above Average)
10. Also Consider: Ortega Enchilada Sauce
REASONS TO BUY
A great sauce for enchiladas, burritos, and tacos

Unique flavor that sets it apart from its competition

This sauce has no MSG which is a huge plus
REASONS TO AVOID
It's a little watery

I think the packaging could be improved
Serving Size: 1/4 cup (60g)
Sodium: 360mg | Total Carbohydrate: 4g | Calories: 20
I grew up going to Chi Chi's quite frequently, and I absolutely loved their enchilada sauce. It was thick and creamy, but it was not too spicy. I have tried many recipes that were supposed to be close to Chi Chi's recipe, but none of them were exactly the same as the original sauce. Ortega is the closest substitute I've found. It's not as thick as the Chi-Chi's, but it still makes great enchiladas.
Ortega Enchilada Sauce is very peppery. This sauce is on the mild side and does not have much of a kick to it, but it serves its purpose well. This sauce comes in three different varieties: mild red, red chili, and green chili, each with its own unique flavor.
Overall Rating: 5.8/10 (Average)
To conclude…
We covered 10 different brands of Enchilada sauces and discussed various points. These are products that can make your meals as enjoyable as homemade versions of sauces. The ingredients and recipes are all of high quality, making the sauces soar high in taste and flavor.
Mexican sauces are known for their tangy, spicy flavors. But. high levels of spice should not be consumed if you have health problems. Hence, it is always important to find your preferred spice level. This can help in choosing the right brand of sauce from a number of choices. You can also try adding water or stock to get the right amount of spice. Consistency can also be altered using this method.
Most of these brands will not be available in the local stores, therefore, people opt for online shopping. Always make sure you keep an eye for the expiration date and related information. When you are buying bulk quantities of products, the shelf life should be assessed. Store the products in places with no moisture of fungal problems.
Use your favorite enchilada sauce to bring flavor to all your Mexican meals. Try it with some tamale, tortillas, lasagnas, etc. You can also experiment with making a pizza using the sauce. Enjoy your favorite dishes with the right enchilada brand from the list.