It's always good to find a way to make sure you stay hydrated—drinking plenty of water is great for your skin, your metabolism, and your overall health in general! But sometimes water can be kind of… boring.
Luckily, there are plenty of tasty ways to make water more appealing to drink. One such option is a line of hydration supplements made by Liquid I.V.
Liquid I.V. is a powder that you mix with water and it works faster than water alone because it contains three times as many electrolytes as most sports drinks. It also uses a breakthrough process called Cellular Transport Technology (CTT) which is a fancy way of saying that the nutrients are easier for your body to absorb and use than other alternatives on the market.
It's easy to prepare—just mix one stick packet with 16oz of water and voila! You have a healthy hydration solution for whatever life throws at you. When I'm traveling, this is something I always pack—and drink!—because it helps keep me feeling my best despite being on the go with different time zones, climates, and environments. It even helps me recover from the occasional hangover (you know who you are!).
As a long-time customer of Liquid I.V., I have always loved the fruity flavors of their hydration drink mix. But I have never tried all of the available flavors, so I decided it was high time to do that.
I ordered each flavor and was pleasantly surprised by how much I enjoyed all of them. However, some were definitely more appealing to me than others, both in terms of taste and nutritional benefits, so I thought it would be helpful to write about what each flavor tastes like and which one is best for different situations.
Here is my go-to list of the tastiest Liquid I.V.s:
* This post contains sponsored links from Liquid I.V., but the opinions expressed here are our own.
1. Strawberry
I remember the first time I drank this flavor. It was the day after I got back from a long trip and I was feeling a little run down. My friend offered me some hydration powder, and when it hit my tongue, I automatically thought of strawberries.
The flavor of strawberry Liquid I.V. is sweet and fruity, like that of strawberry Pedialyte—but less salty and a bit more layered. It's refreshing, and it's the perfect drink to bring with you on your next hike if you're worried about dehydration.
The strawberry flavor helps mask the salty and medicinal taste of the hydration drink, which is always a good thing when you're under the weather. You don't have to worry about getting sick and not being able to keep anything down while you're waiting for your medicine to work!
But the best part is knowing that I'm getting electrolytes and nutrients that help me to stay hydrated for longer than water does.
2. Tangerine
The second-best-tasting electrolyte mix on my list is the tangerine flavor. If you're a fan of orange-flavored things, you'll love this one. It has just enough of that "orange drink" taste without being overpowering or fake tasting. It's light and refreshing, and I love having it in my water bottle as I work out.
I also like putting it in my water bottle when I'm going to be at work all day. It's a great way for me to drink enough water to stay hydrated throughout the day, and sometimes when I feel like I need a boost, I'll add an extra packet to my water bottle.
Shake it up before you drink it, and try drinking half a packet the first time, especially if you're new to Liquid I.V.
3. Watermelon
If you love watermelon, you'll love this flavor!
It's like drinking actual watermelon juice—no fake tasting, no weird aftertaste, just a nice, pure watermelon taste that reminds you of eating slices by the pool in the summertime. It tastes like a watermelon jolly rancher, which is to say it's very sweet, but not sticky-sweet (like a candy) or sugary-sweet (like soda); it's just a really good balance of melon flavor with just a little bit of saltiness underneath to keep you hydrated.
4. Passion Fruit
Coming in fourth, we have Passion Fruit.
Despite being chock full of 500mg of sodium, this flavor is not at all chalky or too salty—it's just sweet enough that you don't notice the extra salt. The flavor is also strong enough that it leaves no aftertaste despite having less sugar than a comparable Gatorade.
This is a great option for people who are trying to avoid sugary drinks but still want something tasty and refreshing. And it tastes better in cold water!
5. Lemon Lime
Lemon Lime is pretty similar to the yellow Gatorade that you probably remember from your childhood, but with a bit of a salty kick. It's not too strong—it's actually kind of refreshing.
However, it does not completely dissolve in water—so while that makes it easy to mix up, I would recommend shaking or stirring it well before drinking if you don't want to be surprised by an unexpected mouthful of powder when you think you've hit the bottom of your glass.
I definitely feel like this flavor tastes better in slightly colder water rather than at room temperature.
6. Guava
I'm going to be honest: I'm not a guava person. But this flavor makes me want to reconsider my stance on that!
It has a nice subtle flavor that doesn't overpower the drink and is actually quite refreshing and thirst-quenching. It's not too sweet or salty, and it doesn't have any weird aftertaste (which is always a plus).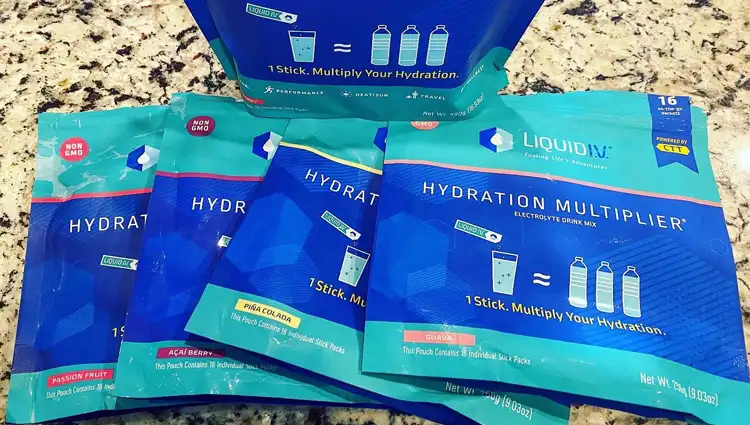 This flavor gets bonus points for being so genuinely guava-like, but it loses some points for having a weird smell when mixed. Still, it's perfect for guava lovers!
So if you're a fan of not-too-sweet, not-too-salty drinks, Guava Liquid I.V. might be your new favorite drink. Not only does it taste great, but it also has the added benefit of hydrating your body with its generous dose of electrolytes! What's not to love?
7. Lemon Ginger
My seventh best-tasting Liquid I.V. flavor is Lemon Ginger, which is the newest flavor in their Energy Multiplier line. It has a subtle ginger and matcha flavor without being too sweet. I don't need my morning coffee when I drink this—it does not taste artificial or syrupy, and provides great energy throughout the day. For those of you who like matcha, you will love this.
However, we were not able to determine the source of the matcha used in this blend, so we cannot recommend it to customers who are concerned about the origin of their ingredients.
8. Apple Pie
I love this one because it's so much fun to drink; it tastes like apple pie and has the same kind of satisfying warmth you get from a slice (or two) of the real thing. It's a bit strong, though—it definitely tastes like it was made with real apples, not some artificial flavoring or sweetener that leaves you feeling gross after drinking it.
The apple pie flavor is also great for mornings after long nights or hard days because you can start your day with a refreshingly soothing taste that will help you feel calm and ready to face whatever life throws at you next.
It smells just like it tastes (i.e., delicious), and the flavor lingers on your lips after you drink it.
9. Acai Berry
It's definitely a nice alternative to plain water, and it's a very unique taste. I would describe it as "earthy" with a hint of berry.
The flavor tastes pretty good and is even better when it is cold. It tastes slightly salty as expected with a little aftertaste from the stevia leaf. This flavor isn't too sweet so it makes for a perfect choice for your morning routine or for an afternoon pick-me-up!
It has a very mild flavor and is great for people who want to enjoy the taste of their electrolytes without a big punch of flavor.
10. Golden Cherry
If you ever drank cherry-flavored Kool-Aid as a kid, this is that—but with a grownup twist. The flavor is complex but still distinctly cherry, and you get a little bit of this tangy citrus quality that makes it really refreshing to drink.
It's especially good with ice-cold water when you want to feel as though you're drinking something out of a summertime soda fountain!
I love that there are no artificial sweeteners, preservatives, or flavors in Liquid I.V., so I don't have to stress about what I'm putting into my body just to quench my thirst or feel better when I'm sick. Plus, the electrolytes give me an extra boost of energy!
To conclude,
In the end, the choice is up to preference. Each flavor is different, so you'll never know which one will be your favorite until you try it.
Hopefully, this list has helped you narrow down some options. But don't just take our word for it—try them out yourself. We assure you that Liquid I.V. is a worthwhile investment (especially considering the cost-per-serving of traditional electrolyte products), and you'll have an easier time deciding which flavor is right for you if you get to taste them first.
Whether you're planning on using this for workouts, replacing your sugary sports drink, or just need a good drink that's easy to take with you wherever you go, Liquid I.V. is the smart choice for healthy hydration.