If you're looking for a quick, convenient way to get electrolytes after a workout or when you're sweating through the summer heat, LMNT Electrolyte packets are an excellent choice. Each packet contains all the electrolytes your body needs and gives you that perfect salty kick that signals to your body: "Hey! I'm getting what I need!"
I love these because they're perfectly suited to folks following a keto diet (a low-carb diet), as well as those who want a simpler way of getting their daily intake of electrolytes without having to add them into every meal they eat.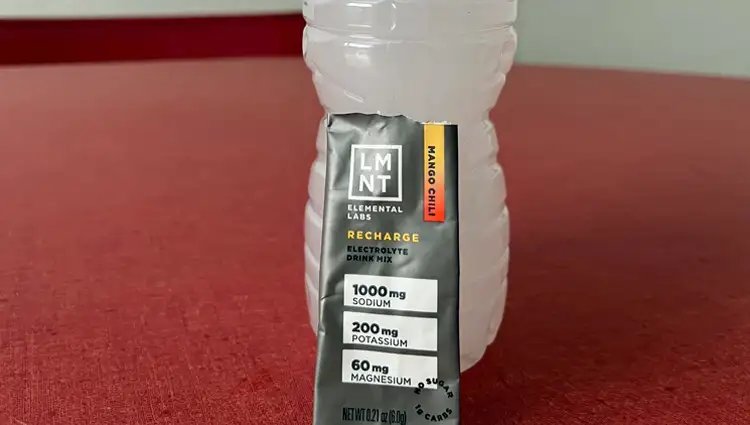 As someone who is constantly feeling tired or lacking energy, this was a welcome change!
They really provide a nice boost of energy without being overpowering or too sugary: The salty kick instantly sends a signal to my body that it's getting what it needs without the uncomfortable side effects of sugar-laden sports drinks like Gatorade or Powerade.
I've been a fan of LMNT electrolyte packets for a while, but I hadn't really tried them out in different flavors. Until now!
I thought it would be fun to do a taste test on some of their most popular flavors.
Here's what I thought:
9. Grapefruit Salt
If you're craving a little grapefruit, this is your flavor. It's tangy, sweet, and salty—and it tastes great on its own or mixed with water or sparkling water. If you're feeling adventurous and want to try something new (or if you're feeling nostalgic for the good old days of popsicle flavors), give this one a go before it disappears from store shelves!
I cramp like crazy during my runs (and sometimes when I'm sitting at my desk!) so I need a ton of electrolytes; this flavor has them all without any added sugar or calories.
This flavor is limited-time only, so act fast to try it before it's gone!
8. Lemon Habanero
This one is the most unique flavor, and it's also the one you're least likely to like right away. It has a very strong sour citrus taste with a bit of a kick from the habanero peppers. If that sounds like something you'd enjoy, then this might be your favorite flavor!
The lemon cuts through any lingering bitterness in the habanero so well that I found myself surprised at how much I liked it once I got to drink it. It's super salty, so it may not be recommended for those on a low-sodium diet or those who have been directed by their physician to reduce sodium intake.
7. Mango Chili
Mango Chili is my seventh favorite of the LMNT flavors. It's very fruity, with notes of mango and citrus, but also has a spicy kick to it thanks to the chili powder. This makes it perfect for post-workout or if you just want something refreshing and spicy at any time! The combination may seem strange at first, but it's actually pretty good!
I like this flavor better than Lemon Habanero because it has more of an initial sweetness than the lemon which comes out later as an aftertaste; however, both are pretty good flavors with complex tastes. It burns the throat a little bit, but that's chili for you!
6. Orange Salt
Orange Salt is the perfect option for someone who likes to switch things up from time to time. It's not too sweet and it's not too sour, so it gives you a nice change of pace from your usual flavors. The rehydrating and re-energizing capabilities are great for someone like me who sometimes suffers from leg cramps. If you want an energizing drink but don't want the guilt of high sugar content, try this one out!
It has a nice orange flavor but is not overpowering. The 2g of carbs come from the citric acid used as a flavoring agent—it's not the same as sugar, but it still counts toward your daily recommended intake.
If you suffer from leg cramps, try these out!
5. Raspberry Salt
If you love raspberries, this is the flavor for you. It's no wonder why so many people love this flavor; it has all the hallmarks of a classic favorite: tart yet satisfying, slightly sweet but with a salty aftertaste to balance things out. It's definitely worth trying if you haven't!
If you like Sour Patch Kids candy then this might be your jam! This can help with headaches and muscle aches after intense workouts or sports activities. If you're looking for something to mix with other flavors or just enjoy on its own, this is a great one!
4. Unflavored
If you aren't a fan of adding flavor to your water, this one is great for you. It has no flavor whatsoever, so it won't affect the taste of your drink mix. This one is also good if you have a sensitive stomach because there are no added ingredients that may upset your stomach.
It tastes salty just like adding salt to the water, but again it does not make it bad at all! When I'm hiking or traveling, I use this product to ensure my electrolytes are balanced. This product is ideal for anyone who wants to enjoy electrolytes without altering the taste of their favorite drink.
3. Watermelon Salt
You can't go wrong with this flavor. If you're looking for a fun way to mix up your water, this is it! The taste is refreshing and invigorating, perfect for helping you get through a workout or just keeping you motivated throughout the day.
The watermelon flavor is very pleasant, and it blends well in the water. It tastes just like Jolly Ranchers, but without the artificial aftertaste (and without all of those calories). You can easily add this flavor to any of your favorite bottled waters or even sparkling waters like Topo Chico—just shake well before drinking!
This drink also comes in convenient grab-and-go packaging which makes it easy to carry around wherever I go throughout my day.
2. Citrus Salt
Citrus Salt is the second-best flavor, with a refreshing and delicious taste. Any time you're feeling tired or have had a long day, it will give you that extra pep in your step that you need to keep going. It's popular because it tastes better than a lime LaCroix.
Citric acid is the main ingredient here, so you can expect a bit of sourness to hit as soon as you take your first sip. The 2g of carbs in this product come from citric acid.
LMNT says its citric acid comes from a rigorously tested source and is free of mold and corn. Citric acid is an atypical carbohydrate and does not need to be counted as a carb in your diet. It has a lower energy content and is very poorly absorbed relative to other carbohydrates, so you don't need to worry about adding it to your meal plan.
1. Chocolate Salt
This is my personal favorite flavor and I'm sure it will become yours, too. Let me tell you why:
If you're a fan of chocolate, it's definitely your best bet. It's also great for those who love sweet flavors and want something more indulgent than the other choices on this list. It tastes like a Yoohoo without having any dairy products in it at all!
The best thing about it is that the flavor pairs perfectly with hot water, which is exactly what you need after a few reps of deadlifts at the gym. I use it with hot coffee and it adds a nice touch!
I know it's not the most popular, but I think it's one of the best possible flavors for people who are looking to get a rich chocolate taste without any sweetness or artificial flavors.
To conclude,
And with that, I hope you've found this ranking useful.
If you're looking for a way to get your electrolytes without sugar, LMNT is the perfect product. With flavors like Citrus Salt and Chocolate Salt, you'll never be bored with what you're drinking. But it doesn't stop there!
It's also easy to take with me wherever I go. Each packet mixes with 16 oz of water in about a minute. It doesn't require refrigeration, so it's perfect for those days when you're heading out on the road or hiking in the woods.
I prefer to drink it with bubly water and ice, but that's just me!
If you're still not sure which flavor or combination of flavors will work best for you, consider getting the variety pack! Stay salty!