Does plain water look unappealing to you?
If the lack of flavor prevents you from keeping up with your daily hydration needs, water flavor enhancers will be useful.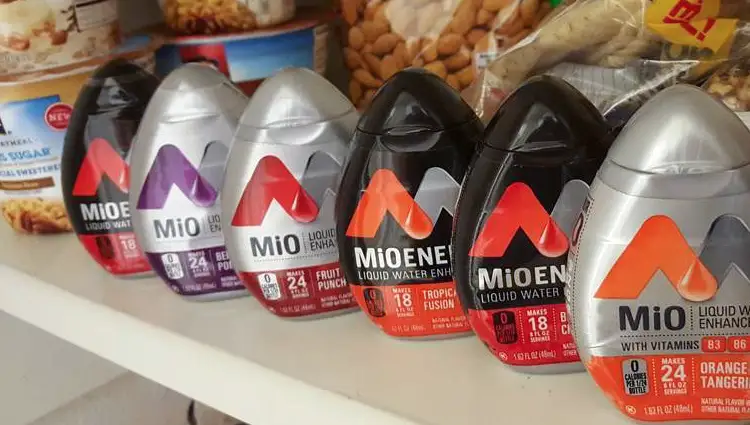 MiO water enhancers from Kraft Foods are a tasty and practical solution to transform water from boring to bold. If you love sugary sweet drinks, MiO flavor enhancers will impress you. These flavors come in tiny, pocket-friendly pouches that easily fit into small purses and bags and can take them with you wherever you go.
MiO has four product lines: Original Water Enhancers, MiO Energy Water Enhancers w/ Caffeine, MiO Vitamins, and MiO Sports w/ Electrolytes.
With their water-enhancing products, it's now possible to make your own flavored water in seconds. The key is getting the flavor right.
I got a chance to try all the flavors of the MiO water enhancer and I thought I'd share my thoughts with you guys. I'm not really sure how to rank them because they're not competing against each other, so it's kind of like ranking spaghetti sauces. Some are just better than others.
I've ranked them from worst to best based on the following criteria: Taste, Color, Mixability, Ingredients, and Value.
Depending on your taste preferences, you'll probably have different favorites than me, so what follows is just my opinion. If you have a favorite flavor that isn't on this list, please do share it in the comments!
7. MiO Black Cherry
Black Cherry is a MiO "energy" flavor. It means that this flavor contains energy enhancers to improve your energy levels and attention span.
Now, the energy boost in black cherry comes from caffeine. The brand derives its caffeine from guarana and ginseng extracts. It will give you a clean and quick energy lift when you need it.
The taste of cherry is very pronounced in this drink. However, it is not like the real fruit but instead has a candy-like taste. While it may be pleasant to drink, this flavor has a strong aftertaste.
Go easy on how much you add to your drink. Remember that it is loaded with caffeine, and you do not want to go overboard.
6. MiO Mango Peach
MiO mango peach blends the summery flavors of mango with the autumnal taste of peach. Fragrant and extremely sweet, it is an addictive taste.
You will feel like you cannot have enough of it. Hence, it is an excellent choice if you are seriously looking to improve your fluid levels.
This flavor does not promise any energy boost. However, it has a pleasant taste that you will not tire of. It also does not leave any unpleasant chemical aftertaste.
5. MiO Strawberry Watermelon
Strawberries and watermelons make a divine combination. Sadly, this MiO flavor does not deliver to this expectation. Neither does this flavor have the summery sweetness and refreshing zest of watermelon nor the delicious tartness of strawberries. The flavor profile is closer to berries than strawberries.
Although the name is misleading, it is a pleasant flavor. You will enjoy it if you like the taste of thick and sweet bubblegum. However, note that it does not taste like real fruit.
Just a few drops are enough for a strong flavor. However, there is nothing commendable about it. You may also experience a strong aftertaste after you finish the drink. Overall, it is not a flavor that appeals to all.
4. MiO Berry Pomegranate
Berries and pomegranates have bold, unique flavors. When they come together, the resulting flavor profile is explosive.
However, the unusual combination may not appeal to all. You will either love it or entirely dislike it.
Mio berry pomegranate is sweet but tart at the same time. Also, remember that there is no natural fruit in this flavor. So, you cannot expect any antioxidant or vitamin-laden benefits from this product. It will just make it easier to drink water, that too if you enjoy berry flavors.
3. MiO Fruit Punch
Fruit punch tastes just like the real thing and is one of the best MiO flavors.
When you try it, you will find it difficult to believe that it does not contain any fruit. For it tastes deliciously fruity and is very satisfying.
Fruit punch tastes great when you add it to still or sparkling water. However, there are so many other ways you can use it. You can add it to iced tea or even whipping cream for a punch of flavor. With just a few drops, your drink or dessert will taste heavenly.
2. MiO Orange Tangerine
We are not exaggerating when we say that MiO orange tangerine has a cult following. No surprises there, for it has a refreshing flavor that one cannot have enough of.
Although MiO orange tangerine contains no fruit, it replicates the deliciousness of oranges and tangerines. It is extremely sweet and hence a big hit with kids. Additionally, there is no artificial taste nor chemical aftertaste. Now, this flavor also has added B-vitamins, which can be a good thing.
MiO orange tangerine is perfect for the summers as it offers a refreshing citrusy boost. Just a few squirts are enough to add strong, bold flavors to water. It tastes best when chilled.
1. MiO Lemonade
Rarely do brands nail the authentic taste of lemonade. Most of the stuff in the market is either too sweet, too sour, or tastes like candy. Interestingly, MiO lemonade gets the balance just right.
This MiO flavor is as good as real lemonade. It delivers the same satisfaction as a glass of refreshing lemonade on a hot summer day. It is also a flavor that you can never tire of. It is light on the stomach.
MiO lemonade stands out with its bold flavor. You could even use it as a mixer to add the zest of lemon to other drinks or desserts.
To wrap it up….
MiO flavors make hydration a lot easier by adding exciting fruity flavors to plain old water. Use it to infuse your water with fruity flavors, and your fluid intake will automatically improve. Some of the flavors even have added vitamins that will give your body a boost of extra goodness.
Nevertheless, bear in mind that MiO products are not natural. These flavors are formulated in labs and are not natural foods.
MiO water enhancers do not contain sugar. However, they are sweet because they contain sucralose and acesulfame potassium. The FDA lists these ingredients as 98% safe for consumption. MiO water enhancers also contain propylene glycol as a preservative and stabilizing agent.
Hence, it is wise to consume MiO in moderation. While it may be a better option than sodas and caffeine-laden drinks, remember that it is not as safe as pure water.