Having a party, or just want to impress your friends? You'll need some authentic peri-peri sauce. This sauce is flavourful and goes well with anything — even on its own as a dipping sauce!
Nando's PERi-PERi sauces are made from the finest African Bird's Eye Chillies and have been available in restaurants since 1987. All sauces are gluten-free with no artificial colors or flavors.
I love Nandos but it's not always possible to visit the restaurant. As a lover of great chicken and a fan of Nando's, I was excited to find that you can buy Nando's Sauce online. Let me just tell you that this product lives up to the hype! It is so tasty and complements food quite well.
I have tried everything from mild to extra hot, and I like them all. It comes in different heat levels, from the mild Garlic sauce to the very hot and spicy Extra Hot. But beware, the extra hot is very hot!
I've ranked my six favorite flavors of it from least to most favorite.
You can check out my thoughts on each flavor below!
6. Mild
Mild is the PERi-PERi flavor with the least amount of spice, making it their mildest flavor. That doesn't mean it's lacking in flavor—it definitely has the signature Peri-Peri taste I've come to love and expect from Nando's products.
The Mild sauce is tangy and very mildly spicy, which makes it perfect for cooking continental food as well as using in marinades or as a dip. It's great on sandwiches, too!
It's perfect for families and those who don't want a lot of heat with their food. No tears necessary!
And if you're worried about what else might be in there besides the PERi-PERi, rest assured: no preservatives, no MSG, no artificial flavors or colors. It's gluten-free and vegetarian friendly too!
We love this stuff.
5. Hot
If you're looking for a spicy sauce that's sure to start your mouth on fire, Hot Nando's PERi-PERi Sauce is perfect. The fiery taste of the peppers is well-balanced with a hint of smokiness and tangy lemon, making it a pleasant addition to any dish.
The extra heat is great for those who like things spicy but not overbearing—it has just enough kick without being too much! It makes for an unforgettable meal—whether you're dipping your chicken in it or slathering your sandwich with it, this sauce will make your taste buds sing!
So next time you're craving something with a little kick, grab some Hot Nando's PERi-PERi sauce!
4. Medium
When you're in the mood for a bit of spice, Nando's Peri-Peri Medium Sauce is the way to go. It hits the spot without scalding your tonsils—but it still has plenty of kick. And with a bottle this large, it's economical too!
It's also got a ton of flavor, which makes me happy because I'm all about flavor. Sometimes when sauces are spicy they lose their flavor, but not this one.
If you've been to one of their restaurants, you'll recognize the flavor right away. It keeps its incredible, rich taste even as it adds some heat to whatever I put it on.
3. Garlic
It's got just a little bit of heat, but not too much—which I love. It's perfect for when you're in the mood to enjoy some spice, but still want to be able to taste all the other flavors in your food.
The flavor is amazing, too—it's got a garlic quality without being overwhelming. It's nice and mellow, so it doesn't feel like it's taking over your whole meal.
I had a tough time figuring out whether it was Garlic or Lemon & Herb, though—they were both very sour tasting. I'd say it's somewhere between medium and hot in spice level.
I use it on top of my chicken wings, or on sandwiches. So if you're looking for a super garlicky sauce that's going to make your mouth burn, this isn't it. But if you're looking for something to top your pasta salad with—this is PERfect.
2. Lemon and Herb
It tastes just like what they have at the restaurants. The only thing that I don't like is that this sauce is thinner in consistency compared to the one we get at the restaurant.
I tried it with chicken and fish and it's perfect! The flavor is pretty strong too—mostly lemony—which can be a good or bad thing depending on your taste preferences.
But my favorite way to use this sauce is when I'm making sausages and kebabs—just sprinkle a little bit on top of the food. The lemon and herb combo is just incredible!
Don't worry though: even though it's not as hot as the other sauces, there is still heat in this one!
1. XX Hot
The first time I tried it, I knew I'd made the right choice. The flavor is so delicious, especially when used as a marinade for chicken, that I was able to withstand an hour of being barbecued by the dragon while still being able to enjoy what was arguably one of the best meals of my life.
The consistency is medium, so it's not especially thick or runny.
It has a very hot aftertaste—no surprise there, since it's rated at 175000 SHU—but that little kick at the end is more than worth it for all the flavor you get from this product. It also has garlic and onion in it, which really adds a lot to the overall experience.
But be warned: your stomach will burn like the fires of hell once you're done eating it!
If you love a good hot sauce, then give this one a try!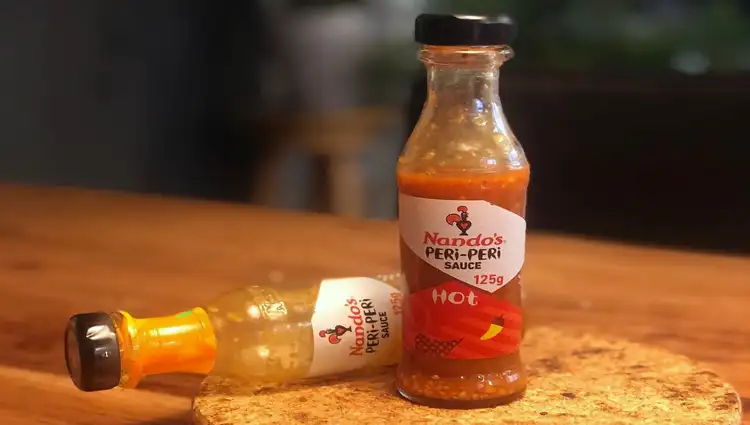 To Summarize
At the end of the day, though, it all comes down to preference. Different people enjoy different things, and Nando's sauce is no exception.
My favorite flavors are XX Hot and Lemon & Herb. But it really depends on what you're going to pair it with. If you can't make a trip to Nando's, it's nice that they sell their sauce online, so you can enjoy the food at a more affordable price and more convenient location.
So that's my list of the best Nando's Peri-Peri sauces. So…when you want to make delicious chicken, use one of these sauces. You will love your chicken even more than you expected!