Love Asian food, but not confident about making it? You are not alone. Many of us aim for that sweet and salty flavor that is characteristic of every Chinese and Thai dish but often end up disappointed. There is indeed a quick, easy, and sure-shot way to make your chicken stir-fry taste like a restaurant takeout. All it takes is a few drops of oyster sauce.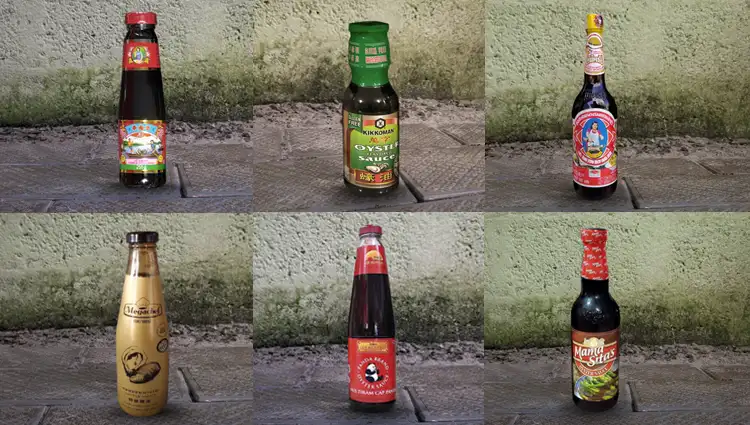 Oyster sauce is a staple ingredient in most Cantonese, Thai, and even Vietnamese dishes. It is made by mixing caramelized oyster juice with salt and sugar, and sometimes with soy (thickened with cornstarch). Caramelized oyster juice is nothing but a byproduct that is derived from cooking oysters for a long time. Oyster sauce is thick, like sugar syrup, and looks almost black, like barbecue sauce.
Though made with boiled-down oyster juice, it doesn't taste heavily like oysters or fish. It's sweet and salty and adds a strong umami flavor to the food. Be sure not to cook the sauce for long, as high heat can make it lose its flavor, and sometimes, turn it bitter.
Oyster sauce is generally used in stir fry, but you can simply add it over steamed vegetables, in stews and soups, or even use it as a dip! Just a drizzle is enough to enhance the flavor of the food. When we say 'a drizzle', we mean it. The sauce has a strong flavor and can be a bit overpowering and salty if you use it in large quantities.
The sauce does contain a great amount of sodium in it, and it's almost rare that you would find one without the taste enhancer, MSG. However, it has zero cholesterol and low calories per serving. You can boldly add it to your dishes without the fear of gaining extra pounds.
There are many good oyster sauces out there, but which ones are the best? We decided to find out by tasting 12 of them.
Ayam Brand Oyster Sauce
Blue Dragon Oyster Sauce
Dragonfly Premium Oyster Sauce
Lee Kum Kee Panda Brand Oyster Sauce
Lee Kum Kee Premium Oyster Sauce
Maekrua Oyster Sauce
Maggi Oyster Sauce
Mama Sita's Oyster Sauce
Megachef Premium Oyster Sauce
Kikkoman Oyster Sauce
Wan Ja Shan Vegetarian Oyster Sauce
Wok Mei Oyster Sauce
Our panel included three chefs and two food editors, all with extensive experience in cooking Chinese food at home, including stir-fries and dumplings. First, we tried each sauce straight from the bottle, then cooked with it to see how it would affect the flavor of other ingredients.
After tasting all the sauces, we narrowed it down to seven brands using the following criteria:
Purity of flavor — How does the sauce taste when you eat it straight from the bottle? Does it have an overwhelming cloying sweetness? Is it too salty? Does it taste more like soy sauce or oyster? Is there a balance between sweet and saltiness?
Appearance and Texture — How thick is the sauce? Is it brownish or clear? Does it drip down the side of your plate like syrup?
Price per ounce — We looked at the price per ounce to see which brand was giving you the most bang for your buck.
Best Oyster Sauces – Our Top Seven Recommendations
Our taste test results are as follows. Read on to find out which suits you the best.
1. Lee Kum Kee Premium Oyster Sauce
A popular brand among oyster sauce fans, this sauce has a deep savory flavor with a dash of sweetness, making it a must-have for Asian cooking. Be it fried rice or chicken wings, a drop or two of the sauce is enough to make it taste like an authentic Chinese takeaway.
THINGS WE LIKE
Rich taste

Made with the finest oyster extracts

Long shelf life of over a year

No added preservatives

Product of USA
Ingredients: Oyster extractives (oysters, water, salt), sugar, water, Monosodium Glutamate as a flavor enhancer, salt, modified corn starch, wheat flour, caramel color.
Sodium Content: 820 mg per tablespoon.
A few drizzles of the sauce on stir-fried Chinese greens like Yu Choy (a green leafy vegetable used in South-East Asian cooking) or Chinese broccoli can elevate its flavor. You can take it up a notch by adding some sweet chili sauce.
If you are allergic to soy, this could be a blessing, as it makes for an excellent replacement. Try Jap Chae with Lee Kum Kee Oyster Sauce instead of soy sauce and see the significant difference in taste for yourself.
The brand continues to be a top choice for oyster sauce lovers because of its good consistency, fresh taste, and mess-free packaging. However, it does contain MSG, and since it includes wheat flour in its ingredients, it is not gluten-free.
Often, customers confuse this particular sauce with another non-premium version that Lee Kum Kee brings out. The latter, though less expensive, has less flavor than the premium version.
Overall Rating: 9.4/10 (Excellent)
2. Mama Sita's Oyster Sauce
A product of the Philippines, this sweet and savory sauce has a sharp taste and works as a good flavoring agent for steamed vegetables or stir-fries.
THINGS WE LIKE
Rich and flavorsome

Contains real oysters

Imported from the Philippines
THINGS WE DON'T LIKE
Has preservatives

A little too salty
Ingredients: Water, real oysters, modified starch, cane sugar, salt, hydrolyzed corn and soy protein, caramel color, monosodium glutamate (flavor enhancer), and sodium benzoate added as a preservative.
Sodium Content: 1040 mg per two tablespoons.
Mama Sita's oyster sauce boasts an intense flavor. It can be used as a sauce by itself for Asian dishes or can form a base for other sauces. It adds unbeatable flavor to a plate of broccoli beef, or bowls of soups and stews.
The brand also offers different flavors of oyster sauce such as garlic oyster and mushroom oyster sauces. Between the two, mushroom sauce is more popular.
If you are a fan of soy sauce, you are sure to like this one. Be guaranteed that there is no flavor or smell of fish in it. However, it does contain MSG, and added preservatives. Use it judiciously, as even an extra drop can make your dish overwhelmingly salty.
Overall Rating: 9.1/10 (Excellent)
3. Lee Kum Kee Panda Brand Oyster Sauce
If you are new to the world of oyster sauce, this is the product for you. Get your comfort food ready in no time, with this sweet and salty sauce. Works great as a dip for your chips, or as a seasoning on your boiled broccoli.
THINGS WE LIKE
No added preservatives

Product of USA

No added preservatives

Thicker consistency

Value for money
THINGS WE DON'T LIKE
Not gluten-free

Less flavor

A little too salty
Ingredients: Water, sugar, salt, oyster extractives, monosodium glutamate as a flavor enhancer, modified corn starch, wheat flour, caramel color.
Sodium Content: 980 mg per tablespoon.
This is a good and inexpensive sauce to stock up on if you are a fan of Chinese cuisine. A large bottle of it comes at a reasonable price. Use it as a key ingredient to whip up a sinful shrimp lo-mein. Add a few drops of it into your bowl of white noodles and mix it with sesame oil, to get a restaurant-style meal.
This sauce does have a high sodium content. Use it very sparingly in your dishes. Start with half a teaspoon and mix well, add more only if needed.
Lee Kum Kee's Panda Brand oyster sauce, however, is not as flavorsome as its Premium version. The fresh oyster flavor is not that apparent in this version. Having said that, customers have vouched that this can easily turn their chop suey into tasting and looking like an authentic South Asian dish.
It is preferred that you refrigerate the sauce after opening, even though the requirement is not mentioned on the label. There have been cases where the sauce has gone bad when kept at room temperature.
Overall Rating: 8.7/10 (Very Good)
4. Megachef Premium Oyster Sauce
Megachef Premium Oyster sauce has a smoky flavor that compliments the sweet and salty taste combo. A great option to elevate the taste of regular stir-fries, braises, and marinades.
THINGS WE LIKE
The rich taste of oysters

Gluten-free

Smoky, sweet, and salty flavored

No artificial flavors

No MSG

Made in Thailand
Ingredients: Oyster powder, water, salt, sugar, corn powder.
Sodium Content: 670 mg per tablespoon.
This sauce is made using large fresh oysters harvested from the Gulf of Thailand. They are smoked over wood and mixed with sugar and salt to create a deep-flavored, syrupy sauce.
Use this to make braised chicken, pork, or mushroom. Or simply pour out a few drops straight from the bottle onto your bowl of salad. With no preservatives, MSG or gluten, this seems to be the ideal option if you are ready to shell out some extra money for a relatively small bottle.
Overall Rating: 8.2/10 (Very Good)
5. Maggi Oyster Sauce
Maggi Oyster sauce is a staple in many Asian cuisines. It's particularly common in the Philippines, Singapore, and Malaysia, where it's often used as a dipping sauce. Maggi Oyster Sauce doesn't just give dishes a savory flavor, it also adds a bit of texture and thickness.
THINGS WE LIKE
Has a rich flavor

A unique, savory seafood aroma

Additives are sourced from plants or seafood

Made from the finest oyster extracts
Ingredients: Water, sugar, salt, thickener, flavor enhancers, yeast extract, food acid, oyster extract, and preservatives.
Sodium Content: 450mg per serving.
Maggi sauces are made with carefully selected ingredients that enhance flavors without overpowering them. They add a zesty touch to any recipe and complement your food without masking its natural taste.
Maggi Oyster Sauce is great for fried rice recipes, as a flavor booster in Asian stir-fries, and for enhancing the savory flavors of soups, stews and curries. And if you've got leftovers, you can add Maggi Oyster Sauce to them for an extra layer of flavor.
Maggi 2 Minute Noodles is one of the most popular in the Maggi family of noodles. My favorite way to eat these noodles is to boil them in water and add MAGGI Oyster Sauce as an extra flavoring option. The sauce adds extra flavor while giving them more substance and making them heartier.
Overall Rating: 7.8/10 (Good)
6. Kikkoman Oyster Sauce
This sauce is an exceptionally good marinade for your meats and vegetables. The rich umami flavor in it enhances the taste of everyday Asian food, be it rice bowls, wraps, sandwiches, or salads.
THINGS WE LIKE
No MSG

No preservatives

Gluten-free

Value for money

Product of USA
THINGS WE DON'T LIKE
The packaging could be improved
Ingredients: Water, sugar, salt, oyster juice concentrate, modified corn starch, caramel color, yeast extract, oyster extract.
Sodium Content: 830 mg per tablespoon.
Kikkoman's oyster sauce is made from the natural liquor that's extracted from fresh oysters. Oyster liquor refers to the liquid that's found inside raw oysters. Once you take oysters out of seawater, this is the juice that keeps them alive and fresh. The sauce made with this, such as Kikkoman's, has a balanced flavor that's strong but not overpowering.
Unlike most other oyster sauces, this one does not use high fructose corn syrup. It's also free of gluten and soy, making it a more viable option for a larger section of oyster sauce fans. It is thick in consistency, and adds a nice sheen to your stir-fried Chinese broccoli, wok-fried green beans, or chicken wings!
Overall Rating: 7.2/10 (Good)
7. Maekrua Oyster Sauce
If you are looking for a low-sodium version of oyster sauce, then this is your best option. Maekura's Thai oyster sauce is neither too overpowering nor too mild. Use it in a stir-fry, or marinade, or simply add a few drops to your lemongrass shrimp rice noodle salad, and you won't be disappointed.
THINGS WE LIKE
Aromatic and rich in flavor

No MSG

Long shelf life

Product of Thailand
THINGS WE DON'T LIKE
Not gluten-free

Packaging could be improved
Ingredients: Oyster extract, soy sauce (soybean, wheat flour, salt), water, sugar, salt, modified starch, corn starch, glucono-delta-lactone, sodium benzoate.
Sodium Content: 500mg per tablespoon.
This sauce is slightly sweet and thick like real oyster sauce is supposed to be. Some of the best dishes to try with this are drunken noodles, or a Chinese Moo Goo Gai Pan — a stir-fried dish consisting of sliced chicken, mushrooms, and other vegetables. Since it has a deep and full flavor, one tablespoon is usually enough to make a meal that serves a family of three.
Maekura's oyster sauce happens to be one of the most favored in the market today. It can be used as a low-sodium alternative to fish sauce. Because of its flavor and aroma, you need just half the amount of what you would use if you were using fish sauce.
The bottle comes in a thick bubble wrap. But despite the secure packaging, there have been cases where the bottle has arrived broken. Sometimes the bubble wrap rips off the label when unpacked quickly. So it would be wise to handle it slowly, and with care.
Overall Rating: 6.9/10 (Above Average)
Concluding thoughts…
Oyster sauce is a great alternative for those who are allergic to soy. But if you are allergic to shellfish, and still want to enjoy the flavors of oyster sauce, we have you covered. We have listed a vegan option for those who have been keeping away from a good Cantonese stir-fry because they can't have shellfish.
If you are buying your first bottle of oyster sauce, you are unlikely to be disappointed with any of the above options. If you have already made your pick, get ready to binge on some lip-smacking Asian delicacies. For, even a plate of boiled broccoli can be transformed into the most delectable meal, when you add a dash of oyster sauce.
Using oyster sauce in food is probably the quickest way you can enhance its flavor, without having the know-how of a skilled chef. Buy your bottle of sauce today, and turn your every meal into a classic Chinese takeaway.