Be it pasta, salad, or soup, a generous sprinkle of parmesan cheese can turn your run-of-the-mill meal into a calming plate of comfort food. This low-fat lactose-free food product is also a good source of protein, calcium, vitamins A, B6, and B12.
What's in your Parmesan cheese?
Parmesan cheese originated as Parmigiano-Reggiano in Italy. Originally, it was made with just three ingredients: milk, salt, and an enzyme called rennet, which is extracted from the calf's stomach. This enzyme is used to thicken and coagulate the milk — this is step one in the cheesemaking process. Today, some brands also use plant-based rennet to serve the same purpose.
Based on the amount of time the cheese is aged, its flavor changes. The more it is aged, the more piquant it will taste. A cheese that's aged for long also has a more granular texture.
Most brands, besides the three main ingredients, milk, salt, and rennet, also include cellulose powder in grated cheese to prevent it from caking. This is essentially just wood pulp which does not have any side effects but is used to keep the cheese dry. Your grated cheese might also include potassium sorbate, which is added as a preservative. It helps prevent the formation of molds.
Our Choices for the Best Parmesan Cheeses
We have rounded up the five best parmesan cheese brands that are available in the market today.
1. Kraft Grated Parmesan Cheese
This large bottle of grated cheese is a must-have for those who like a burst of cheesy flavor in everything they eat – from popcorn to spaghetti. It comes in handy especially during large family dinners when grating a block of cheese for every plate can be quite a task.
Features:
Ingredients include parmesan cheese (pasteurized part-skim milk, cheese culture, salt, enzymes), cellulose powder, potassium sorbate
It has 20 calories per two teaspoons
Aged for six months
Made in the USA
Pros
Long shelf life
Value for money
Cons
Gets clumpy
Doesn't melt well
It is easy to get used to this big jar of Kraft Grated Parmesan Cheese. It has a long shelf life, is easy to store, and is simple to use. Just a few shakes of the bottle can blanket a plate of veggies with cheese. Above all, for the quantity you get, it's worth the price.
However, this cheese is aged only for six months, and hence you cannot expect the pungency of wedges that you get from an aged parmesan from Italy. This also contains cellulose, which is essentially wood pulp, or a plant fiber that prevents the cheese from getting clumpy; and a preservative called potassium sorbate which prevents any microbial growth.
Kraft parmesan cheese is a low-fat alternative to butter on your popcorn. Use it to generously garnish your pizza and pasta. However, it doesn't melt readily, and hence is not the best ingredient in soups.
2. Igourmet Parmigiano Reggiano Cheese
Delicious and full-flavored, slices of this authentic Italian cheese are best served on a cheese board or party platter. This brand was voted the best parmesan in America by America's Test Kitchen and Cook's Illustrated.
Features:
Aged for 18 to 20 months
Made from unpasteurized cow's milk
Comes in a cooler chest with refrigerant gel packs
Imported from Italy
Pros
The authentic parmesan cheese taste
Grates well
Well-packaged
No additives
Cons
Igourmet's Parmigiano Reggiano cheese undergoes a strict aging process of 18 to 20 months during which it is constantly inspected for quality. It is cut and wrapped by hand, before being exported in insulated packages. The cheese arrives in a cooler chest filled with dry ice to make sure that it doesn't spoil due to high temperatures. The two-pound cheese measures 8x5x1 ½ inches and mostly will have half-an-inch rinds on its adjacent sides which can be used in broths.
Since it is all-natural without any preservatives, it has a short shelf life. If you want to save it for a longer time, you could freeze it in a vacuum-sealed bag and thaw it whenever you want to use it. Thawing doesn't affect the flavor.
For over 20 months of aged cheese, this doesn't seem as pungent, sharp, and nutty as it should be. It, however, does have the texture and graininess of real parmesan cheese. It grates smoothly and is perfect for a snack with or without a cracker.
3. Mama Francesca Premium Parmesan Cheese
This product has the creamy and nutty flavor of asiago and the rather sharp and piquant taste of romano, making it a top option to elevate the taste of simple dishes such as caesar salad.
Features:
Comes in a plastic bottle
Aged over 10 months in small batches
Ingredients include parmesan, asiago, and romano cheese (pasteurized part-skim cow's milk, cheese cultures, salt, enzymes), cellulose powder, potassium sorbate
Made in the USA
Pros
Fresh tasting
GMO and Gluten-Free
Cons
The flavor is too mild
The cheese tends to clump inside the container
Asiago is semi-soft and mild, and romano is hard in texture. A combination of these two with parmesan cheese gives the product a unique taste and feel. The cheese is creamy yet grating-type hard. It tastes fresh and holds up its texture when used in dishes that need to be cooked or broiled.
The cheese is added with potassium sorbate preservative and cellulose powder that prevents it from forming hard lumps inside the container. However, despite the use of cellulose, in some cases, the cheese sticks together to form clumps and this makes it hard to sprinkle on dishes.
4. 365 by Whole Foods Market Grated Parmesan Cheese
If you are looking for a vegetarian option of parmesan cheese that is also low in Sodium, you have hit the jackpot with this finely-grated cheese.
Features:
Aged 10 months
Ingredients include parmesan cheese (cultured pasteurized part-skim milk, salt, microbial enzymes) powdered cellulose
Certified vegetarian
Product of the USA
Pros
Low in Sodium
Made with milk from cows not treated with hormones
Cons
With many brands, it is often unclear whether the enzyme used to make the parmesan cheese is from animals or from plants. This can be a cause of concern for those who follow a vegetarian diet. 365 Everyday Life's parmesan cheese is certified vegetarian, thereby leaving no room for doubt. Plus, it has relatively lower sodium (60 mg per 5g of cheese, as opposed to 75 mg of Sodium in most other brands), making it a healthier option.
The cheese is finely-grated and sets up well in sauces. However, there have been cases where the customers were disappointed to find molds inside the cheese container. There is no mention of any preservatives in the ingredient list, and thus it would be best if consumed within a short span of time.
5. Milano's Grated Imported Parmesan Cheese
This powdery cheese has a strong pungent aroma and sharp taste and melts extremely well on pizza, pasta, and meatballs.
Features:
Ingredients include pasteurized cow's milk, culture, salt, and enzymes, corn starch and cellulose, potassium sorbate
Aged over 10 months
Made in the US
Pros
Cons
Tends to clump
Almost too powdery
If you are looking for a cheese that melts on your steamed vegetables and soups like ice in summer, then this is the one for you. The powder-thin cheese has a sharp taste and can easily enhance the flavor of dishes, be it hot or cold.
This brand of cheese comes mixed with cellulose and corn starch, which are usually added to prevent caking of the grated cheese. The crumbs are still a little sticky, which works well on pasta and pizza but not so great on popcorn. There have been a few complaints of damaged packaging, and clumpy cheese inside the container.
This product is relatively high in sodium (almost 90mg per tbsp, as compared to 75mg in most other brands), and hence not the most favorable for those with high blood pressure.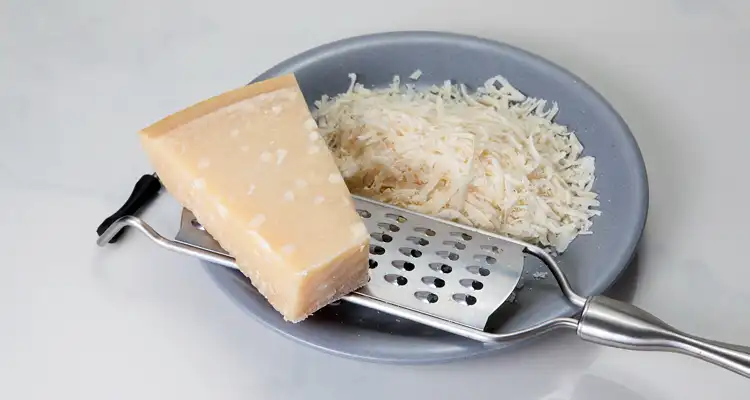 Summary
One simple way to narrow down your pick is to decide if you want the pre-grated cheese or wedges of it. Store-bought pre-grated cheese saves a lot of time and comes in containers that are easy to store. A wedge of cheese has its own advantages. It can be sliced for crackers, or grated for other dishes.
The next step is to know what exactly your jar of parmesan cheese contains. We have covered vegetarian and low-sodium options, besides those that have a nutty, sharp, or creamy flavor. We hope the list has helped bring some clarity on which brand is the best for you. If you have made your pick, let the sprinkling and grating begin.