Popeyes is best known for their delicious fried chicken, but the chain gained popularity for its tasty dipping sauces. What makes Popeyes sauce so special is that they all taste really good — no matter what flavor you choose to try.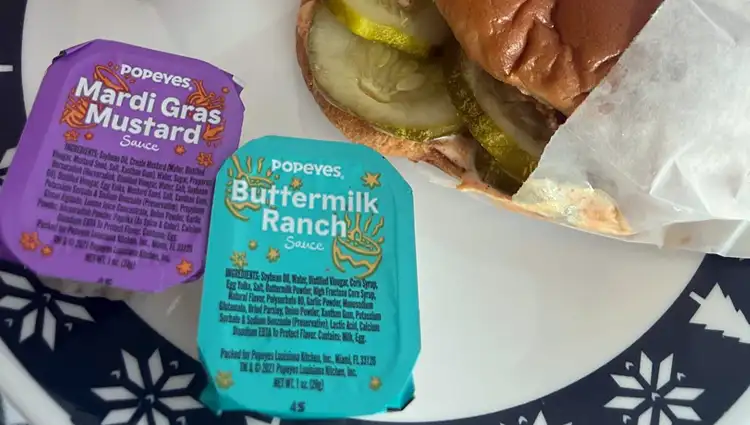 The chain offers more than a dozen kinds, ranging from the classic BBQ Sauce to the more unusual Mardi Gras Mustard Sauce.
I recently tried all of Popeyes' dipping sauces and thought it would be fun to share my thoughts.
It's hard to rank Popeyes sauces because every one of them is a perfect blend of spices that makes for a mouth-watering meal. The most difficult part is narrowing down your favorites.
When it comes to the Popeyes menu, you may be wondering which sauces are the most enjoyable. While my list is in no way definitive, here they are, from least to most favored.
10. Tartar
First, the basics. It's a creamy dipping sauce mixed with dill pickle relish, onion, parsley, and a blend of Louisiana seasonings. Yep, that sounds like tartar sauce all right.
But what about the taste? Well, it tastes like regular tartar sauce—exactly what you'd expect. It can be used as a spread for sandwiches or as a dip for vegetables.
It's not too heavy or chunky—you can squeeze it out of its packaging easily, and it'll spread evenly on whatever you're dipping into it. I recommend trying it with Popeyes' chicken tenders or their fries.
9. Bayou Buffalo
I'm glad they added this sauce option to the menu. The heat is definitely there, but it has a Tabasco sauce-like taste that makes you think "Ahh! I'm being tortured!" and then "Oh wait, this is actually pretty tasty."
It tastes very good on the shrimp, so I would recommend giving it a try if you're at Popeyes and want something more than just ketchup or mayo with your fried shrimp!
After all, if there's one thing we know for sure about Popeye's tenders, it's that they can handle some serious heat!
8. Wild Honey Mustard
Popeyes' Wild Honey Mustard sauce has a pleasant yellow color to it and the consistency is pretty standard—not too thick but not too runny either. In terms of flavor, this is definitely more mustard than honey—the taste reminds me a lot of Heinz Honey Mustard, which is my favorite mustard of all time.
It's very tangy and pungent, but just sweet enough to give it that signature honey mustard taste. The sauce does have a bit of a kick to it because you can taste the slight burn of the mustard seeds in there at the end, but for me, that just enhances the overall flavor.
It tastes great on its own and makes an excellent companion to any dish you can imagine. We really enjoyed the flavor!
7. Megan Thee Stallion's Hottie Sauce
Popeyes has a new hot sauce that we are LOVING and it's inspired by our favorite rap queen, Megan Thee Stallion (yep, the one behind "Savage" and "WAP").
It's called Hottie Sauce, which is perfect because it definitely smells hot right off the bat. But it's not overbearing in the mouth. In fact, it starts out hot but mellows into sweet and sour with some sort of spicy at the very end. It goes better with their chicken sandwich than by itself though—the heat doesn't overpower you as it does with most hot sauces, so you need something to balance it out.
So if you haven't tried it yet, you better head down to your nearest Popeyes store now!
6. Bold BQ
First of all, it tastes just like barbecue sauce—which is nice because sometimes the dip is a little too sweet or smokey (looking at you, Chick-fil-a). This one is perfectly balanced. It tasted great with every food we tried, from chicken to fries.
The only gripe I had was that it was a little watery, and that made it hard to dip stuff into without making a mess. But if you're not worried about getting your fingers sticky, this dip is perfect for any occasion.
It's a delicious accompaniment to their chicken tenders, especially with their new mac and cheese side. I highly recommend you try it out!
5. Creole Cocktail
I tried this on some butterfly shrimp, and it was really good! I'm not typically a big fan of cocktail sauce, but this sauce was so delicious. It's worth trying at least once!
The first thing I noticed is that it's sweeter than normal cocktail sauce. I like the flavor, but I would have liked it to be a bit spicier.
Overall, I think this is an okay sauce, but if you're looking for something with a bit of spice that will make you do a double-take, this is not the one for you.
4. Buttermilk Ranch
Ranch is one of those classic flavor profiles that really never disappoint. It's creamy and rich, but not too heavy, and it has enough savory elements to provide a solid flavor profile without distracting you from whatever the dish might be.
That's exactly the case with this ranch dressing from Popeyes. This ranch is creamy, with just the right amount of tanginess from the buttermilk and garlic. It's not too overpowering, which makes it perfect for dipping pretty much anything into it at any time.
So next time you're at Popeyes (which should be today), give this stuff a go! You won't regret it!
3. Sweet Heat
First of all, I'm a huge fan of spicy things, so I was excited. This sauce is described as a sweet and spicy dipping sauce seasoned with red chili peppers.
I like the sauce. It's better than McDonald's new sweet chili sauce that they released as part of their new BTS meal but it's pretty similar to that one. McDonald's sauce has a little less spice, but this one is a little sweeter. Overall, I like both sauces a lot though.
If you're looking for a sauce that isn't too different from the McDonald's one but that packs a punch, go for this one.
2. Mardi Gras Mustard
I'm not actually sure why they call this one "Mardi Gras," but I guess it's because of the color.
If you like honey mustard, you'll probably like this one too. If you don't, then you won't.
It was a very thick dip and looked more like the kind of spicy brown mustard you get at the grocery store. It was surprisingly good and I enjoyed it. This one doesn't have any real strong flavor but it is a nice companion to Popeye's chicken.
Personally, I prefer Mardi Gras Mustard to Popeye's Wild Honey Mustard.
I give this 4.5 stars out of 5.
1. Blackened Ranch
If you love ranch and you like a little bit of spice then this is the dipping sauce for you. The sauce itself is very good.
It's very similar to the classic ranch sauce that they have at other restaurants like McDonald's, but it has a black pepper kick to it and it goes great with everything from chicken tenders to fries and even mashed potatoes (and biscuits if you're so inclined).
The blackened ranch delivers exactly what you'd expect – smoky, peppery, creamy, and delicious.
I can see myself getting this as a side with my chicken and biscuit in the future. I recommend it highly.
Overall? This is a solid 5 out of 5 stars for me.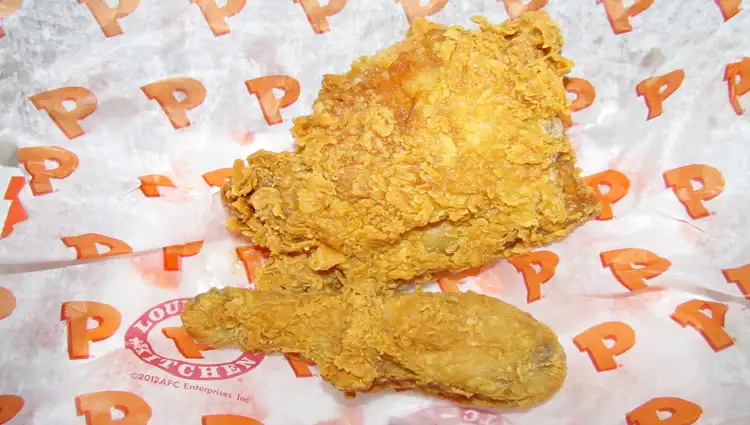 Bottom line
My ranking order is clearly subjective. I think the Blackened Ranch and Mardi Gras Mustard deserve the crown here. But if you are like me and you love them all (and don't mind mixing two or more on your finger), go with whichever you like! You can't really go wrong 🙂
So there you have it. My absolute favorites at Popeyes. And I'm sure you'll agree, there are no losers here. All of the sauces are really tasty in their own way and will work in a pinch when you need 'em to. Just remember, no dipping sauce can ever replace the main event: spicy chicken with a side of fries.
So do you agree with my rankings? Have I missed anything? If so, please let me know.