Shrimp paste, also known as kapi or belacan or terasi, is the x-factor element of many Southeast Asian and Southern Chinese delicacies. Although it smells heinous, to put it mildly, it's a ticking bomb of incredible flavors.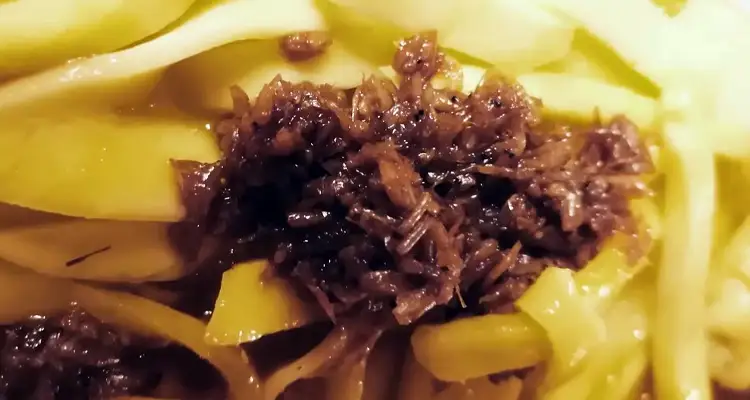 Made from finely crushed shrimp mixed with salt that's aged for several weeks, shrimp paste, for me, is easily the star of Thai curries and sambal. The umami-rich condiment brings heaps of complexity and depth to any dish it becomes a part of.
For those who are completely new to shrimp paste, choosing the right brand from the abundance of options available out there can be a daunting task.
I'm going to make your buying process a bit smoother by introducing you to some of the best shrimp paste brands out there with a detailed breakdown of everything they offer.
5. Barrio Fiesta Ginisang Bagoong Sauteed Shrimp Paste
This Filipino brand of shrimp paste is brimming with heaps of flavors. It's sweet, it's spicy, it's garlicky, with just the right amount of pungency for someone just starting out their journey with fermented condiments.
I like how it doesn't overpower the dish which makes it perfect for dishes like khao klukh krapi or fried rice with shrimp paste. Stir fries, and dips.
However, for rich, layered dishes like curries, pad, sambal, or kimchi where the taste of the shrimp paste needs to shine through, I would choose a shrimp paste with more kick.
As for the negative, I'm not impressed with the quantity of the Barrio. For the price, I was certainly expecting a bigger jar.
4. Shrimp & 6A Brand Belacan Shrimp Paste
For those who don't know, belacan is the Malaysian version of shrimp paste. It's basically a hardened block of dried, fermented shrimp paste.
Belacan is the key to getting that robust umami notes in sambal belacan and an array of traditional Malaysian curries and sauces. If you aren't familiar with the smell of belacan, you are in for a treat, mate!
Once you heat this stuff on a pan, the whole house starts to smell like a week-old animal carcass and the stink lingers on for an eternity. It's a super potent shrimp paste, so you'll only need a tiny amount to liven up your dishes.
The depth and complexity it's capable of bringing to a dish is unbelievable. I wasn't really expecting to find such high-quality belacan in the States.
Yes, your neighbors may hurl a few swear words at you but it's so worth it! I'd suggest storing the block in a zip-lock bag, otherwise, your pantry is going to smell like dirty feet for a very long time. Don't tell me I didn't warn you.
3. Thai Shrimp Paste
Comes in a small jar which makes it perfect for someone who loves Thai but doesn't cook it too often. One teaspoon of this amplifies the flavor of my stir-fries, salads, pork satay Thai red curry, stews, and sauces!
It's a classic, highly aromatic, and oily shrimp paste jam-packed with fishy, briny, and spicy flavors. A slight hint of sweetness in the condiment helps to balance and round out the dishes beautifully.
The price is on the higher side but I don't mind the extra for the bucket-load of flavors it brings to any dish.
2. Lee Kum Kee Fine Shrimp Sauce
Unlike most shrimp pastes that are required to be toasted before use, this one is ready to go into the dish right out of the bottle. It's the closest thing you will find to a homemade Kapi as the shrimp used in it have been fermented without any preservatives or MSG.
It's just dehydrated shrimp and salt. The consistency is just perfect. It lasted in my fridge for a little over 10 months.
I have used this for making kimchi plenty of times and the result was smashing! The unmistakably pungent, intensely flavorful paste is a brilliant marinade for all kinds of meat as well.
Mind you that it's very potent, so a little goes a long way. On the downside, it's not exactly budget-friendly. In fact, it's easily one of the costliest shrimp pastes I have used so far and I don't regret it even one bit.
1. Kamayan Sauteed Shrimp Paste
Do I know every Filipino in the world? No. But do I believe every Filipino swears by this brand? You bet! A good-quality shrimp paste like this is the backbone of many iconic Filipino savory dishes.
One teaspoon of this umami-filled goodness is all you need to elevate your fried rice, curries, salads, sauces, and dips like nam prik gapi. I recently made ginisang bagoong, which is a spicy dip for green mangoes, with this paste, and oh boy! It was like a riot of flavors in my mouth.
Its strong fishy taste adds tons of complexity to my Pinoy chicken curry. You can also use it for marinating your meat and seafood as well before frying.
In Conclusion
Finding a readymade shrimp paste to your liking could take a while, to be honest. Some like it mellower but not me. I belong to the "the more pungent, the better" school of thought.
At the end of the day, it all boils down to our personal tastes. Hope this guide helped to discover some of the best shrimp paste options out there. Thanks a lot for reading along!