As our world is changing, schedules are getting jam-packed. Life has taken a fast turn with no time to even grab a healthy, hearty meal. Most of us resort to the takeaway joints that are budding so fast. Most of these spots fill us with unhealthy fast food that does more harm to our bodies.
We now have found a hopeful alternative in meal replacement drinks. They give us an all round intake of essentials like protein, vitamins, minerals, and fiber. These drinks are available in the market as packed drinks in bottles or cans and in powder form, which can be mixed with water or milk. It helps you stay energized as a full meal on the go.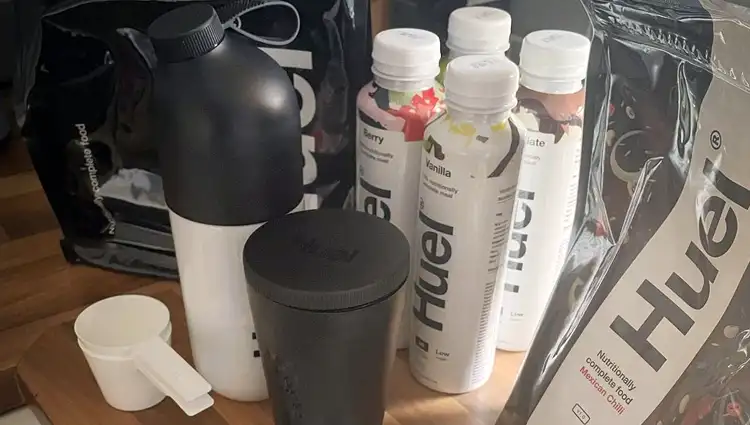 There are a large number of meal replacement drinks now available in the market. Choosing the right brand should be after checking the detailed list of ingredients contained in them. Just the attractive packaging and advertisements would not do the job.
Huel, Soylent, and Ka'chava are three brands that top the list. All three of these brands are inclined towards socially relevant issues like preserving nature, going plant-based to protect the animals, sustainability, and so on. Though all three are meal replacement drinks, there would be very relevant differences between these three brands. It is important to learn about these differences before you set out to grab one.
Huel
Launched in 2015, Huel is a brand that promotes complete food with balanced nutrients made available at the most affordable rates with the least impact on the environment. The major ingredients contained in Huel are peas, oats, flaxseeds, coconut, etc. Huel is available in the market in 4 different forms: Ready to Drink, Nutrient Bars, Powder, and Hot & Savory. This brand of meal replacement drink comes in a variety of flavors.
Soylent
An idea that became a product through one of the biggest crowd fundings ever, led to the introduction of Soylent. Just like the name suggests, the core ingredient of Soylent is Soy along with a wide range of essential nutrients, healthy fats, etc. Soylent is made available as powder, bars, and ready-to-drink. Their ingredients are said to be chosen in a very sustainable pattern, ensuring they are not adding to the warmth of the planet.
Ka'Chava
Founded in 2012, Ka'chava is a meal replacement drink with over 70 natural ingredients in its original form. A few of these are camu camu, chia, sacha inchi, and acai. The product is said to contain no artificial colors, flavors, or preservatives. The formula is said to be inspired by ancient plant-based diets. Ka'chava as a brand is said to improve immunity, energy, digestion, and even your appearance. It is only available in powder form and can be used in a number of different healthy recipes.
Now, let us take a look at the similarities and differences between these three meal replacement drinks.
Considering the similarities:
All three can be used by vegans: As the vegan community is spreading at a very fast pace, it is important to give them a range of products to choose from. These three meal replacement products are free of all dairy and animal products, making the right choice for vegans.
All three contain plant-based nutrients: the major ingredients in these three meal replacement drinks are all plant-based. This helps in maintaining the calorie level in the products and thereby helps in controlling body weight.
Superfoods for a post-workout meal: though Ka'chava is the one rich in superfoods, all three of the drinks are the best choice for post-workout meals. The high content of protein is the major reason for this.
Now let us consider the differences between the three:
Taste: Though the tastes of these drinks cannot be compared as it remains subjective, Ka'chava is said to be having the best taste among the three. It is mainly because of the natural sweetness that overrides the usual chemical aftertaste of meal replacement drinks. Huel on the other hand has a wide variety of flavors and hence offers a range of varying tastes. The unflavoured, unsweetened variant of Huel can be mixed with any of the available flavors to boost their taste. Soylent also provides added flavor variants, but are mostly limited like in the case of Ka'chava.
Nutritional contents: All three drinks contain a wide variety of nutrients, but their amounts vary between each brand. Considering the powder variant of all three:
Protein: Huel contains about 30g, Ka'chava 25g, and Soylent 20g per serving.
Fat: Huel contains about 16g, Ka'chava 7g, and Soylent 21 g per serving.
Calories: Huel contains 250 kcal, Ka'chava 250 kcal, and Soylent 400 g per serving.
Price: Though meal replacement drinks are comparatively affordable than meals from the chain takeaways that serve unhealthy meals. Among the three that we are considering, Ka'chava is the slightly costlier one because of the quality of its ingredients. Huel and Soylent can offer more affordable options for you to choose from.
Conclusion
Skipping meals is never a good practice to follow when you are running a busy schedule. It is important to keep your body energized and active for more effective use of your time and effort. Grabbing a to-go meal from the nearest food joint would be the first option for you, but it is time to think otherwise. Let us switch to a healthier version of a to-go meal, a fully nutrient-packed food supplement, Meal Replacement drinks. From the number of brands in your supermarket rack, choose the one that fits your body and your budget best. Stay healthy and hearty!