As someone who has eaten a disturbing amount of chicken wings from both these places, I think my two cents can help you decide which chicken wing spot would be more up to your liking.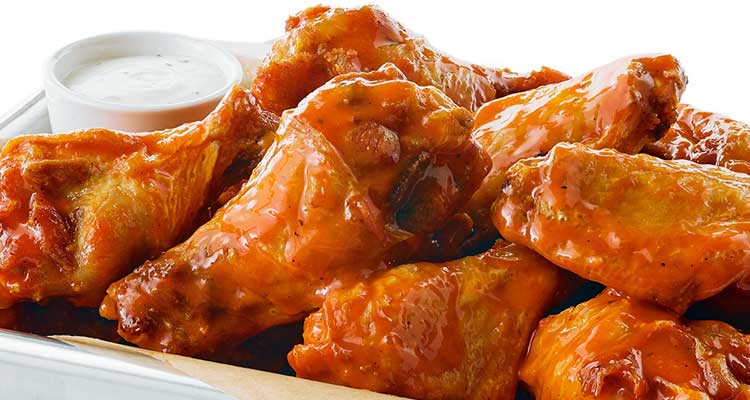 I have some amazing memories with my father and best friends at B-Dubs. It's a typical American sports bar with hundreds of giant TVs and loud people laughing and cheering over some wings and booze.
What Wingstop lacks in ambiance, it makes up for it with its huge selection of sauces, super attractive prices, and deals.
Since food preference is subjective, I hope I can count on you to take my opinions with just a pinch of salt.
With that being, let's get to comparing chickens wings:
My Opinion on Wingstop
1. Amazing Selection of Flavors
No house party in my house is complete without Wingstop wings. They have a menu full of amazing choices of dry rubs and sauces at different spice levels. I always go for their bone-in wings as they are substantially juicier and more flavorful than their boneless wings.
2. Ideal for Takeout and Delivery
90% of my orders from there have been either takeout or delivery. There was this one time when I had my lunch at the restaurant. It was quiet, which B-Dubs never is, and I honestly quite enjoyed the low-key, solo dining experience while listening to music.
3. Terrific Value for Money
My admiration for Wingstop is further amplified by their pricing. Upon comparing the prices of meals of both wing joints, I found Wingstop to be almost 25% cheaper than B-dubs. Their $0.60 boneless wings offered on Mondays and Tuesdays are a steal!
Yes, I am well aware of the fact that cheaper doesn't necessarily mean better but their competitive prices and lip-smacking flavors make me choose it over BWW time and again. Also, did I mention the heckin' awesome fries?
4. Fries Straight Outta Heaven
Their Louisiana Voodoo Fries with cheese sauce, ranch, and Wingstop's signature seasoning is probably what gods eat when they feel snacky. They are the best fries I have ever eaten and nobody can fight me on this.
Worried about soggy fries when getting them as a takeaway delivery? Wingstop has got you covered. While placing the order, you can choose the "extra well done" (or extra crispy) option for both the fries and wings. What's not to love?
My Opinion on Buffalo Wild Wings
1. The Perfect Hangout Spot
B-Dubs has been a witness to my first of many things – my first beer with my father, my first date (yes, I'm serious), and many more. They have got one hell of an atmosphere with giant TV screens playing all kinds of sports.
It's a perfect hangout spot for college kids as well as for individuals looking to get some grub and stuff after work.
2. The Flavors Hit the Spot
Just as Winsgtop, B-Dubs too boasts of a drool-worthy selection of wing flavors. Personally, I find their wings better in terms of freshness and texture.
BWW sauces are more robust and vibrant compared to the more subtle, balanced flavors of Wingstop. Do order the boneless wings should you ever choose to visit. They are unbelievably tender.
I know people who find BWW's sauces to be cloyingly sweet and unbearably spicy but not me. Most of their flavors, especially the spicy ones, never miss a mark.
The staggering prices of the food can be a turnoff but I don't mind paying extra for near-perfect wings and a terrific atmosphere.
3. Beer-battered Onion Rings – B-Dubs' Best Kept Secret
Wingstop may have better (I mean a LOT better) fries but the onion rings at B-Dubs are on a different level. Chow down on them with their signature South-Western ranch and forget how much your life sucks for a moment.
4. It's Undeniably Expensive
Unless there's a discount or happy hour, 10 boneless wings at B-dubs will set you back $9.99. That's almost a dollar a wing. Granted, that's quite damn expensive for chicken wings.
But take into account the fact that you are also paying for their big-screen HD TVs with super stunning picture quality and immersive sound.
Wingstop vs. Buffalo Wild Wings Taste Test
Both wing stops have some seriously, astonishingly, devilishly delicious dry rubs, sauces, and seasonings in their arsenal. I am going to list out my top 5 favorite wings flavors from each joint and let you decide the rest.
Top 3 Wingstop Flavors Ranked in Order of Preference:
Lemon Pepper: Sounds simple but the seasoning is anything but simple. This lemony goodness with a delicate kick of pepper is something I can eat all day, every day, should the opportunity ever present itself.
Garlic Parmesan: The garlic flavor isn't too garlicky, allowing the flavor of the chicken and the cheese to really shine through.
Spicy Korean Q: The heavenly medley of Sriracha, honey, ginger, and garlic lends an amazing depth of flavors to the wings.
Don't forget to order a side of voodoo fries, though. Some would argue that they are the best offering of Wingstop. Can't argue with a logic so fine.
Top 3 B-Dubs Flavors Ranked in Order of Preference:
Mango Habanero: Wingstop's Mango Habanero wings don't hold a candle to B-Dubs' version. The contrasting flavors of mango and habanero are incredibly well-balanced. It's not insanely spicy but will definitely make you sweat if you eat like 10 of them.
Medium: It's super dense, flavorful sauce, miles above the annoyingly salty and cloyingly sweet sports bar wings sauce.
Chipotle BBQ: The smoky flavor of roasted chipotle is the star ingredient of these mouthwatering dry-rubbed wings.
The beer-battered onion rings are like a little party in my mouth. But the voodoo fries are a whole-damn concert. Period.
Wingstop vs. B-Dubs – Which One is the One True Lord of the Wings?
Factoring in both the pricing and taste, I would score Wingstop higher than B-Dubs. If I'm ordering in or getting a takeaway, Wingstop would be my go-to choice over B-Dubs any day. Not to mention I'm totally obsessed with their fries.
However, if you are particularly looking for some wildly hot, wildly flavorful wings with some booze while enjoying sports, don't think twice and head to B-Dubs. The experience is absolutely worth paying extra for.