Sardines provide healthy protein and nutrients to the body. They are packed with Omega-3 fatty acids, vitamin D and calcium. Additionally, this small fish is full of flavor and works in a variety of recipes. Sardines also have lower mercury levels than other fish.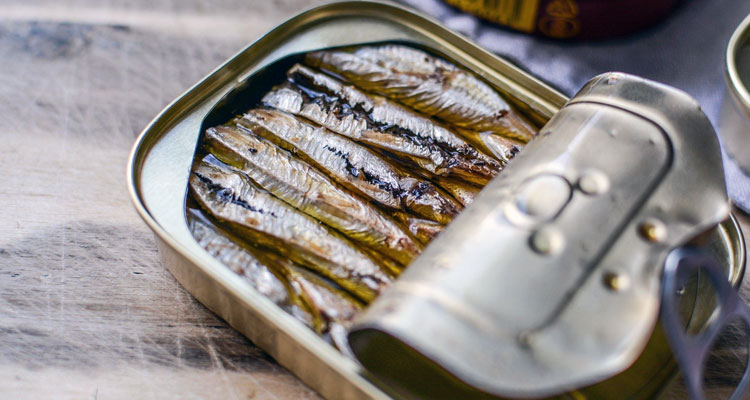 Although fresh sardines are the best, you may not be able to get them. This fish is highly perishable. So, you can only buy a limited quantity at a time.
Fortunately, canned sardines eliminate these problems.
Sardines can be preserved in oil, brine or sauce. The taste and nutritional benefits will depend on the preserving medium.
Our Top 7 Picks in Our Search for the Best Canned Sardines Brands
Here are our top recommendations for the best canned sardines.
1. Ligo Sardines in Tomato Sauce With Chili Added
This brand has just the right amount of spice to enhance the delicious flavors of the fish.
Key Features:
Produced in the Philippines
Available in 15oz cans
60 calories per serving
Sardines are preserved in tomato sauce with added chili
Pros
Rich and creamy sauce
Mildly spiced so it isn't too hot
Ready-to-eat snack
No bones
Fewer calories
Cons
The soupy taste may not be liked by everyone
As an industry leader in sardines, Ligo delivers to our expectations with their sardines in tomato sauce. It is deliciously creamy, flavorful and satisfying.
The tangy tomato sauce perfectly complements the salty sardine flavor. It is soupy with just a hint of acidity. Although the sardines have chili, it isn't hot. Instead, the chili is very mild and it enhances the overall flavor.
If you want a quick comforting, satisfying homely snack, a can will do the job. Have it on its own or with a bowl of rice. It will satisfy your appetite when you don't have time to cook.
Don't worry about painful bones sticking in your throat when you choose Ligo's sardines in tomato sauce. All you can get is tender, flaky fish.
2. King Oscar Sardines Extra Virgin Olive Oil
Experience superior nutritional benefits and amazing wood-smoked flavors with these wild-caught sardines.
Key Features:
Available in 3.75 oz cans
Contains 12-22 of Bristling sardines in two layers
Stored in olive oil with salt
230 calories per serving
Pros
Wild-caught sardines
Exotic smoky flavors
Traditional Norwegian taste
High nutrient value since skin and bones are not removed
Gluten-free
Cons
The olive oil makes the fish too delicate to handle
Wild-caught sardines are immensely flavorful and delicious. King Oscar Sardines retain this fresh taste and delicate texture as the fish is preserved in a salty oil solution. The sardines are neatly hand-packed in two layers making it easy to store and use.
If you don't like the strong raw smell of sardines, consider using King Oscar sardines. It doesn't smell fishy since the oil effectively masks the smell. You can directly eat the fish, add them to salads and sandwiches or cook them further.
No spices are added to the sardines. However, the distinct wood-smoked flavor adds an exquisite effect. Additionally, these sardines offer great nutritional advantages. Since the skin and bones aren't removed from the fish, it retains its nutritional value.
This is organic food. Also, note that the packaging is recyclable and BPA-certified.
The only downside to King Oscar sardines is that the fish are very delicate. Since oil is the preservation medium, they break easily and are not easy to handle.
Apart from this basic flavor, King Oscar Sardines also come with ingredients like jalapenos, tomato, spices, and mustard.
3. Wild Planet Wild Sardines in Extra Virgin Olive Oil, Lightly Smoked
Sustainably caught sardines that deliver the best nutrition!
Key Features:
4.4 oz packs
170 calories per serving
Lightly smoked
Preserved in organic olive oil
Pros
Firm meaty texture
Rich, delicate flavor
No fishy smell
100% organic
Sustainably caught fish
Low-calorie food
Cons
Cans are not easy to open
Expensive
The ratio of fish to oil can be inconsistent across cans
If you are keen on sustainable food decisions, Wild Planet Wild Sardines in Extra Virgin Olive oil are a good choice. The company is famous for its sustainable initiatives. It is committed to delivering eco-friendly organic products.
Wild Planet follows sustainable fishing methods. They guarantee a high-quality product that is delicious and tasty.
The ingredient list contains all-natural ingredients like sea salt, water, and aqueous natural smoke. Organic olive oil is the preservation medium. This makes it a wholesome, green food. The fish are delicately meaty and taste fresh.
The sardines do not have scales. The heads and tails are also removed before packaging. Bones are not visible. It is just tender, delicious meat that is rich in calcium, iron and Omega 3 fatty acids.
The best thing about Wild Planet Wild Sardines in olive oil is that they are shelf-stable. You can add this ready-to-go snack into salads, sandwiches, and wraps. Just combine it with avocado or tomato on toast to prepare a delicious meal in minutes without having to cook anything.
However, these sardines are expensive when compared to other brands. Nevertheless, the cost is justified by the flavors and fresh taste. If you want fish that tastes as good as from a fresh catch, pick up Wild Planet Sardines in extra virgin olive oil.
4. Nuri Portuguese Sardines, Spiced in Pure Olive Oil
Apart from the fish, these cans also contain chili pepper, carrot, and cucumbers!
Key Features:
Available in 3.16 oz cans
Fish are preserved in olive oil
Spiced with carrot, cucumber, chili pepper, clove, and hot sauce
Pros
Unique, one-of-a-kind flavor
Goes well with toast and works as an appetizer
The right amount of spice
Rich and satisfying
Very tender and meaty fish
Cons
Expensive
Unusual flavors may not be enjoyed by everyone
Many people are squeamish about sardines preserved in sauce or brine. This is often due to the distinct and strong smell and taste of the fish.
If you face this problem, we highly recommend Nuri Spiced Portuguese sardines. They are nothing like typical sardines in sauce or salt-water. They have no fishy smell or taste. Instead, they are flavorful with just the right amount of spice.
The company ensures that the sardines are packaged on the same day as they are caught. This helps to retain maximum flavor. It also ensures high nutritional content. Olive oil used for preservation smells and tastes fresh.
Hot chili pepper, garlic, cucumber extract and carrot add extra flavor to the fish and make it tasty. However, the flavors are light and not overpowering. Enjoy them with cream cheese or toast for the best results. You can also toss them in a salad or add them to a sandwich.
One of the most interesting things about Nuri Spiced Portuguese sardines is that the cans contain pickled vegetables. You will find peppers and chopped carrots in the can. Fish them out and add them to your dish for added flavor.
We highly recommend this brand if you are looking for sardines with a gourmet touch. Although they are expensive when compared to other brands, they are worth their price. Not only do they taste delicious as such, but they can also be used to flavor pasta, rice, and salads.
5. Season Sardines in Pure Olive Oil
These sardines from the sustainable Season brand are tender, mild and versatile.
Key Features:
Available in 4.375 oz tins
130 calories per serving size of 2 oz
Wild-caught in Morocco
Contains whole sardines
Pros
Sustainably caught sardines
Low calories and low sodium
No added salt
BPA-free packaging
Cons
Taste is very mild
Lack of flavor can reduce its appeal
The Season brand has put their decade-old experience to good use to come up with Sardines in Olive Oil. Their sardines are wild-caught from Morocco and are sustainably harvested. The company focuses on eco-friendly fishing practices.
All the ingredients in this product are 100% organic. As a result, it is delicious and fulfilling. There are no added spices. The entire taste comes from the sardines. So, this is a great choice if you prefer the original flavors of fresh sardines. There is no concern about spices or sauce interfering with the authentic taste.
Since the brand uses only bristling sardines, the fish are generally small. Nonetheless, they are rich in flavor and have a very delicate and appealing texture. The health benefits of bristling sardines are generally higher than regular sardines.
The bones and skin are removed before packaging. So, they are easy to handle. You can add these sardines to salads or have it with toast. Since the flavor is very mild, you can also cook it further. It can be added to soups, curries and stews.
6. Crown Prince Two Layer Brisling Sardines in Extra Virgin Olive Oil
If you are have never tried canned sardines before, start with this brand.
Key Features:
Available in 3.75 oz packs
210 calories per can
Naturally wood smoked
Hand packed in extra virgin olive oil
Pros
Best choice for the price
The ingredient list contains only sardines, olive oil and salt
Fresh, clean taste
Healthy and suitable for a variety of recipes
Cons
Can isn't easy to open
Very mild flavor
What we like most about Crown Prince sardines in extra virgin olive oil is the clean and fresh taste. The bones and skin are removed before packaging. So, the flavor of the fish is mild. It is not unpleasant or fishy. Hence, it is good for people who haven't tried sardines earlier.
Another interesting fact is that these sardines are dry. They are not swimming in a can of oil. This makes it easy to incorporate into various recipes. Use them in salads or on toast. You can also cook them further or fry them.
The fish are very fleshy with a delicate texture. They have high nutritional content. The wood-smoked flavor is barely noticeable. Cold-pressed olive oil is the preservation medium. Hence, it is a healthier choice.
The disadvantage, however, is that the sardines taste bland. You may not be impressed if you prefer rich flavor profiles. Also, the can isn't easy to open as the tab is placed at the corner. You may need a can opener to get rid of the lid completely and get to the content.
7. Beachcliff Sardines in Soybean Oil
Beachcliff sardines in soybean oil are on our list because they are minimally processed. They are made from wild-caught sardines of medium size. Additionally, the taste is fresh and appealing.
Key Features:
Available in 3.75 oz cans
190 calories per serving
Contains natural smoke flavoring
Sardines preserved in soybean oil
Pros
BPA free packaging
Steam-cooked good-sized sardines
Wild-caught sardines
Gluten-free
Minimally processed
Cons
Cans are easily dented during shipping
Whether you are on a keto diet or just interested in good-quality sardines, this is a good variety to try. The sardines are steam cooked and then placed in soybean oil. The natural smoke flavoring is barely noticeable.
The sardines are medium-size and it do not have any unpleasant fishy taste. They have high nutritional content because the bone and skin are retained.
You can use Beachcliff sardines in soybean oil in pasta and salads. They are also suitable for sandwiches and toast. It will enhance the nutritional value and taste of these dishes.
To Wrap Up…
The best canned sardines will depend on how you like to eat this fish. Do you enjoy their fresh flavors or prefer it in a pickled form?
Sardines in oil usually deliver the fresh taste of fish. Meanwhile, those in sauce or with additives like herbs, vegetables, and spices will mask the raw taste.
When choosing sardines for their nutritional value, wild-caught sardines with minimal processing are the best. As a rule, bristling sardines are superior choices. However, the taste and overall quality will also depend on whether the skin and bone are retained. Canned sardines are a convenient and exciting way to add the health benefits and nutritional goodness of fish to your diet. Go with our list of suggestions if you haven't tried them before. You will easily find one or more favorites!