Tuna is high in protein, low in fat, rich in essential amino acids, and has a low-glycemic index. Additionally, it is delicious. So, this fish is a great choice for all the right reasons!
When fresh tuna is unavailable, the canned version is a good substitute. Canned tuna is made from fresh tuna that is cooked and preserved in a suitable medium like brine or oil.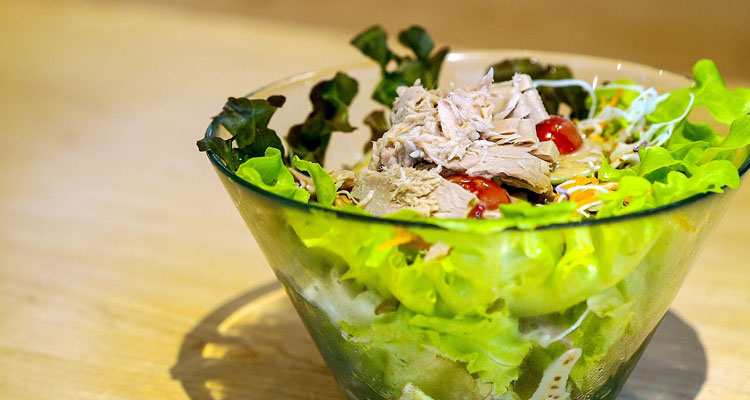 The best brands manage to retain the original taste, freshness, and nutrients in this fish. However, the taste may differ based on the variety of tuna, how fresh the catch is, and the storage medium.
Our Top 7 Picks in Our Search for the Best Canned Tuna
Read on for our comparison of the top canned tuna brands and find out why they made our list.
1. Starkist Chunk Light Tuna in Water
Sizeable chunks and authentic flavors make this brand a good choice!
Features:
Available in 5oz cans
90 calories per serving
20 g of protein per serving
Pros
Reliable brand
The company follows dolphin-safe fishing techniques
Low fat and cholesterol
Mild flavor from being stored in water
Convenient to use
Consistent quality
Cons
The packaging is prone to dents
Starkist is a company that is committed to responsible fishing practices. All their products, including canned tuna, are produced sustainably. Apart from chunk light tuna in oil and water, Starkist also has Albacore tuna in water and oil.
One of the biggest advantages of Starkist tuna is the convenience of use. The fish is already chopped into chunks before being packed into the cans. So, it is easy to use it in all types of dishes.
The tuna tastes fresh and is very meaty. Starkist light tuna is preserved in brine. Hence, the flavor of the fish is mild in this variety. This product is suitable for dishes where tuna plays a supporting role. For instance, it can be used in salads and pasta where the taste of tuna shouldn't overshadow the rest of the ingredients.
The only complaint with Starkist tuna is its imperfect packaging. Many customers notice dents in the cans, which can compromise the safety of the contents.
2. Bumble Bee Solid White Albacore Tuna in Water
Sustainably sourced tuna with mild flavors and guaranteed freshness characterize this brand.
Features:
Available in 5 oz cans
Wild-caught albacore tuna
Preserved in brine
Gluten-Free, Kosher, and Non-GMO Project Verified
Pros
Firm texture
Suitable for keto diets
Big chunks of meaty tuna that break down easily
Affordable
Cons
The fishy flavor is quite strong
Contains soy
Needs a can opener for opening
Whether it is for tuna subs, salads, or casseroles, Bumble Bee tuna products are a great choice.
Bumble Bee operates from Canada and is a leading fish products company. They follow sustainable fishing practices. Through quality procedures, the company ensures that all the fish are wild-caught and quickly processed for maximum freshness.
Bumble Bee offers a variety of canned tuna, including regular and low-sodium varieties in oil and water. You will also find specialty flavors like tuna in oil with jalapenos, chipotle, sundried tomatoes, pesto, ginger, and even hot sauce. You can directly eat the gourmet flavors as a snack.
The solid chunks of delicate fish can be easily flaked or cut into pieces for any recipes. The flavors are also interesting. Bumble Bee tuna is kosher, non-GMO, and keto-friendly. Hence it is suitable for people with various dietary restrictions.
On the flip side, Bumble bee products have a strong fishy taste. The contents of the can smell strong and tends to overpower other flavors in a dish. Also, there is no pull tab. So, you will need a can opener to get to the contents.
3. Ortiz Bonito Del Norte White Tuna in Olive Oil
This brand of tuna is your best bet for gourmet, high-quality tuna!
Features:
Available in 3.95 oz cans
168 calories per serving
357 mg sodium per can
Imported from Spain
Pros
Very flavorful fish
The company follows dolphin-safe fishing methods
High-quality produce
Moist and succulent fish
Cons
Smaller serving size
Expensive compared to other brands
Ortiz Bonito Del Norte has established itself as a leader in high-quality fish produce. The brand produces different types of canned fish including mackerel, anchovies, and tuna. However, their canned tuna is a class apart with its balanced flavors and refreshing taste.
Ortiz Bonito Del Norte canned tuna is preserved in olive oil. It is deliciously chunky, flavorful, and cooked to perfection. The tuna is sourced from the Cantabrico Sea using traditional fishing methods. It has a fresh and distinct taste and aroma that mass-produced commercial fish products lack.
Since this canned tuna is preserved in oil, it is moist and succulent. Despite the fish being stored in oil, it has a mild taste and smell. The tuna tastes perfect in wraps and sandwiches and doesn't leave any aftertaste. You will also not have to worry about fish bones when using the Ortiz Bonito Del Norte canned tuna.
Ortiz Bonito Del Norte tuna is considerably more expensive than other brands. The can is quite small. However, the quality and distinct taste of Ortiz Bonito Del Norte makes it worth the price.
4. Wild Planet Skipjack 100% Pure Wild Tuna
This canned tuna brings the original flavors of the sea to the plate due to the distinct preservation medium.
Features:
Contains tuna in sea salt
Fish caught from Central or North Pacific Ocean
60 calories per serving
Available in 5 oz cans
Pros
Sustainably sourced fish
Amazing taste
Can has a pull-open tab
No added fillers
Non-GMO, gluten-free and kosher
Cons
High sodium content
Expensive brand
There is a stark difference between Wild Planet tuna and other canned tuna brands. Wild Planet uses only sea salt to preserve the fish. There is no oil, water, or other fillers. So, there is minimal processing involved and the fish is as fresh as can be.
Wild Planet tuna is tender and full of flavor. It is an excellent choice for environmentally conscious consumers.
Wild Planet uses 100% sustainable fishing practices like pole fishing and line fishing. The company has a very small carbon footprint. Despite this factor, there is no compromise in the taste or quality. Also, they pay close attention to the mercury content in their catch. So, Wild Planet tuna is generally eco-friendly and healthy at once.
Also, since there is no oil or brine in the can, the entire weight is constituted of fresh tuna only. Not only are the contents tasty, but they are also high in nutritional content. However, since the fish is preserved in sea salt, the sodium levels are considerably more than in other varieties.
Nevertheless, Wild Planet has a no-salt version of canned tuna. This may be better if you are looking to control your sodium intake. Wild Planet tuna tastes amazing in sandwiches, salads, and casseroles.
5. Chicken of the Sea White Albacore Tuna in Water
Affordable canned tuna that is tasty and wholesome!
Features:
Available in 5 oz cans
MSC certified products
Albacore tuna variety
130 calories per serving
Pros
High-quality tender meat
Very flavorful
Mild taste
Convenient-to-use packaging
Inexpensive
Non-GMO product
Cons
Strong flavor
Contains soy
Chicken of the sea tuna in water is comparatively inexpensive but satisfying and quite appetizing. The cans have chunks of meaty content that can be easily chopped into smaller pieces, flaked, or used as such. The portions are quite generous and good value for money.
Chicken of the sea fish is MSC certified. This means that the company is eco-friendly and uses sustainable fishing techniques.
Additionally, the packaging is BPA free and FDA approved. The tuna is shelf-stable and isn't high in mercury content. Buy it in bulk for a better deal. You can easily get through a whole batch by including it in your favorite dishes like pasta and sandwiches or wraps.
The canned albacore tuna from this brand is of superior quality. However, it can tend to have a strong, fishy taste and smell. In certain cases, it may even leave a lingering aftertaste.
6. Callipo Solid Light Italian Canned Tuna in Olive Oil
Aromatic and appetizing handpicked tuna in clear Italian olive oil!
Features:
Available in cans of 2.8 oz
Yellowfin tuna
Product of Italy
Pros
Clean flavor
High-quality fish
Leaves no aftertaste
The company follows dolphin-safe fishing methods
Cons
Small quantity per can
Expensive
All the qualities of being a hand-picked product are evident in Italian canned tuna in oil by Callipo. This canned tuna is made from very tasty yellowfin tuna meat.
The company follows a stringent selection process to choose tuna of the right size for maximum taste. While most brands add water back to the cooked tuna, Callipo drains off the excess water completely. So, the flavor is fully concentrated in the meat.
High-quality Italian olive oil is used for preserving the fish. The packaging is done with great attention to detail. So, no flavor is lost. The fish tastes fresh and can be eaten by itself or added to other dishes.
The product stays true to its "Produce of Italy" label. The entire process from catching the fish to processing it and packing is done in Italy.
Italian canned tuna is, however, quite expensive. But if you value quality over quantity and wish to savor the flavors of carefully chosen fish, you will not be disappointed.
7. Safe Catch Mercury Tested Wild Albacore Tuna
Superior-quality tuna at a very affordable price!
Features:
Cans of 5 oz size
A lean source of protein
Non-GMO, Kosher and paleo certified
70 calories per serving
Made with fish caught from the North Pacific or Coastal New Zealand
Pros
Each fish is tested for low mercury content
No additives or fillers
Suitable for pregnant women and children
Authentic and very flavorful tuna
Fish are sustainably caught
The produce is fully traceable
Cons
The cans do not appear to be full
The fish tastes dry
Can you differentiate between high-quality and low-quality tuna meat? Then, you will quickly notice why this brand is a superior choice. If you overlook the aesthetic imperfections, Safe Catch is one of the best quality tuna brands available.
Safe Catch is an approved dolphin-safe company. It follows stringent quality practices and sustainable fishing. The catch is subjected to minimum processing. The brand is also very choosy about the quality of fish.
Every single fish is tested for mercury levels. Low mercury levels are in fact, a specialty of this brand. For the quality of the meat that you get, the price is unbelievably low.
While other brands may present a similar taste, it is usually due to the addition of oil and other additives that flavor the meat. However, Safe Catch Wild Albacore Tuna is packaged in its natural oils with no artificial preservatives.
When compared with other canned tuna, this tuna may appear to be too dry. But this is because there is no added oil or brine. This, in turn, enhances the original flavors and goodness of the fish.
The company suggests that you break up the meat and mix it with the natural oils in the can. This allows the tuna to reabsorb its oils and become moist. Doing so will also ensure that none of the Omega-3 is lost.
Safe Catch Wild Albacore Tuna can be directly eaten from the can. It also tastes divine as a side dish with rice.
Concluding thoughts…
Although there are different types of canned tuna varieties available from different brands, not all are equal. This may confuse when you must choose the right tuna for your needs.
Whether it is to make a simple sandwich or to use it in a gourmet salad, the quality of tuna will significantly affect the final taste.
To create this list of the best-canned tuna, we have considered various factors. These include the type of fish, nutritional benefits, natural flavors, sustainability aspects, taste, and cost. Based on these criteria, our guide covers the most popular canned tuna brands. Look out for these brands when you go shopping and you will be getting the best value for money.