Did you know that a single serving of a cola drink contains 39 grams of sugar? This is more than half of the recommended daily sugar intake for a healthy adult.
Apart from sugar, popular soda drinks contain various unnatural and unhealthy ingredients. All these preservatives, chemical substances, and sugars can adversely affect your health. And don't forget that they are terribly addictive as well.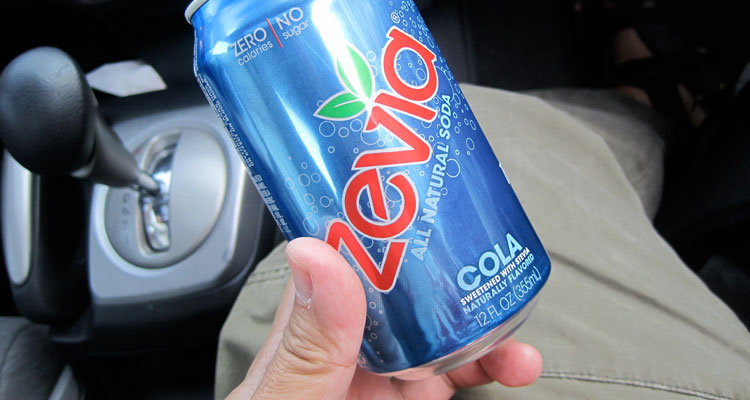 Fortunately, the beverage aisle also carries healthy alternatives to traditional soda drinks. But there is a downside. While these drinks have lesser calories, chemicals and less harmful, they are usually not as tasty. How disappointing, isn't it?
Thankfully, there's Zevia! This Los-Angeles based brand offers zero-sugar and zero-calories beverages that are just as delicious as their unhealthy counterparts. Zevia offers a variety of options in soda, energy drinks, sparkling water, and even organic tea. While they taste authentic, they do not contain any of the bad stuff found in other bottled and canned drinks.
Interestingly, all Zevia flavors are clear because they do not use artificial colors like other soda companies. Whether you are kosher, vegan, gluten-free or just health-conscious, Zevia is the right drink for your needs.
The Seven Best Zevia Flavors for 2022
So, what are you waiting for? Here is our round-up of the 7 best Zevia flavors that you must try. Get your hands on them already!
1. Cola Flavor
Kick your diet coke problem for good with the Cola flavor from Zevia!
Key Features
Available in 12 oz blue color cans
Zero sugar, zero calories
Sweetened by stevia leaf
Pros
Tastes like a light cola drink
Light citrus tones
Doesn't weigh you down
No unpleasant aftertaste
Cons
Contains 45mg caffeine
Doesn't taste good unless chilled
Zevia cola isn't an exact replacement for diet coke or cola. So, expect to be disappointed if you want the exact taste.
Instead, Zevia cola is lighter and has a subtle flavor. It is refreshing and has a pleasant taste. Try it for a while and you will find your interest in coke and diet coke dwindle.
The best thing about Zevia cola is that it has mild flavors. It has a distinct scent and taste of citrus and spices. The amount of fizz is just perfect. However, this flavor contains a good amount of caffeine to deliver the kick we associate with colas.
Zevia at room temperature tastes flat and has no distinct or discernible flavor. To enjoy it thoroughly and indulge in the fruity flavors, you should drink it chilled.
When chilled, the taste is like that of cola with a hint of lemon. Another good thing about Zevia cola flavor is that it doesn't have any aftertaste.
So, if you are trying to get rid of Coke, Pepsi or other colas from your diet, try Zevia. It has a crisp bite and is delicious, but without any of the bad stuff in a cola. Use it to kick your cola addiction and it will be a healthy move.
2. Ginger Root Beer Flavor
This is the perfect drink if you love the rich and creamy texture of root beer with a hint of ginger!
Key Features
Contains natural flavors, citric acid, and stevia leaf extract
Spicy and sweet
No artificial ingredients
Clear in color
Pros
Luscious and creamy texture
Zero caffeine and zero sugar
Strong root beer aroma
Cons
Barely discernible taste of ginger
Just a little too sweet
Zevia ginger root beer has a luxurious, creamy texture and slightly overpowering sweetness. Although it distinctly tastes and smells like root beer, it is hard to find the ginger in it.
If you expect this beverage to have pungent and strong flavors of ginger, you may be disappointed. It certainly lacks that kick. You may also like to pass up this drink if you aren't fond of sweet ginger-flavored liquids.
Having said so, Zevia ginger root beer tastes divine with a scoop of vanilla ice cream. Don't forget to chill it before you try this combination. You can also use it as a mixer for other drinks.
It doesn't contain aspartame but is naturally sweetened with stevia leaf extract. So, this root beer is a healthier alternative to diet A&W root beer. The taste is similar, but it is healthier. Try it at least once!
3. Ginger Ale Flavor
With a sweet blend of ginger and citrus, this is the next best thing to a real ginger ale!
Key Features
Available in green cans
Clear-colored liquid
Contains natural ginger extracts and citric acid
Pros
Good for upset tummies
Works as a cocktail mixer
Just the right amount of fizz
Cons
Very sweet
Ginger flavor isn't too strong
Just like the ginger root beer from Zevia, ginger ale has very mild flavors of ginger. So, this drink doesn't deliver the strong, pungent flavors of ginger.
Nonetheless, Zevia ginger ale is a pleasant drink. It is light and refreshing. It tastes best when chilled. It also doesn't contain any caffeine, which makes it a great drink for any time of the day.
This is one flavor of Zevia that is worth stocking in your refrigerator. It can be very useful if you ever suffer from a stomach bug or motion sickness. The ever-so-slight hint of ginger will alleviate nausea even while it rehydrates your body when you lose fluids.
Although it isn't as sweet as a typical soda, Zevia ginger ale is a sweet drink. It has a slight, but tolerable aftertaste.
4. Cream Soda Flavor
With luscious creaminess and delicious deep aromas, the Zevia Cream soda can easily pass off as a dessert!
Key Features
Clear in color, no caramel color
Comes in brownish-yellow cans
Soy-free
Contains citric acid
Pros
Delicious hints of vanilla and butter
Not too sweet like typical cream soda
Great mixer
Cons
Rich and creamy texture may not be liked by everyone
If you are fond of cream soda, this flavor from Zevia is a must-try. It has a rich, creamy texture and sweet luxurious taste that will leave you feeling full and satisfied for a long time.
Most cream sodas are overwhelmingly sweet. For this reason, they aren't liked by everyone. However, Zevia has balanced flavors with just the right amount of sweetness, making it a pleasant and refreshing drink.
Zevia cream soda has subtle hints of vanilla and butter. It is a perfect replacement for traditional cream soda. Also, it is caffeine-free.
As with all other flavors of Zevia, this drink tastes best when it is chilled. Once you drink it and like it, you will not find any other cream soda to be as satisfying.
This flavor is worth trying! Have it with a scoop of vanilla ice cream. It will make a great dessert for a hot summer day or even a light beverage that will satisfy your sugar craving.
5. Cherry Cola Flavor
This drink blends the complex flavors of natural cherry and cola to create a refreshing beverage that tingles the taste buds.
Key Features
Arrives in blue cans of 12 oz
Clear color liquid
Has tartaric acid, citric acid, and caffeine
Pros
Tastes just like cherry coke
Strong cherry flavor
Tastes great with ice cream
Good mixer
Cons
Slight aftertaste
Slightly sweeter than most people like
Contains 38mg caffeine per serving
If you are struggling to get over cherry coke, this Zevia flavor will do the job. Zevia cherry cola is an excellent replacement for cherry cola. It gives you the same satisfaction, without the bad side effects.
You cannot overlook the powerful fragrance and strong smell of cherry when you first open the can. The citrusy undertone further enhances the flavors.
Some users find that Zevia cherry cola is sweeter than regular cherry coke. However, we think that this added sweetness only makes it taste better. Try it with ice cream and you will see why it is so popular.
Don't forget to refrigerate this drink before consumption. Refrigerating it will bring out the strong taste and reduce the sweetness.
6. Black Cherry Flavor
You can almost smell ripe juicy cherries and feel fresh autumnal vibes when sipping on this amazing flavor.
Key Features
Comes in purple cans
Clear liquid
No caramel color
Pros
Rich and delicious fragrance of cherries
Strong flavors
Just the right amount of fizz
Zero caffeine
Cons
This is the closest healthy drink to a Cherry 7Up. The taste is almost comparable. It is one of the best cherry drinks in the market and has bold and complex flavors that make it a treat by itself.
Black cherry can also be used as a mixer. But it has a distinct flavor that will overpower the remaining flavors in the mocktail or cocktail.
Unlike the cherry cola flavor from the same brand, black cherry has no caffeine. This adds to its appeal and makes it suitable as an all-time drink. Have it chilled and you will find yourself dreaming of exotic vineyards with plump, juicy cherries at any time of the year! It is that delicious.
7. Orange Flavor
Naturally sweetened orange drink that tastes divine. It is as good as biting into a sweet, tangy slice of orange.
Key Features
Comes in orange color cans
Clear juice
Naturally flavored
Pros
Crisp flavors
No candy-like taste
Fresh and delicious
True to flavor
Just the right amount of sweetness
Cons
Taste doesn't resemble other fizzy orange drinks
Has an aftertaste
Zevia orange soda is distinct from any other orange soda in the market. It lacks the overpowering sweet candy-like flavor. Also, it isn't watered down like the typical other drinks you may come across. Instead, it tastes natural. This orange flavor juice has a thick, luxurious texture and crispy taste.
Zevia's orange flavor soda is refreshingly light. It has just the right balance of sweetness and tartness. It is just like biting into the real fruit. This drink is a great choice for hot summer days and will leave you refreshed and satisfied.
Additionally, this variant has zero caffeine. So, you can have it at any time of the day. Zevia orange forms pairs well with spicy food. Try it and you will find that it enhances the flavors and makes for a more flavorful meal.
Although Zevia orange soda has an aftertaste, it isn't too unpleasant. However, the clear color can take some getting used to, since we never come across orange drinks without their defining orange color.
Is Zevia Good for You?
Most of the beverages and drinks we buy from supermarkets are full of unhealthy, artificial flavors, preservatives, colors, and other bad stuff. This makes Zevia a tough contender for health-conscious consumers.
To improve your overall health in the long run, you should reduce your intake of sugars and unnatural additives. This means that you should work towards eliminating soft drinks and unhealthy beverages from your diet.
Zevia scores in this regard. This drink has a similar taste and it delivers the same satisfaction. However, it contains none of the bad stuff.
The brand uses natural stevia leaf extract as a sweetener. This natural ingredient doesn't cause medical complications like obesity, diabetes, blood sugar increase, and tooth decay that are associated with other sugars.
So, if you are trying to kick a terrible soda addiction, Zevia is a good alternative!
Nevertheless, Zevia is still a processed product. Hence, it doesn't compare with the benefits of drinking good old water. As far as possible, stick with natural water and have Zevia in moderation when the need arises.
To wrap it up…
If carbonated drinks and beverages are a regular part of your diet, it is high time that you switched to healthier alternatives. Try Zevia and its amazing range of flavors to overcome your soda addiction.
Free from artificial flavors, colors, additives, and sugar, Zevia is a clean brand. Additionally, it delivers the same taste and satisfaction as your favorite sodas.
Start with our list of recommended Zevia flavors to find your favorites. Then make your way through the rest of the range. We are sure you will never again bother with unhealthy sodas. And your body will thank you for this change!