Stocking up cans of tomato sauce in the pantry is a no-brainer. But which ones would go well with your pasta, or serve as the best side for your nacho chips, gets a little confusing. This is where we come into the picture. We have listed the top seven brands of tomato sauce that could turn your simple meal into a feast.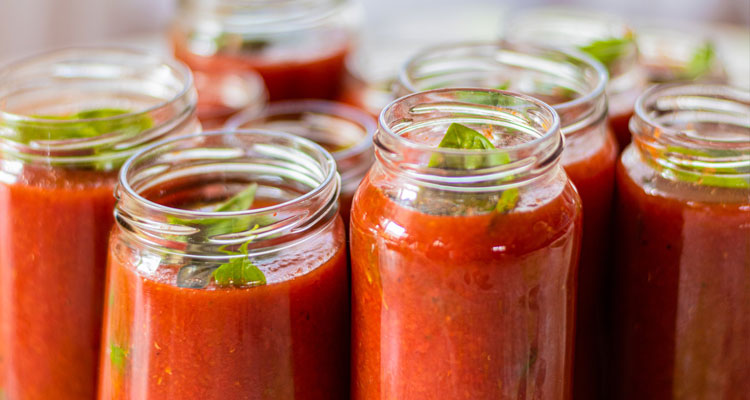 They are low in calories, have a long shelf life, and provide the quickest hack to whip up a tasty meal. It's without debate a must-have especially if you are a person with a busy calendar; most of us are that; who has the time to pressure cook a basket of Roma tomatoes to make their own sauce?
We have listed the brands that bring in the same taste like a homemade sauce. Some mentioned in the list include the flavor of Italian herbs; some use spicy chilies, and some the kick of pressed garlic. We have also listed gluten-free options and those that can be included in a keto diet.
Honor your taste buds, and pick one from this rundown of the best tomato sauces available in the market today.
7. Contadina Canned Roma Tomato Sauce with Italian Herbs
This sauce, besides the fresh taste of Roma tomatoes, also has the refreshing taste of sweet basil and oregano, with just a hint of aromatics. Oregano and sweet basil are a constant in every Italian kitchen – which is why this sauce is a great pick if you want to bring in some authentic Italian flavors to your pasta or meatballs. After all, it was conceptualized by Italian immigrants who wanted to recreate the taste of the tomato sauce that they got in their native land, back in 1918.
The sauce does not contain any artificial flavors, colors, preservatives, sugar, or fat. The only downside of this sauce is the high sodium content in it – which is about 320mg per 61g serving.
6. EL PATO Mexican Hot Style Tomato Sauce
When Walker Foods began canning Mexican hot sauce, it was the first company in the world to do so, according to its official website. Walker Foods was established in Los Angeles, around the time when World War 1 had begun. The sauce is for those who can handle spice. The ingredients include chilies and spices, besides onion, garlic, water, some FDA-approved color, and tomato puree of course. If you are a fan of Mexican food, you have hit the jackpot with this one. Have it with your enchiladas, quesadillas, tacos, stuffed poblano peppers, or even eggs, to add in a hint of heat.
The sauce is KSA Kosher certified and contains 150 mg of sodium per 28g of its serving which is on the higher end compared to other tomato sauce options in the market. Because of a heavy flavor and heat, this sauce leaves less room for tweaks and is not for those who are looking for something mild.
5. Mutti Tomato Sauce (Salsa Di Pomodoro) with Basil and Oregano
This classic Italian sauce has a balanced amount of chili pepper, onion, and Italian spices such as basil and oregano. Mutti's sauce uses Mediterranean sea salt, which, unlike table salt, contains a lot of minerals and hence is low on Sodium. A serving of this product, about 63g, contains only 110 mg of Sodium, which is much lower than many of the other sauces in the market.
The puree, which is made with sun-ripened tomatoes, has a subtle sweet taste. All the tomatoes that the brand uses for the sauce are sustainably grown. It contains no corn syrup, color, or preservatives; and is gluten-free.
The sauce, subtly flavored and velvety in texture, can be eaten right off of the can, a dip for mozzarella sticks, or as a sauce for pasta. While it serves as a good base for making ketchup or BBQ sauces, it doesn't pack a punch like the Mexican hot style tomato sauce mentioned in the list.
4. Goya Foods Tomato Sauce, Spanish Style
Goya tomato sauce has a thick texture and a strong taste that makes it the perfect base for your sauce, soup, or stew, or to cook your meat, fish, or beans in. But you can also have spoons full of it straight off the can – the raw version is a good source of Vitamin A and C. The sauce is made with tomato paste, salt, and a blend of spices. The blend seems to be a secret recipe, undisclosed on their nutrition label. The sauce is not overpowering in taste but has a significant tangy flavor that can easily elevate any homemade dish into tasting like a restaurant one.
The best part about this brand is that it offers two different versions of the same sauce, one that has 280 mg of Sodium for every 61g serving; and another, which has a much lower Sodium level. Those who are allergic to gluten will, unfortunately, have to stay away from this tangy goodness, as this product contains modified food starch.
3. Rao's Homemade Tomato Sauce, Tomato Basil
One of the reasons why this sauce brand is hugely popular among foodies is because it tastes quite close to what you make at home. It retains the freshness of tomatoes, and balances the sharp taste of onion and garlic with the blend of spices including oregano and basil. This product is made by slowly simmering Italian tomatoes and basil leaves. The slow cooking process adds a certain richness that is unmistakably apparent in the first taste. The sauce also has olive oil as one of its key ingredients, which gives it the right consistency and a pleasant aroma.
It contains 420mg of Sodium per 125g serving, which is not an unreasonably high amount compared to some of the other brands. Rao's is probably the best choice for those who are on a keto diet, as it doesn't use any modified starch. With its diverse use as a cooked or raw sauce, the product can easily earn a permanent spot in your pantry.
2. Del Monte Quality Tomato Sauce
The highlight of this brand of sauce is the fresh taste of organic ripe tomatoes that comes through quite distinctly in that first spoonful. Unlike some of the other tomato sauces that can be a bit sweet, Del Monte's manages to balance its flavors beautifully. It's a classic sauce, made with just the basic ingredients such as tomato puree, salt and spice, with a dash of citric acid to give it the necessary tanginess. It works great for making meatballs, sausage and macaroni.
Del Monte sauce does not use any artificial flavors or preservatives. The only ingredient that you might disapprove of is the high fructose corn syrup, which is added to give a little bit of sweetness.
1. Hunt's Keto Friendly Tomato Sauce
With a perfect balance of sweet, salty and tangy flavors, Hunt's tomato sauce can magically transport you to the narrow streets of Italy. It is hands down the best thing you can add to your pasta and meatballs. The sauce, which has a rich and smooth texture, is made with a puree of vine-ripened tomatoes. The sauce is made with all natural ingredients; there are no artificial preservatives added to it. The flavors are subtle and balanced, with adequate salt, citric acid, spice, tomato fiber, and natural flavor. But all of these make for only 2 percent of the sauce, the rest is just pure tomato puree – a simple ingredient that this brand seems to have aced.
It's a keto-friendly snack, and has zero added sugars. The amount of sodium is on a higher end, with 380mg per 62g serving of the sauce. Hunt's reigns as the go-to tomato sauce because of its fresh taste and smooth texture that's a cut above the rest.
Final note…
A can of tomato sauce can satisfy your many cravings. Whether you are in the mood for a hearty bowl of soup or an exquisite Italian meal at home, adding a generous amount of tomato sauce from any of the listed brands can take the experience up a notch. We have demystified what goes into the making of a sauce, and laid bare the ingredients so you know which one suits the best for you. Depending on what your priority is — whether it is a low-sodium sauce you prefer, or a keto-friendly one — there is a right one in the market for you. Hope the list brought in the clarity you needed to choose the best one.