If you're like us, then you've probably spent a lot of time trying to find the right way to drink water. You know it's good for you, but sometimes it just doesn't taste… good.
We get it: water isn't always exciting. And when you're busy, sometimes it's hard to remember to drink enough of it.
That's where Cirkul comes in—the most convenient way to stay hydrated and satisfy your taste buds at the same time.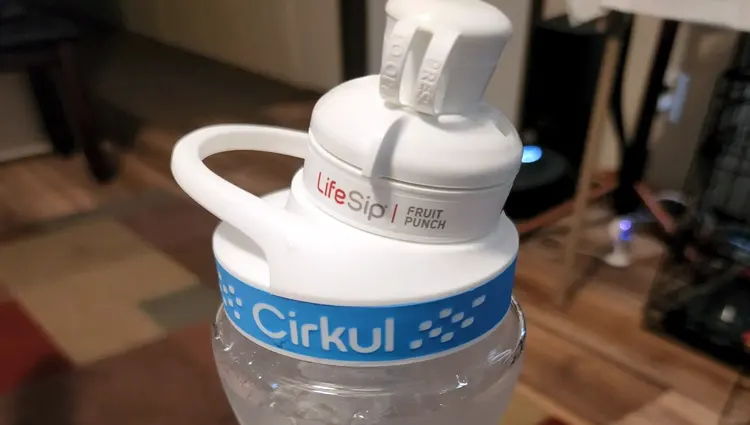 Cirkul's unique bottle delivers a new kind of water experience. A simple twist of a dial gives you flavored water when you want it, and plain water when you don't. You can control the flavor to your liking by adjusting the dial accordingly.
These bottles and swappable flavored cartridges won't bog you down with calories or sugar, but still give you all the hydration you need.
You can buy the cartridges and bottles individually, or in bundles. Their flavor cartridges are enriched with vitamins, electrolytes, and all-natural ingredients to make sure you get the most out of your water.
The Cirkul's cartridge comes in 0.68 oz size that lasts about 6 water refills. The bottles are available in 32 oz, 22 oz, and 12 oz sizes so you can pick the one that works best for your lifestyle and budget.
Cirkul has a variety of products to choose from, so you can pick the one that best fits your needs. Whether you're looking for a Lifesip to help you stay hydrated throughout the day; a Fitsip to keep your body and mind in top form; a Gosip with its great taste and health benefits; Gateway Tea for a quick energy boost; Frosted with its delicious flavor and caffeine boost; Fission to wake up your taste buds and provide an energetic boost; Flyte featuring 4 times the electrolytes of sports drinks; Squeeze Lemonade with its sweet citrus taste; Stage Hydration with its electrolyte-enriched, stevia-sweetened taste; Verda, with its subtly sweet taste of stevia-based blends; or Pureessence which is made with an unsweetened blend of fruit flavors, Cirkul's line of flavored water cartridges will have something for everyone!
Each variety comes in a range of flavors, so you can find one that perfectly suits your taste buds! The following list ranks the worst-tasting to best-tasting varieties from our research:
12. Squeeze Classic Lemonade
If you're looking for a classic lemonade flavor that's sweet and tart and vitamin-enhanced, Squeeze Classic Lemonade is your best bet. With its refreshing taste and vitamin B12 boost, this drink is the perfect way to cool down on a hot day.
We would highly recommend this product to anyone who likes lemonade and wants something new to try!
11. Frosted Vanilla Iced Coffee
Taste-wise, this is a winner. It's like drinking an iced coffee from Dunkin' Donuts—you'll feel like you've been transported to a warm summer day in New York City just by taking a sip.
It tastes like vanilla iced coffee in a bottle of water. It's perfect for those who want their caffeine fix but don't want to feel jittery. It has a rich vanilla flavor and it's energy-enhanced, for when you need an extra boost!
The only drawback is that it's sweetened with sucralose, which some people are sensitive to. Still, if you're looking for something that will give you energy and make your mouth water, Cirkul's Frosted Vanilla Iced Coffee is the way to go!
10. Puressence Tangerine
I'm not a big fan of orange flavors, but I had high hopes for this one.
Puressence Tangerine did taste just like tangerines—I definitely got that. But it also had kind of a synthetic taste to it, which was maybe not unexpected, but disappointing.
That said, it's not quite as true to life as Hint Water's Blood Orange flavor, which is more of an unsweetened flavor.
Overall, though, I would definitely recommend this flavor. It's a great option if you're looking for something refreshing and citrusy without being too sweet or too sour.
9. Puressence Raspberry
I love the tartness of this flavor. The raspberry essence can be adjusted by turning the dial, and it's not too strong or too light.
This product has an artificial taste, but it's not bad. If you're looking for something sweet, this probably isn't the product for you, but if you're looking for something that feels healthy and natural while still tasting delicious, this could be right up your alley!
8. GoSip Citrus Twist
If you're looking for a smooth zesty flavor with an energy kick, this is the best choice. It's a great way to wake up in the morning, get an energy boost, and feel like you're doing something good for your body—all while enjoying a delicious beverage.
The added vitamins and caffeine are great for helping you stay focused during the day.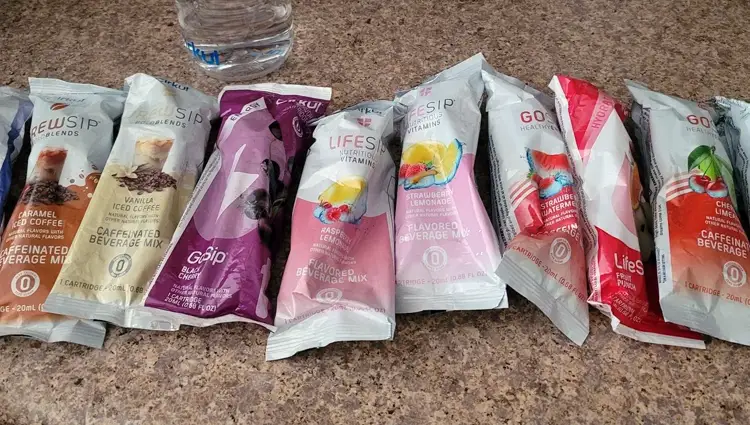 7. GoSip Strawberry Watermelon
If you're looking for a sweet, energizing drink that's not too sour and doesn't have any calories, then look no further than GoSip Strawberry Watermelon. Its caffeinated punch will give you an extra boost when you need it most.
You can definitely differentiate between the watermelon flavor and the strawberry flavoring—it's sweeter, but not as sour as some other options out there. The watermelon flavor isn't overpowering, either; you'll get a nice balance of both flavors when you sip this one. It contains vitamins for added health benefits, and it's sweetened with sucralose.
6. LifeSip Sweet Tea & Lemon
It tastes just like a mix of Pure Leaf and Gold Peak Sweet Tea, but in liquid form! It's crisp, it's refreshing, and—best of all—it's vitamin-enhanced! This flavor lasts the longest out of all the flavors I've tried. If you're looking for a sweet tea fix on a hot summer day, this is definitely worth trying.
This drink is sweetened with sucralose, which means it has no calories but still feels like you're indulging in something special.
5. LifeSip Peach Mango
Peach Mango is the perfect way to get your vitamins and sweet taste while on the go. This drink tastes like a mix of peaches and mangoes, with a smooth, thick texture that feels like a treat in your mouth.
With zero calories and zero sugar, it's a great way to start your day or wind down after a long day. It's also vitamin-enhanced, so you're getting all the nutrients you need to feel great!
4. LifeSip Fruit Punch
When you think of fruit punch, this is what comes to mind: a classic combination of citrus and sweetness. This flavor has been around since the beginning, and it's still one of their most popular flavors today.
The taste is reminiscent of Hawaiian Punch and Kool-Aid—a sweetened mix of fruity notes that will leave you feeling refreshed and ready to tackle the day.
If you're looking for something fruity and sweet but not too intense, then this flavor is perfect! It's sweetened with sucralose, so you can enjoy all the sweetness you crave without any added calories!
3. LifeSip Watermelon
If you love watermelon, this flavor is for you!
It's got a sour watermelon candy taste that's so addicting you'll want to keep sipping it, but not so sweet that it overwhelms your taste buds. It's sweet and juicy—just like a fresh slice of watermelon on a hot summer day!
The taste is addicting and will have you coming back for more.
2. FitSip Mixed Berry
FitSip Mixed Berry is an electrolyte-filled drink that is perfect for any workout. This drink has a strong sweet berry taste that's similar to blue Gatorade, but with a lighter flavor and less sugar. It's sweetened with sucralose and contains potassium, sodium, and other vitamins you need to fuel your body during a workout.
All FitSip flavors from Cirkul are designed to help you push through your toughest workouts, so you won't have to worry about dehydration or cramping up during your next session at the gym.
The Mixed Berry flavor is one of our favorites because it tastes good—but more importantly, it works!
1. FitSip White Cherry
FitSip White Berry, our number one flavor, is the perfect thirst quencher for any adventure.
This electrolyte-enhanced drink tastes like Fruit Punch but has more of that raw cherry flavoring that really puts it over the top. The cherry is very potent, but not overpowering. You'll feel great knowing this drink is sweetened with sucralose and contains the electrolytes you need to power through those gruelling workouts.
We think this flavor is perfect for anyone who's looking for a healthy, refreshing drink to enjoy on the go.
To conclude,
If you're looking for an easy and healthy way to keep hydrated, then a Cirkul bottle and flavor cartridge might be exactly what you're looking for! It's always recommended that you check their website or social media accounts to stay up to date on the latest products.
We hope we've helped you narrow down your choices to a few flavors that look compelling, but in the end, it is up to you to find the flavor that works best for you. Let us know which ones you tried and what you ended up choosing in the comments below!