Milkshakes are often a source of arguments between people: how good is chocolate? Is strawberry underrated? Which flavor is the most overlooked? Which ones are just not worth your time?
If you're one of the many people who love Five Guys, you probably know how hard it can be to decide which milkshake to order. We don't blame you: they're all great!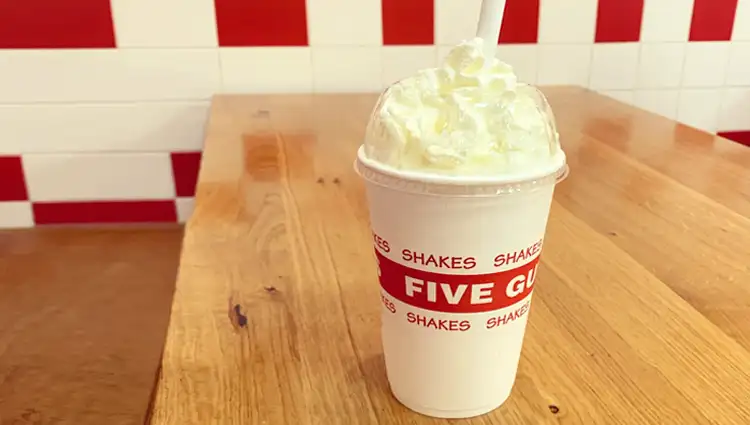 Five Guys is one of the few places I know of that offers a completely customizable milkshake on its menu. Their shakes are hand-spun, which means whatever your heart desires can become the milkshake of your dreams.
When you order a shake, you'll start with a vanilla-based shake. You can then add as many mix-ins as you want from the following list.
After years of eating at Five Guys, we've developed a ranking for their shakes.
While they're all pretty good, some are better than others.
Whatever flavors you choose, it's always a good idea to try them out individually before creating a combination of your own. You never know if five great flavors might not actually taste good together!
We took into account each flavor's overall appeal—how delicious is it? Will most people like it? How satisfying is it? (We also thought about things like taste, texture, and ingredients.)
Number 9: Vanilla
Coming in at number 9 is the ever-popular Vanilla. Simple doesn't always mean boring, and that's definitely true here. Vanilla milkshakes are a classic, and we expect them to be seen everywhere—which means they're the perfect pick if you feel like you go too hard when it comes to branching out with new flavors.
Number 8: Salted Caramel
The first sip was like a shot of pure caramel: rich, gooey goodness from Ghirardelli Chocolate Company. But then it gets a nice kick of saltiness on your tongue as you continue to drink. They've used salted caramel in their mix, which is just perfect for me—because I think that the saltiness brings out the sweetness even more. It has a great balance of sweetness and savors.
This shake is definitely worth trying if you're looking for something new to add to your Five Guys rotation. You won't regret it!
Number 7: Banana
This is a great milkshake for people who are looking for something that is a little different from the usual chocolate/vanilla/strawberry flavor range. It's fruity and refreshing, especially if you're in the mood for something that doesn't have chocolate or coffee in it (and I don't know who would ever be in that camp).
The banana flavor is fresh and vibrant, and it's made with real bananas. I loved that they were so generous with the banana pieces. The milkshake itself was thick, but not overly so. The texture was creamy and smooth, like velvet. It felt great when I sipped it through a straw. I enjoyed this shake!
Number 6: Chocolate
And speaking of classics… coming in at number six is everyone's favorite: Chocolate. We'd argue that this is a flavor that's universally loved, and we wouldn't be surprised if even people who don't normally like milkshakes enjoy this one. It's just so yummy!
Number 5: Malted Milk
It's an old-school American classic, and it's so delicious! It has that amazing milkshake flavor you know and loves, and the malt really makes it pop. You can taste the pure quality in every sip like they only use the finest ingredients. They've got the formula down to a science, while still making you feel like it was made by hand just for you (which is one of my favorite things about this place).
Number 4: Peanut Butter
Peanut butter, which comes in at No. 4 on our list is a great option for those who want to change things up a bit but aren't ready for anything too extreme. It's not as broad an appeal as vanilla or chocolate, but it'll probably please more people than many of the other flavors on this list (except for the next two).
Number 3: Strawberries
A classic strawberry milkshake is made with vanilla ice cream, milk, and strawberries. The Five Guys version is made with fresh strawberries in homemade simple syrup—with fewer carbs! At first, I was not sure how this would taste, but I was pleasantly surprised by how sweet it turned out to be. It's a great option if you want something lighter than other flavors.
I would recommend this milkshake to anyone who loves fruit and wants something refreshing on a hot day.
Number 2: Oreo Cookie Pieces
The classic Oreo cookies taste fantastic in this milkshake! The smooth chocolate flavor harmonizes perfectly with the vanilla ice cream flavor. We strongly recommend that you add whipped cream on top—it really makes the whole thing pop and gives it an extra creamy texture. If you're looking for a great new flavor to try out at Five Guys, this is it!
Number 1: Bacon
It's applewood-smoked bacon, chopped into bits and blended into a thick, rich milkshake. It's sweet and salty and creamy, and you're going to love it.
I was really impressed by the balance between sweet and salty flavors. The bacon bits provide a nice crunchy contrast to the smoothness of the milkshake itself, and they are well-integrated throughout so you get an even taste in every sip.
Overall, I have to say that this shake is truly a marvel, and if you haven't tried it yet, you're missing out.
And that's just for starters!
I love to experiment with the milkshakes at Five Guys. Rather than limit myself to one flavor, I usually mix three or four together in a single shake. My favorite combinations are:
Bacon + Peanut Butter
Bacon + Chocolate
Vanilla + Bacon
Chocolate + Peanut Butter
Banana + Caramel
Chocolate + Peanut butter + Banana
Peanut Butter + Vanilla + Malted Milk
Strawberry + Banana + Oreo Cookie
Salted Carmel + Coffee + Malted Milk
Salted Caramel + Chocolate + Oreo Cookie + Malted Milk
Or, if none of those options sound appealing to you? Just make up your own!
You don't have to stop at three or four flavors! Feel free to get as many as six flavors in one shake. They'll all be blended together into a cool, creamy treat that will melt your heart—as well as your taste buds.
To conclude…
The shake combinations at Five Guys are absolutely fantastic. The best part is that they're not limited to just the options above. You can mix and match flavors however your tastebuds see fit, just like I always do! My advice? Play around with some different combinations—you never know what you might come up with!
Give it a try!