Hooters is primarily known for its wings (and the waitresses who serve them), but there's more than one way for customers at this chain restaurant to enjoy their food.
One of the best parts about dining at Hooters is how many different sauces the restaurant offers. From their signature sauces like Daytona Beach and Chipotle Honey to classic condiments like Hot sauce and Barbecue sauce—you're sure to find something that you love! It can be hard work choosing which one is best because they each have their own unique flavors—and some are better than others depending on what kind of foodie you are!
Luckily, I've done the hard work for you by trying all of them so that you don't have to! Fun, flirty, and spicy, they'll make every meal taste even better.
Here's a list of our 10 favorite Hooters sauces, ranked by their deliciousness.
10. Parmesan Garlic
A creamy, cheesy sauce that isn't nearly as hot as its counterparts. The parmesan garlic sauce is a good option for those who want to get their feet wet with the Hooters brand of sauces and are too scared of the heat.
It's a good choice if you want to add some flavor without adding too many calories. The Parmesan Garlic sauce is made from sour cream, parmesan cheese, and garlic.
Parmesan Garlic is our least favorite on this list, but it's still pretty good if you're looking for something that won't burn your mouth off when eating hot wings—and its rich flavor of garlic will make sure you don't forget it.
9. Cajun ⚡
Next up is the Cajun sauce, which is kind of in the middle of the heat scale and has a New Orleans-themed blend of spices and herbs. It's good, but not my favorite. The flavor is pretty strong, but it does have some kick to it.
It's got high calories though. If you're looking to cut back on those, we recommend trying other sauces!
This sauce is a classic, and for good reason. It's the perfect balance of flavor and heat. If you're looking for something that's not too spicy but still has some kick to it, this would be an excellent choice.
8. Samurai Teriyaki
Samurai Teriyaki, a sweet-and-savory sauce that's great with seafood and sandwiches alike, has an especially zesty taste. This is one of the lighter options for those who prefer their sauces less salty.
As its name suggests, this sauce is modeled after the traditional teriyaki flavor profile—a combination of sugar and soy sauce that's been used in Japan for centuries. But what sets Hooters' version apart from the rest is its sweet fruitiness: It contains no heat whatsoever.
While you can use this sauce on nearly any entree at Hooters (or anywhere else), we recommend pairing it with chicken wings or fish tacos.
7. Habanero BBQ ⚡⚡⚡
If you like a little spice in your life, then Habanero BBQ sauce is for you. The hot sauce is made with habaneros and has a smoky flavor that makes it taste as if it was barbecued over an open flame. If you're looking for a sauce that's bold and flavorful, this one's for you.
It also has no gluten-containing ingredients, making it perfect for anyone with dietary restrictions or sensitivities.
Use this on steaks or seafood entrees, or as an appetizer when you want to add some extra heat to your meal! This sauce isn't overly spicy, so if you want something that lights your mouth on fire, this might not be the best choice for you. If you already like spicy foods and love BBQ flavors, then this will be right up your alley!
6. Spicy Garlic ⚡⚡⚡⚡⚡
Spicy Garlic is the sixth Hooters sauce on our list. This one is hot, so be careful. It's made with garlic, cayenne pepper, and other spices.
It scores high marks for heat—it ranks as their hottest offering—but what makes it stand out from its peers is its sinus-clearing flavor profile: sweet and tangy with just enough kick to get your attention without making you cry too much or sending you running for water every five seconds.
If you like garlic, this will be your favorite sauce at Hooters because it has the most prominent garlic flavor of all their sauces.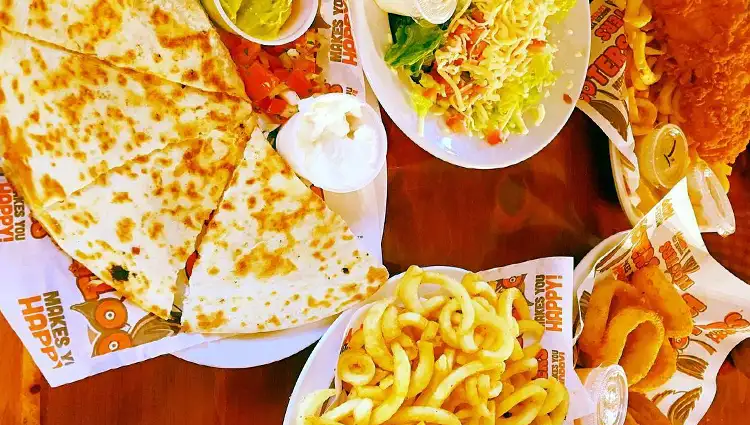 5. Buffalo 911 Sauce ⚡⚡⚡⚡
If you're looking for something a little less spicy than Spicy Garlic Sauce but still want some heat in your life (because who doesn't?), Buffalo 911 Sauce might be right up your alley.
This is one of the most popular sauces at Hooters, and for good reason. This sauce tastes like a mix between Buffalo and BBQ sauces but with a bit more tang than what you'd expect from the latter (and less than the former). Put simply: it's great on chicken wings. But you can also use it to spice up your sandwiches and steaks—even seafood entrees!
The heat is moderate compared to other hot sauces on this list, but it's still too spicy for me to handle comfortably. I wish there was more vinegar in the mix so it could balance out the sweetness better.
It's also low carb so if you're watching your carbs this will be an excellent choice for you! And did we mention that it's one of our favorite Hooters sauces flavors?
4. Chipotle Honey ⚡⚡
Chipotle Honey may be the most versatile sauce out of the bunch. It's a good option on chicken wings and sandwiches but also works well with steaks and seafood entrees. Chipotle peppers add heat while honey provides sweetness. The sweet is in line with all other sauces in this series, so you'll get a good balance of both flavors when using it as part of your meal.
The heat is right in the middle—not too much or too little—and will leave you feeling satisfied without being overwhelmed by spice or sugar.
Heat seekers will be pleased to find that this sauce definitely packs some heat without being overwhelming—and if you're not into spicy food at all, there's probably something else on this list that will suit your palate better!
3. Buffalo Hot Sauce ⚡⚡
Buffalo Hot Sauce is the best of all the classic sauces on this list—it's a must-have for any diehard Hooters sauce lover.
It's a traditional buffalo hot sauce, which means it has a little bit of kick to it. The Buffalo Hot Sauce will make your wings amazing, but it can also be used as a dip for fries or onion rings and tastes great on burgers, and tacos! It's good on everything—literally, anything you put this hot sauce on will taste better with it.
It has a nice heat to it that'll make you sweat, but it's not so hot that you can't enjoy it. The next time you visit your local Hooters location (or if you're headed to one soon) be sure to ask for some Buffalo Hot Sauce with your meal!
2. Daytona Beach ⚡⚡
This is the second-best sauce on our list. It isn't as spicy as other options like hot or spicy garlic, but it's still strong enough to wake up any taste buds you have left.
The Daytona Beach sauce is a signature Hooters sauce, and it's a good one. It has the same sweet-and-spicy profile as all the other sauces, but its flavor profile is slightly different.
No matter what dish you pair it with, just make sure to have some water handy because this sauce goes down smoothly but packs quite a kick after lingering in your mouth for a while! Also: Don't forget your napkin! You'll need it when the first bite clears your sinuses.
It's an experience worth tasting at least once in your life!
1. 3 Mile Island ⚡⚡⚡⚡
This sauce is the first one on our list and it's also the hottest if you ask me. It's got a traditional buffalo sauce base, but with a subtle kick that makes it stand out from the other sauces on this list.
Sometimes referred to as TMI(Three Mile Island), It's named after the nuclear power plant where radioactive gases escaped into the environment during the 1979's nuclear accident there.
The heat in this sauce comes from aged red cayenne peppers, aged red Tabasco peppers, jalapeno peppers, and aged habanero peppers—a perfect blend of heat and spice!
It has a spicy kick similar to the Original Hooters wing sauce and is as hot as 9-1-1. It's hot enough to melt your taste buds and as spicy as a fire truck.
Bottom line
The sauces at Hooters are all delicious, but some of them stand out more than others. While my ranking order here is obviously subjective, I think that the Hooters 3 Mile Island and Daytona Beach sauces deserve the crown here. The other eight flavors on this list are quite tasty, but these two flavors are my personal favorites. I think it's their consistency that makes all of their sauces great.
Though my experience with Hooters has been good, it's a franchise, so not every restaurant is going to have the same quality of food.
The wings are good at most Hooterses, but not all of them provide the same experience. I suggest you look up reviews for that specific Hooters online before visiting because the quality of food can vary.