Are you trying to kick an addictive soda habit? And is water and natural juice just not doing the job? Then, try IZZE sparkling juice.
IZZE sparkling juice was created with the sole intent to deliver tasty sparkling water to health-conscious consumers. This brand has been around since 2002. Available in bottles and cans, IZZE flavored water is sparkling water with flavored fruit juice blends.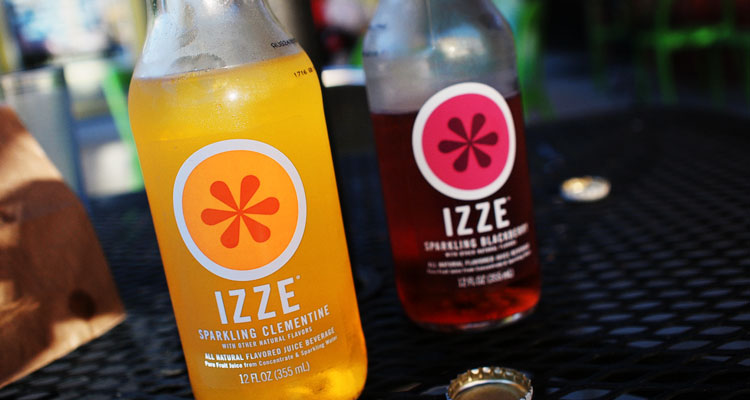 Although fizzy, IZZE is not carbonated. The fizz comes from the sparkling water. Additionally, IZZE is gluten-free, vegan, and preservative-free.
IZZE comes in nine different flavors, and I wanted to try them all. So I bought a case of each flavor and decided to taste them. I thought it would be a fun experiment to taste them all in one sitting.
Apple
Blackberry
Blackberry Lemonade
Cherry Lime
Clementine
Grapefruit
Original Lemonade
Peach
Pomegranate
The first thing that I noticed was how beautiful the cans were. The sleek design is simple and allows each flavor to stand on its own.
Our Picks of 5 Best IZZE Flavors
I started off with the fruitier flavors and worked my way up to the berry flavors. After trying them, these were my five favorite flavors:
1. Clementine
Of the different flavors of IZZE available in the market, clementine is a crowd favorite!
Key Features:
Contains 70% fruit juice with a splash of sparkling water
Available in Orange colored cans or bottles
The juice has a yellow-orange color
Pros
Contains no added sugar or preservatives
Perky orange taste
Natural flavor and smells like clementine
Tastes amazing when served cold
Cons
Not great at room temperature
Clementine is one of the most popular flavors of IZZE sparkling water. It has a delicious natural orange flavor and silky texture which sets it apart from the watery taste that is associated with most other brands.
IZZE Clementine is just like natural orange juice with a dash of sparkling water.
This flavor contains just the right amount of fizz. While making you feel refreshed and rejuvenated, it does not weigh you down with a ton of sugar. Neither does it have any unpleasant aftertaste. So, IZZE clementine flavor is a nice bubbly drink that delivers just as much satisfaction as soda, but without any carbonation.
Clementine flavor from IZZE is the ideal choice to perk up your energy levels and provide hydration on a hot, summer day.
We highly recommend chilling the IZZE clementine flavor before consumption. It will taste amazingly fresh and can fix your sugar cravings instantly. However, be warned that this flavor can easily become addictive.
Overall Rating: 9.5/10 (Excellent)
2. Apple
This crisp and tangy flavor is delicious and refreshing, especially when chilled.
Key Features:
Contains apple juice concentrate
Citric acid adds tartness
Sweet and tart
Pros
Tastes like real fruit juice
The fresh scent of apple
Great mixer for cocktails and mocktails
Not too sweet
Tingling taste
Cons
Doesn't have a crisp apple taste, but is like apple juice with carbonation
Low fizz
Doesn't taste great unless chilled
If you like carbonated drinks with a touch of sourness, this is the perfect flavor for you. Apple flavor is the perfect drink for hot summer days that is neither too sweet, nor too tart.
The company mentions that they derive the rich apple flavor for this variety by carefully mixing Washington Macintosh and Granny Smith apples. This trademark combination yields a sophisticated and delicious taste.
This apple-flavored drink is a bit hit with moms and kids alike due to its perfect balancing of sweet and tart. It can be best described as a tangy apple juice in sparkling water. Although sweet, the drink doesn't contain any added sugar. Hence it is a good choice if you are health conscious.
The best thing about IZZE apple flavor is that it doesn't have any artificial or unpleasant taste. This drink tastes best when chilled.
On the downside, the IZZE apple flavor is barely fizzy. Hence, it may not appeal to you if you like your drinks to be carbonated. Also, you must have it chilled to enjoy the taste. It tastes like plain apple juice at room temperature.
Overall Rating: 9.0/10 (Excellent)
3. Blackberry
Enjoy the original aroma and strong tart flavors of fresh blackberry with this flavor!
Key Features:
Reddish-brown color
No added sugar
Fizzy drink with apple juice and white grape juice concentrate
Pros
Appealing color
Smells like blackberry
Authentic blackberry taste
More tart than sweet, but in a good way
Cons
More tart than sweet
Leaves an aftertaste
Has a stronger taste when compared to other IZZE flavors
IZZE blackberry is the type of flavor that grows on you. You may not think much of it on the first sip. However, it tends to get better as you go through the can.
This flavor has one of the most appealing packages in the entire IZZE flavor range. It comes in adorable purple cans and even the bottled version is appealing with its vivid purple hue. When you first open it, the pack lets off a subtle aroma of fresh blackberry juice.
It tastes more tart than sweet. So, you will like it if you aren't too fond of sweet fizzy drinks. Nonetheless, the subtle hint of sweetness adds a ton of flavor.
IZZE blackberry flavor can sometimes leave a slight aftertaste that will remind you of chewing on fruit. This may not be to everybody's liking. So, I would say that it isn't a light flavor. Nevertheless, it is a flavor you should attempt at least once. If you like it, you will find it replacing all your other favorite flavors quickly.
If you aren't so keen on having the IZZE blackberry flavor as such, use it as a mixer for other drinks. It will add an interesting and rich color to the mix. The delicious blackberry flavor will also make it very appetizing.
Overall Rating: 8.5/10 (Very Good)
4. Grapefruit
This flavor is entirely different from all the other grapefruit drinks you may have tried before!
Key Features:
Smells just like grapefruit juice
Has a light orange color
Contains apple juice concentrate and white grape juice concentrate
Pros
Not as sour as typical grapefruit drinks
Just the right amount of sweetness
Has the right amount of fizz
Subtle, pleasant flavor
Cons
You may not enjoy it if you prefer sour grapefruit
Doesn't contain any grapefruit extract
Tartness is mild
One of the most important factors that can work in its favor or against grapefruit drinks is the distinct sourness. IZZE grapefruit flavor breaks the normal expectation as it lacks this distinct sourness. In this flavor, the sourness is very mild compared to typical grapefruit-flavored drinks.
So, you can call it a light grapefruit drink. It may not appeal to you if you are a hard-core fan of the intense tartness that defines most grapefruit drinks.
Nonetheless, this flavor from IZZE is a hit with children as the slight tartness is perfectly balanced with sweetness. It isn't overpowering. Even if you don't like eating grapefruit, you may end up liking this drink since tingles the taste buds and creates an interesting effect. So, it will get the approval of the entire family.
Lovers of this flavor recommend pairing it with spicy food, as it enhances the depth of flavors and makes the entire meal more satisfying.
The IZZE grapefruit sparkling flavor is light and tastes great when chilled. It is refreshing and immensely hydrating. The interesting pink packaging adds to the appeal of the can. In the bottle, it has a watered-down yellowish-orange color.
Overall Rating: 7.5/10 (Good)
5. Peach
This flavor of IZZE is delightfully sweet and pleasant!
Key Features:
Available in orange color cans
Contains apple juice, white grape juice, and clarified peach juice concentrate
Color is from red radish juice concentrate
Pros
The peach flavor is evident
Is pleasantly sweet and light
Tastes like natural peaches and not like candy
Cons
It leaves an aftertaste which may be off-putting for some people
IZZE Peach flavor sparkling water is a fan favorite. It is subtly sweet and full of fruity goodness. It smells and tastes like natural peaches. It doesn't have a thick syrupy taste which makes it rather refreshing and enjoyable.
The peach flavoring is the highlight. However, it also presents subtle flavors of the white grape juice listed in the ingredient list. There is no hint of apple, although the ingredient list has apple juice concentrate also.
Peach-flavored drinks can sometimes taste too much like candy. However, the best thing about IZZE's peach flavor is that it has a fruity taste and is not overly sweet. Despite the lingering aftertaste, it is quite pleasant.
We highly recommend this flavor if you want a sparkling water flavor that is distinctly fruity and has just the right amount of refreshing fizz.
Overall Rating: 7.0/10 (Good)
More About the Brand IZZE and Its Different Flavors
The idea of IZZE was born in Boulder, Colorado when two friends decided to bring the sophistication of flavored sodas that were common in Europe to the United States of America. Their idea resulted in a bubbly beverage that was healthy but refreshingly tasty, and they christened it IZZE.
IZZE is a feel-good brand of sparkling water because it keeps things natural as far as possible. Although it uses flavor concentrates instead of real fruit to make the drink, most flavors taste natural.
The best thing about IZZE is that it contains no carbonation. The fizz in IZZE is entirely from sparkling water. While it delivers the same satisfaction as a bottle of soda or cola, it doesn't have any of the bad stuff associated with these drinks.
Apart from the flavors that we discussed in this post, IZZE also has a few other flavors. These include cherry lime, pomegranate, and blueberry.
Is IZZE Good for You?
The most important question is whether this brand is too good to be true? Let us find out.
If you look at the labels of different IZZE flavors, you will see that the calories per 8-ounce serving vary between 90 and 110. Although this is lesser than what most typical flavored beverages contain, it cannot be overlooked.
Most flavors are sweet because they contain fruit sugar. This fruit sugar, called fructose, is supposedly better than sucrose or processed sugar. Nevertheless, it will also increase sugar levels in the body. Fructose in huge quantities can disrupt digestive activity and trigger unhealthy conditions like flatulence and diarrhea.
Also, the fact that the drink contains natural flavors isn't too convincing. We do not know anything about the actual flavor source for each variant or how healthy or sustainable it is.
So, we can safely conclude that although IZZE isn't outright bad for you, it isn't great either. Plain old water is always the best drink to meet your hydration needs. However, if still water isn't making the mark, you can spoil yourself with IZZE. But do it in moderation. Remember that it doesn't contain any nutrients and is still a source of sugar.
Having said so, IZZE is the superior choice when compared to many other brands of sparkling water for various reasons. Firstly, IZZE flavor drinks are gluten-free, preservative-free, and healthier than soda. They do not have any added sugar and the flavorings are natural.
The taste of IZZE resembles natural juice more than other brands. Although it tastes like fruit juice mixed with sparkling water, most flavors are pleasant and refreshing. Most of them do not have any unpleasant aftertaste. So, you can consume it as such or use it as a mixer for drinks.
The best way to consume IZZE sparkling water is after chilling it. This makes it an ideal drink for summer. Certain flavors of IZZE like apple and peach taste dull at room temperature.
Users of IZZE will agree that this flavored sparkling water can become addictive. Be sure to consume it in moderation or you may not enjoy plain water again. Finally, IZZE costs more than typical brands and is generally considered to be an expensive choice.
Conclusion
IZZE gives you exactly what you expect from the label "sparkling juice." This is an interesting fizzy drink that is free from carbonation, sucrose, and other bad stuff that is common in other seltzer brands.
Although IZZE has a limited range of flavors, they are all delicious and popular. Of the different available flavors, we have compiled this list of top 5 favorites that you should try. IZZE flavors make good mixers and taste amazing when refrigerated. So, if you are looking for something healthy and interesting this summer, try IZZE. You won't be disappointed.