Whip up a restaurant-style bowl of miso ramen in your own kitchen. You don't have to be a top chef for this. All you need is a tub of miso paste in your fridge.
Miso paste is made by fermenting soybean, rice, or barley using a fungus, and preserved using salt and alcohol. It is widely used in Japanese cuisine, especially in miso soup.
It tastes salty and tangy, and sometimes a little sweet. Smooth and creamy, its texture feels like that of a chunk of peanut butter.
All it takes is a pinch of this paste to make a bowl of hearty soup in less than two minutes.
You (even if you are a vegan) can use it in a wide variety of dishes, such as sauces, ramen, gravy, marinades, salads, etc.
Every tablespoon of miso is loaded with vitamins, proteins, and minerals.
To top that, since miso is a fermented food, it also contains good bacteria that help in digestion and boost immunity. For those who are curious about the fermentation process: the fungus Aspergillus oryzae, simply called koji in Japanese, is used to ferment the paste. It's aged in wooden barrels for months together, according to the traditional Japanese method.
Which Color Miso Do You Choose?
Miso paste comes in different shades. There is white miso or Shiro miso, red miso or aka miso, and a mix of the two which is called awase miso.
The color is dependent on the amount of soybean and grains (rice, barley), and the fermentation period that's usually around six months. Red has a longer fermentation period and more soybean content than white miso.
Deciding which miso to buy is very simple. If you are going to use miso for your salad dressings, or mild sauces and soups, go for white (which looks a little yellow or beige in reality) paste. It is slightly sweet and not as intense or salty as the red one.
If you want a strong flavor in your soup, stew, sauce, or chicken/meat marinade, go for red (this can seem brownish or even black). It is much saltier than the white.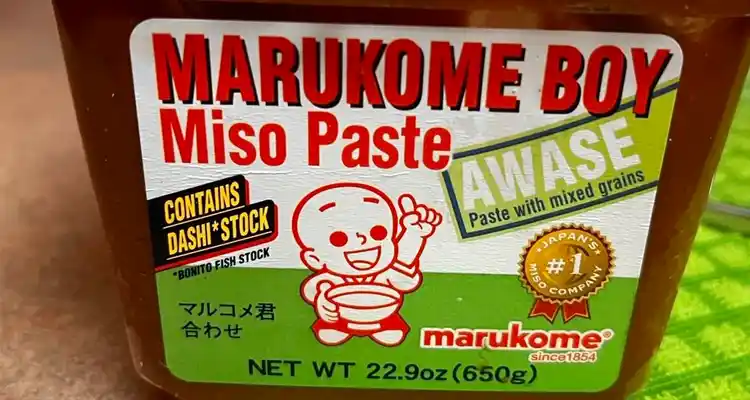 If you are still unsure about which one to buy, take a shot at the mixed one.
Our Suggestions for the Best Miso Pastes
Once you know which color miso you want, read on to decide which brand to buy. We have curated a list of the seven best brands for you to choose from.
1. Shiro Miso Paste by Miyasaka Brewery, Miko Brand Product of Japan
This is a smooth and silky miso paste with a sweet, salty, and vinegary taste. Miyasaka's white miso is equally popular among vegans, vegetarians, and non-vegetarians. It can act as a good replacement for chicken broth or vegetable bullions when making a soup.
Features:
White miso paste
Unpasteurized
Also available in packs of two, three and four
860mg sodium per tablespoon
35 calories per serving (1 tbsp or 18 g)
Ingredients include water, soybean, rice, salt, alcohol
Product of Japan
Pros
No MSG
Fully vegan
Non-GMO Soybean used
Gluten-free
Zero cholesterol
Long shelf-life of over a year
Cons
A little too salty
The packaging is not up to the mark
With its mild and not-too-intimidating flavor, this is a favorable option for those who are trying it for the first time. It's a white miso paste with a smooth creamy texture that easily elevates the taste of your bowl of soup.
It's a block of paste, from which you can scoop one tablespoon or more, depending on the intensity of flavor that you wish for in your dish. The paste is a little too salty. So, it would be wise to take a little at first, and then increase the amount gradually to suit your taste.
A good practice is to dilute the required amount in a small amount of water and then mix it with the marinade, sauce, or dressings. You can also mix it with wine instead of water. It's yours to experiment with.
The paste by Miyasaka is unpasteurized, which means it has good bacteria in it that helps in digestion. To enjoy its health benefits, make sure that you don't boil the miso paste, and only add it in the end to your food. It is also gluten-free and vegan friendly, making it a universally-liked brand among miso fans.
However, there have been complaints about the packaging, which is sometimes ripped or leaking when delivered. For storage, either empty the pack into an airtight sealed mason jar or snip one end of the bag and keep it tied inside a gallon zip lock bag. This way, it's sure to stay for months together, or even a year.
2. Hikari Organic Miso Paste, Product of Japan
This tan-colored organic miso paste comes in a half-frozen ice cream-like consistency and is the best if you want to make a vegan cheese sauce or a soup that tastes like it was homemade from scratch. It's not a surprise that this product has maximum ratings among our favorite brands listed in this post.
Features:
White miso paste
Vegan product
Pasteurized
Sodium content is 540 mg per serving (¾ tbsp or 12 g)
25 calories per serving
Ingredients include organic soybeans, organic rice, salt, yeast, koji culture and water
Product of Japan
Pros
Organic
Mildly sweet, and a little bit sour
No additives
No MSG
No Gluten
Zero cholesterol
Does not contain alcohol
Comes in a convenient storage container with lid
Cons
Too salty
Damaged packaging
Tough to translate packaging written in Japanese
Hikari organic miso paste is a creamy white paste that comes in a neat plastic container with a lid. It can be stored inside the refrigerator as you would store a tub of butter. And one box can make close to 30 bowls of soup, plus or minus five depending on how intense you want your soup to be.
This miso paste contains a high volume of rice koji which gives it a mild smooth taste. The koji is the Japanese word for fungus Aspergillus oryzae which is also the one used to produce sake alcohol, rice vinegar, and soy sauce. The brand is Organic-certified by USDA (United States Department of Agriculture), and contains no gluten or MSG, making it a top option for those who are health conscious.
However, Hikari's paste is pasteurized which means it doesn't have the health benefits of active bacteria as in the unpasteurized miso pastes.
Known for its creamy and slightly fishy flavor, you can apply it on fish or chicken before baking or broiling, or simply mix it with dashi broth with some shrimp, chives, and seaweed to get a delicious soup.
Make it a point to check the condition of the box that the miso comes in. The plastic is quite thin, and there have been cases where customers stored it in the fridge without realizing there was a crack in the bottom. Besides that, there is no reason why you shouldn't stock up on this one.
3. Organic Miso Paste by Namikura Miso, Aged 6 Months
Namikura offers both red and white miso pastes, made with organic ingredients and loaded with the benefits of active bacteria. Perfect for a no-nonsense bowl of Udon miso soup.
Features:
Both white and red pastes available
Unpasteurized
40 calories per serving (1 tbsp)
930 mg of sodium for one tbsp
Ingredients include water, organic soybean, organic rice, salt
Product of Japan
Pros
Fresh and delicious
Easily dissolvable
Organic
Gluten-free
Long shelf life
Cons
Packaging not up to the mark
Expensive
The red miso paste by Namikura Miso Co. has a rich flavor and smooth texture. It is made with very little rice and a large amount of soybean paste and aged for over six months, giving it a dark brown color. It is tangy, adequately salty, and just a little bit sweet. You can use it to make an appetizing hot bowl of chicken soup with ramen noodles in no time. Add to it a few scallions, shredded chicken, and soy sauce, and you are good to go.
The white miso by Namikura is more popular than the red. It looks medium brown, like milk chocolate. It is perfect for those who want their miso soup to be mild but not too mild. The flavor is much less intense than red miso, but fresh and delicious nevertheless. You just have to use one and a half tablespoons of it to make three bowls of soup. Or just add a pinch to a blend of onions and olive oil to make a salad dressing in under two minutes.
The pastes sold by this brand are unpasteurized. To get all the benefits of the active bacteria, make sure that you don't boil the paste, but add it to your dish right at the end. Whisk it gently in a small amount of warm water until creamy, before adding it. You can use it for any savory dish, even a simple rice and bean combo to create a soothing, heart-warming plate of comfort food.
The packaging is flimsy and can also turn out to be a little messy. Have a container and a whisk ready as you might have to scrape the paste from the plastic bag it came in, into an air-tight container if you plan to preserve it for long.
4. Marukome Organic Broth, Authentic Japanese Style Miso
If you are someone who is concerned by the crazy amount of salt that is in your miso paste, we have you covered. Marukome offers a reduced-sodium version, which has 25 percent less sodium than its normal version and is equally tasty.
Features:
Red miso paste
Vegetarian recipe
Two varieties available: miso and reduced-sodium miso
Pasteurized
Ingredients include filtered water, organic soybeans, organic rice, sea salt, organic alcohol
Made in the US
Pros
Organic
Gluten-free
Non-GMO
Comes in a well-sealed container
Cons
Mraukome's miso paste comes in little plastic tubs that are easy to store in the refrigerator. The paste is made with organic ingredients and filtered water, making it a desired option for those who are particular about quality ingredients. They also offer a reduced-sodium option for those who do not like their miso very salty, and those with high blood pressure.
The red miso paste actually looks yellow and has the consistency of dried chicken broth. It has a mild earthy taste and is best when used in soups and salad dressings. You can even make a lip-smacking Asian coleslaw with it. Sometimes, the mild version can be very mild, and you would have to add double the amount to get the flavor that you desire, which often beats the purpose of opting for a low sodium version.
The paste is pasteurized and doesn't contain the good active bacteria, but it is still loaded with vitamins and minerals from all the organic ingredients that it is made from.
5. Organic Miso Paste by Tetsujin, USDA Certified
This brand sells both white and red miso pastes, and they go well with fish and meat marinades and salad dressings.
Features:
Both white and red paste available
Unpasteurized
930 mg of Sodium per serving (1 tbsp)
Ingredients include water, organic soybeans, organic rice, salt
Product of China
Pros
Organic
No MSG
No GMO
No Alcohol
Gluten-free
The packaging is food safe
Cons
Some customers complain of damaged packaging
The white paste is aged for three months and the red paste is aged for about six months. Tetsujin's white paste is better preferred than the red. It is sweet-tasting and has a fresh umami flavor to it.
Both white and red pastes are extremely flavorful, so just pinch a little and add to your soup, scrambled eggs, or ramen. Use this paste to make kimchi and pulled pork with confidence. Note that when using the paste in your dish, you could forget about adding any extra salt.
Though the label says that it should be used as soon as possible after the purchase, these pastes are good for 12 to 18 months if refrigerated. The product comes in a disposable plastic bag, so transfer it into an airtight container, maybe a quart tub, before refrigerating.
If you are very specific about buying a product from Japan, then let us remind you that this is a product made in China. The writings on the packaging are in Japanese and can be a bit misleading.
6. Yutaka Gluten Free & Organic Miso Paste
Imagine sitting by a campfire and slurping a hot bowl of miso ramen. These little jars of miso paste are designed to make those dreams a reality. Filled to the brim in neat and compact glass jars, you can confidently slide one jar into your backpack for your weekend getaway.
Features:
Yellow miso
Pasteurized
Contains 10.9 grams of salt per 100 grams
Ingredients include water, soybeans, rice, salt
Made in China
Pros
Organic
Makes good stir fry
Fresh tasting
Value for money
Cons
Some bottles come broken
Relatively shorter shelf life
If you are traveling and plan to make your own, Yutaka Miso Paste is the most convenient option. It's cheaper and much easier to use in a soup, than say, vegetable stock cubes.
If you want a thick flavorsome Japanese miso soup, mix half the bottle of miso paste, or six spoons-full, into one liter of dashi, a stock made from fish and kelp. If you want to grill a steak outdoors, marinate a slice of beef with the miso and let it rest for an hour before grilling it medium-rare. The paste is great even on stir-fried tofu and vegetables.
Unlike other brands, which require you to transfer the miso paste into a zip lock bag or an airtight container, Yutaka miso paste can be conveniently stored as-is inside the refrigerator. Be careful while handling the package though, for, many customers have often had to deal with shards of glass from one or two broken jars.
This paste is made with organic rice and soybean thus ensuring quality. However, it is pasteurized, which means it doesn't have active bacteria, which usually helps in digestion, and is a key benefit of miso.
7. Shirakiku White Miso Shiro Soy Bean Paste
With this product, you don't have to ever worry about miso taste dominating other flavors in your food. Boldly add it to your miso chicken soup, and watch it complement the taste of sesame, ginger, and other spices.
Features:
White miso
Sodium content: 900 mg per tbsp
Ingredients include water, soybeans, rice, salt, ethyl alcohol
Product of Japan
Pros
Adequately salty
Dissolves well
Packaged well
Good quantity for price
No MSG
Cons
Looks like red miso though it is labeled white
Miso flavor not strong enough
Unlike some miso pastes that need to be stirred for long in warm water for them to completely dissolve, Shirakiku Miso is quick and easy to use. This means that your cravings are satisfied much faster with this paste.
Though it says it is white miso in the package, it looks more like a red one, or Awase, which is a mix of white and red. It's good for salads, soups, and sauces. Or even as a dip. Don't be scared to experiment, because it's tough to go wrong with this one.
A big plus point is the packaging, which is sturdy and is delivered intact. However, it only comes in two packs that are 2 kgs, which can be a lot, especially if you are a small family. So the best way to store it would be to empty its contents into a zip lock bag or an airtight container and then place it in the refrigerator. This would help keep the paste moist.
Concluding thoughts…
Whether you are in the mood for a simple soup, or an elaborate pulled pork sandwich, miso is your secret ingredient. Before making the purchase, it would be useful to ask yourself whether you want something that tastes nutty, creamy and mild, or tangy and vinegary. If you want the former, look for white miso paste options, and if you want the latter, look for red or awase miso pastes.
Miso paste is said to have a lot of sodium, which might not be preferred by some, especially those who have high blood pressure. So if low sodium is your criteria, look for the specification on the package before you decide on the one you want. We have listed brands that offer a low sodium version of miso paste in the list for your convenience.
A key feature of unpasteurized fermented paste is the active bacteria that are present in it. It is said to aid in digestion and boost immunity. If you are keen on tapping on this health benefit, make sure to select one that is unpasteurized.
Having said that, any paste of miso is healthy, gluten-free, and fully vegan. And it is a preferable option for those who want to give in to their food cravings without feeling any guilt.