Are you having trouble increasing your fluid intake?
Well, it is not easy to keep up with the recommendation of drinking at least 8 glasses of water a day. Sipping on plain water throughout the day can be very boring.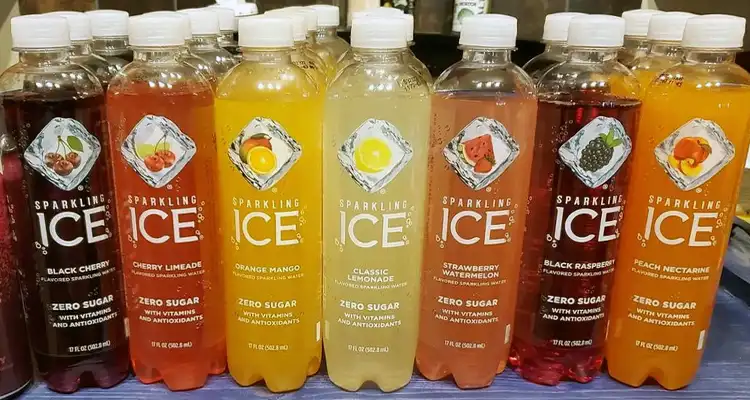 Fortunately, there is an alternative! Sparkling water from brands like Sparkling ICE makes hydration easier and exciting.
Sparkling ICE keeps their sparkling water simple but delicious. These drinks come in 17 oz bottles with bold colors and exciting fruity flavors.
There are many flavors to choose from. So, where do you begin?
Get started with our round-up of the top Sparkling ICE flavors and find your favorite.
10. Strawberry Lemonade
Sparkling ICE strawberry lemonade makes it difficult to believe that water can be so delicious. This pink drink is very sweet. The taste of juicy strawberries is more pronounced than citrus. The lemon just adds a hint of sourness. This drink has a stronger strawberry flavor than the brand's strawberry watermelon.
The carbonation in strawberry lemonade is satisfying. Try freezing it. You will have a delicious slushie. The strawberry lemonade also works well as a mixer in summery cocktails, mocktails, and fruit punch. The only downside of this drink is that you may not be able to have too much of it if you dislike overly sweet drinks.
9. Black Cherry
Sparkling ICE black cherry is a delicious drink. It has a rich wine color and a strong cherry flavor. This mouth-watering drink tastes best when it is chilled. The fizz perfectly balances its strong zesty flavor.
Sparkling ICE sparkling black cherry pairs well with chocolates and ice creams. The sweet and rich juicy flavor complements the lusciousness of cocoa and milk. It is perfect for warm sunny days when strong fruity flavors can easily quench your thirst. Ice recommends using black cherry in their sweetheart cherry martini recipe. Try it out! You will not be disappointed.
8. Orange Mango
Orange Mango Sparkling ICE water is an easy-breezy summer drink. The zesty punch of orange and the juicy sweetness of mango come together beautifully in this beverage. The rich and satisfying tropical flavor is just perfect for hot summery days.
This drink has the perfect balance of crispy bubbles and sweet fruity freshness. However, some people complain that the fizziness is too strong for an orange-flavored drink. If you have a soda addiction, the orange mango sparkling water from ICE will help you overcome it.
7. Cherry Limeade
Very few sparkling water brands successfully replicate the tartness of the original cherry limeade. But ICE does a fantastic job with its cherry limeade. Sparkling ICE cherry limeade is sweet with just the right balance of sourness. It tastes like real cherry limeade and is not a watered-down version.
The tanginess of ripe cherries and the energizing zest of limes has been wonderfully captured in this flavor. It tastes best when chilled and you can have it on its own or in a cocktail. How about using it to jazz up mocktails at a garden or pool party? Or simply pair the cherry limeade with rich batter-fried or cheesy snacks for an unbeatable and delicious combination.
6. Lemon Lime
If you need a versatile, refreshing sparkling water flavor that works for everyone, look no further than Sparkling ICE Lemon Lime. This classic combination captures the deliciousness of freshly squeezed lemon and lime over fizzy soda, sans the calories. The taste of lemon and lime stands out. It tastes like real fruit. There is no unpleasant aftertaste.
The sweet and sour notes are perfectly balanced. It is neither too sweet nor too strong. Nor does it have any artificial candy flavoring. It stands out from other lemon-flavored drinks with its delicious citrusy tanginess. Instead, it is light on the palette and offers a satisfying experience. Have it cold with ice to enjoy lasting relief from the sweltering heat on a warm, sunny day.
5. Fruit Punch
Fruit punch is one of the most popular Sparkling ICE sparkling water flavors. Due to the huge demand for it, it is often out of stock. Due to the strong and undiluted fruity flavor, it appeals to everyone. The fruit punch flavor also has a beautiful deep red color.
Fruit punch marries various fruits into a single drink. Of all these flavors, sweet cherry and pineapple are most prominent. You will also be able to identify the citrusy notes of lime and orange in each sip. However, it lacks the taste of tropical fruits like peaches and mangos. This fruit punch is mellow and suitable for matured taste buds. It is a welcome variation from those that taste like sweet fruit sodas. Overall, it is a good flavor and does not need any other mixer. It tastes best when served over ice or chilled.
4. Kiwi Strawberry
Kiwi and Strawberry are a match made in heaven. The kiwi-strawberry flavor of ICE sparkling waters blends the best flavors of these two fruits to create a refreshingly light drink. The flavor of kiwi is more prominent in this sparkling water flavor. However, the lush sweetness and hint of tartness from the strawberry appear in each sip. This vibrant combination sends the tastebuds into a frenzy with its sharp fruity tones. Meanwhile, the carbonation in it produces just the right amount of pop.
Sparkling ICE kiwi strawberry is an ideal drink that you will not tire of. The subtle sweetness appeals to adults and kids alike. There is an almost crispy zing that will have you reaching out for more of the water. Hence, it is one of the best flavors out there to ensure you get the glasses of water you need each day.
3. Coconut Pineapple
Sparkling ICE Coconut Pineapple sparkling water reminds one of relaxing tropical sun-kissed beaches. The light and sweet flavor of coconut in the drink is mellow but invigorating. Meanwhile, the fruity tones of pineapple pack a punch and make it a zesty drink with an addictive sweetness.
The best thing about this flavor is that it is sweet but not overpowering. The combination of coconut and pineapple is free from the sourness. Hence, it is a great choice for anyone who does not enjoy citrusy drinks. The flavor profile is well-balanced. Neither is it too bold nor watered down. It delivers just the right amount of fizz to tingle the taste buds. It is easily one of the best flavors from the brand for a breezy summer day.
2. Black Raspberry
Sparkling ICE black raspberry is deliciously sweet. It tastes like fresh raspberries. The fruity tone is enhanced by the carbonation in the drink. It is not candy-like and does not leave any unpleasant aftertaste.
If you are looking for a flavor that is not too bold, black raspberry is one of the best. The flavor is original and good. Although it is sweet, it does not fill you up too much. You can consume bottles of this drink without it affecting your appetite. Blend Sparkling ICE black raspberry with fruits like blueberries and bananas in a smoothie for a drink that is just out of the world. Like most Ice sparkling water flavors, black raspberry also tastes best when chilled.
1. Classic Lemonade
Classic lemonade tops our list of the Best Sparkling ICE flavors for various reasons. Firstly, it tastes just like freshly prepared lemonade. It will, in fact, remind you of some of the best lemonades you have ever had. This drink is sweet with just a hint of sourness. It tastes so fresh! The carbonation balances the tartness of the lemon flavor and makes it very light.
Classic lemonade is the perfect drink for a busy summer day when you need a drink to invigorate yourself. This drink is also appealing because it does not have any unpleasant metallic aftertaste. Additionally, classic lemonade tastes like real fruit and is not like artificial lemon-flavored sickly-sweet drinks. This is the real deal!
To wrap it up…
If you have trouble kicking a soda addiction or are trying to improve your hydration levels, sparkling flavored water from Ice is what you need. The wide range of classic and innovative fruity flavors is guaranteed to make your hydration more exciting.
Nonetheless, bear in mind that sparkling water is not an exact substitute for water. Sparkling ICE sparkling water may not contain any added sugar. Nonetheless, there are other ingredients to look out for. These drinks get their sweetness from artificial sweeteners like Splenda. The exact effects of such ingredients on the body are still unknown.
Carbonated water can also create problems if you have a sensitive stomach. Continuous intake can aggravate conditions like IBS, heartburn, and trigger or worsen stomach ulcers. So, exercise caution when consuming Ice sparkling water, or any other type of sparkling water for that matter.
Plain water is always the best choice to keep your body hydrated. However, these fruit-flavored beverages are better than colas and other fizzy drinks which add empty calories and cause bigger problems in the long run.