Remoulade sauce is a delicious, versatile condiment that can be used on everything from crab cakes to seafood pasta. It's a great way to add some zing to your meal without having to spend hours in the kitchen.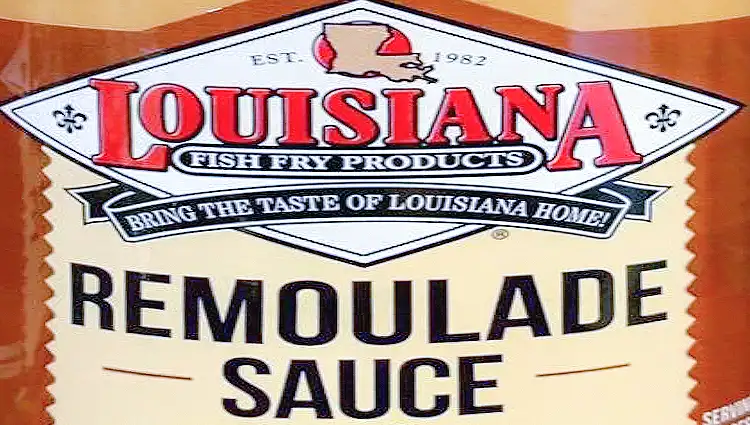 So what makes it so special? Well, there are three main ingredients that make up remoulade: mayonnaise, mustard, and paprika. These three ingredients combined create a creamy, tangy sauce that's perfect for dipping your favorite seafood in!
It's easy to make your own remoulade sauce at home, but if you're in a pinch for time or simply want to enjoy it without all the work, there are plenty of good store-bought options. If you're looking for a sauce that will help elevate your next meal of seafood, look no further than these five brands!
1. Louisiana Fish Fry Products Remoulade Sauce
I love this sauce. It's a blend of horseradish and spices, and it's got a nice tangy flavor that pairs well with a lot of things. I like to use it on my salmon, crab cakes, burgers, potato salads, and macaroni salads.
I'm always looking for new ways to use this sauce because I feel like there are so many possibilities! If you like po'boys—or if you've never had one—you should definitely try them with this sauce!
This sauce has no cholesterol or trans fat, making it healthy for you to eat. Its tangy flavor makes it delicious on all these different items listed above.
This sauce is hard to find in stores, however, if you do find it, I recommend buying at least two bottles so you have one when one runs out! This way you won't be disappointed when you go looking for it again and can't find any!
2. Legal Sea Foods Remoulade Sauce
I have to say, this is one of the best dipping remoulade sauces I've ever had. It's thick and creamy, with a perfect blend of paprika, pickle relish, and capers. The sauce has a nice spicy kick that goes well with fried seafood like crab cakes or salmon. The tangy flavor of the sauce makes it delicious on burgers, as well as any fried shellfish you might be serving at your next barbecue.
If you're a fan of spicy sauces that are also creamy and flavorful, then this product is definitely worth a try. It's hard to find this particular brand in stores—but if you can find it… grab it! The consistency is amazing, and the flavor is out of this world!
3. Arnaud's Remoulade Sauce
Arnaud's Remoulade Sauce is a thick and creamy dipping sauce that's perfect for dipping with peel and eating shrimp. It also makes a great marinade for chilled boiled shrimp, which you can serve as an appetizer. I also love that it doesn't have high fructose corn syrup in it.
The flavor is tangy with just the right amount of spice—not overwhelming or overpowering. This sauce would be delicious on salmon, shrimp, crab cakes, burgers, crawfish… you name it!
Although I like the flavor of this product, I wish it didn't have quite so much mustard. For example, I tried using it on fried oyster Po'Boy sandwiches and found the taste to be too strong.
The only downside is that it can be a little expensive. But if you're looking for a sauce that's similar to what they serve at Arnaud's restaurant in New Orleans (and if you have some extra cash), this one is well worth it.
4. Braswell's Select Seafood Collection Remoulade Sauce
If you're looking for a sauce that will perk up your fish dishes, consider Braswell's Remoulade Sauce. This sauce is great on crab cakes, salmon burgers, and fried seafood platters.
The first thing to note about this sauce is that it has a nice balance of sweetness and saltiness, which makes it perfect for pairing with fish. It's not overly spicy or tart like some remoulades can be; instead, it tastes more like a creamy tartar sauce.
The second thing worth noting is that the flavor profile is quite unique. It's tangy with just enough heat to give it an extra kick without overwhelming your palate. The flavor also lasts long after you've stopped eating the food you've paired it with—which means you won't have to worry about going back for seconds just because you love the way the sauce tastes!
If you're looking for a new twist on your favorite seafood dish or just want something different from what you normally use as a sandwich spread, consider giving this product a try!
5. St. Elmo Steak House Remoulade Sauce
If you're looking for a delicious, creamy sauce that delivers a boost of flavor and is gluten-free, kosher, and shelf stable, look no further than St. Elmo Steak House Remoulade Sauce.
I've been using this sauce for years now and have found that it is delicious on salmon, crab cakes, burgers, sandwich spread—basically anything you can think of. It can even be used as a dip for fries!
The key to getting the most out of this product is to store it cold and then make sure you're keeping it in the fridge once it's opened. I also recommend adding mayonnaise to your remoulade to tone down the spicy taste if you aren't into spicy foods.
This product has become an integral part of my kitchen routine because of how versitile it is—I use it at least once a week!
To Summarize
In the end, the decision will likely come down to your personal preferences. All five of these sauces serve a specific purpose, and each one is quite tasty. The best thing you can do (as with any sauce) is try them for yourself—after all, it's really not just about the taste. It's how it makes you feel when you put it on your favorite dish, a memory of good times had at home or while out on the town. And availability is also key—some grocery stores will offer a wide variety of sauces, while others may only have one or two brands to choose from. Whatever your reasons, don't give up on finding the perfect brand. You'll find it eventually!