We all know that the energy drink market is saturated. And there's a good chance you've tried a few of them—but have you tried Alani Nu?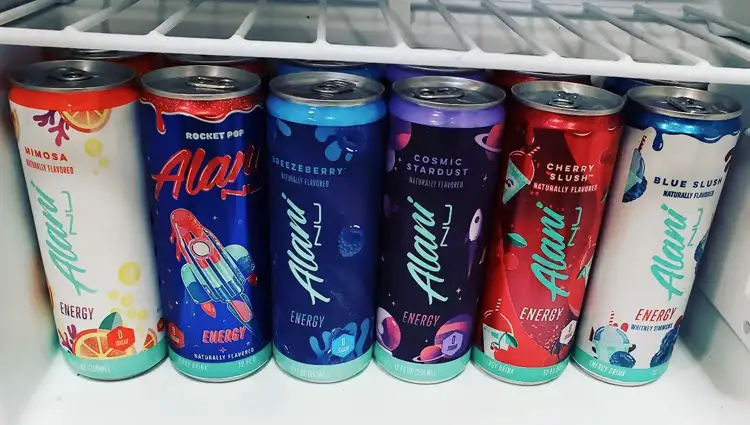 Alani Nu is an Instagram-famous brand of pre-workout and energy drinks that has made waves in the fitness industry. It's beloved by many for its flavors, taste, and low sugar content. What really makes it stand out, though, is its high caffeine content: 200mg of caffeine per can. This means that you get more bang for your buck than with some other brands—and it also means you'll be able to stay energized longer!
But what really got us hooked was how many different flavors there were. While most brands have five or six, Alani Nu offers twelve different options!
We wanted to see if they really lived up to the hype, so we tried all of the flavors and put together a list of our ten favorites. If you've been thinking about trying Alani Nu for yourself but haven't yet gotten around to it, this list should make it easier for you to decide which flavor(s) will be best for your needs!
10. Cherry Slush
This flavor tastes just like the cherry slushies you've loved since childhood—but even better! It's definitely a cherry slushy, with strong vanilla notes and just enough sweetness to make your mouth water.
The only thing that I wish was different about this drink is that it came in a bigger size! The 12oz can doesn't last long enough for me to get my fill of this deliciousness, and I'd love to see a bottle option so that I don't have to worry about running out so quickly.
9. Trippy Hippie
This is a citrus piña colada flavored drink that tastes great initially, but kind of falls apart once you get past the initial burst of flavor. The sweet taste will make you feel like you're on vacation in Hawaii while the energy boost will keep you up and running all day long.
The only thing that I didn't like was the fake sugar it had in it. It lingers on the tongue and makes your mouth feel sticky. If they could just cut back on that fake sugar then this drink would be perfect!
8. Watermelon Wave
I'm a big watermelon fan, so when I saw this flavor, I knew it was going to be good. It tastes like watermelon candy, with just a touch of tartness. I love this drink in the afternoon. It's got a great amount of caffeine, and I feel like it gives me an energy boost without the jitters or crashes that some energy drinks can give you.
The cans are beautifully designed, with bright colors and fun graphics on them. They look like they'd be really fun to collect!
7. Breezeberry
Breezeberry is a refreshing and zingy drink that offers a quick caffeinated boost. It's got a light berry taste and just the right amount of carbonation for a pleasant fizz on your tongue. It's not too sweet, but also not too sour. We think it's just right.
I wish there were a 16oz can, but I know there's not much room in my purse for a bigger can of this stuff. Of course, at $2.30 a can, they're not exactly breaking the bank either—which is another reason we love them!
6. Berry Pop
The flavor is sweet but not overly so, and it has just enough carbonation to be refreshing without being overwhelming or making you feel like you have to burp. The berry pop taste is definitely there, but it's not overpowering; I think it tastes similar to Welch's strawberry soda but without all the added sugar!
I love that this energy drink doesn't have an aftertaste—it's just right! It's also got some vitamins in it, which is always a bonus. Overall, this is definitely one of my favorite flavors from Alani.
5. Hawaiian Shaved Ice
Hawaiian Shaved Ice is a great choice if you're looking for something different from the other energy drinks on the market. If you like coconut-flavored items, this flavor is a match made in heaven. It doesn't taste like your typical snow cone or shaved ice—it's unique, and it's one of our favorites! After drinking this beverage, you'll find yourself with a quick caffeinated boost that won't leave you with any strange aftertaste—and no crash!
This flavor is loved by many people who are looking for something different from the typical energy drinks out there. It's so delightful, we wish there was a 16oz can!
4. Blue Slush
This icy, slushy flavor is half blueberry and half raspberry, and it's got a nice blue color that'll make you think of the ocean. It's got medium carbonation, so it doesn't burn your throat or anything like that, but it still has a high flavor profile so you can really taste what's going on with each sip.
This flavor is perfect for someone who wants to enjoy something sweet after working out or even just on a hot summer day. You can find it at most grocery stores, and it's also available in a 12-pack for those of you who like to stock up on your favorite flavors! It's definitely worth trying—it was one of our favorites from this brand.
3. Tropsicle
This is our third favorite flavor, and it reminds me of being on a tropical vacation. It gives me a good boost of energy without feeling jittery—and I like that they have biotin in them as well. The flavor is delicious and has just enough sweetness to make it truly enjoyable without being overwhelming.
This is definitely a great pre-workout for me, though it would be equally good as a mid-afternoon pick-me-up or even just when you need some extra pep in your step during the day. Highly recommended!
2. Mimosa
This is our 2nd favorite flavor on our list right now, and it's got an orange citrus flavor that's reminiscent of Bubly orange soda or Minute Maid orange soda. It tastes amazing, and we love that it's got so much caffeine paired with such a delicious taste.
If you're looking for a refreshing flavor that will start your day off right, this is it! It's not too sweet or too bold—it's just sustained energy for a few hours.
I think it's a great alternative to having coffee in the mornings for those who want something different and more refreshing.
1. Cosmic Stardust
I am a big fan of this flavor.
I have tried a lot of energy drinks, and this one is the best I've ever had. It's less harsh on your digestive system, and it doesn't have an aftertaste or leave you feeling like you need to brush your teeth. It tastes super delicious, and I felt focused afterward.
It tastes kind of tangy candy-ish without being too sweet or too sour—like a bunch of skittles eaten at once! It smells like grapes too… which is probably why it tastes so good! The can art is cool, too. It's got a lot of space-y vibes going on.
I would recommend this drink to anyone who likes candy! It's super tasty, refreshing, and crisp—perfect for drinking before a workout or even just during the day when you need a pick-me-up!
To wrap it up…
In conclusion, Alani Nu energy drinks are a tasty, sugar-free alternative to other energy drinks. They provide a boost to your energy without being harsh on your stomach.
I enjoyed these flavors, and I'd recommend them if you like the flavor profile. They aren't cheap, but if you subscribe and save, there is a 5% off on their website that can help you save money.
Let us know if you have any preferences or a favorite different from mine!