I'm a big fan of Nuun. I like them because they have very little flavor.
Sometimes, when I'm out on a long bike ride or hike, all I want is a little electrolyte mix to keep me hydrated and healthy—but I don't want sugar or strong flavors getting in the way of my route and my conversation with myself.
That's why I was so excited when I first tried Nuun. The flavors are so light, refreshing, and subtle that they're like water but even better!
After a muscle-pumping bike ride or run, I like to rehydrate with these tablets. They're full of electrolytes and minerals, and just one gram of sugar. There's also caffeine, which helps me recover from the workout and stay alert as I get ready for the rest of my day.
I use Nuun tablets because they're easy to carry with me when I'm out and about. Nuun is available in a bunch of different flavors, so you're bound to find one that speaks to you. You might have to try a few before you find the perfect fit, though.
I've tried every flavor of Nuun out there, multiple times, and I love them all.
So what are my favorites? Let's go through them one by one.
1. Strawberry Lemonade
My favorite flavor of Nuun is Strawberry Lemonade.
First of all, it's got that classic strawberry lemonade taste. It's not too sweet, and it's got just the right amount of tartness to make it refreshing—especially after a long run or a tough workout at the gym.
Second, Nuun Strawberry Lemonade doesn't have any weird aftertaste. You know how some sports drinks leave you with that chalky, chemical-y flavor in your mouth? This one doesn't do that.
As someone who gets chronic muscle cramps, it helps me stay hydrated and keep my muscles from tightening up. That's why I always have some on hand. I love that there are no artificial flavors and few calories.
Nuun is not as flavorful as Gatorade, which can be a pro or a con depending on who you ask. Personally, I think it's refreshing to have something that's not so sugary all the time!
The only downside is that it doesn't completely dissolve without shaking. But once you try it, you won't be able to go back.
And if you're worried about caffeine, don't be! There is no caffeine in this particular product.
2. Lemon Lime
The flavor is subtle and pleasant: not too tart, not overpowering at all. It's the perfect addition to your water bottle when you need a little pick-me-up on your next hike or run. That said, it's also great as an afternoon pick-me-up if you're feeling like you're dragging at work.
It mixes really well and helps me manage my POTS symptoms by keeping me hydrated. It's easy to store, carry, and use. These tablets come in a compact tube that fits in the palm of your hand and weighs next to nothing—perfect for travel. Simply drop a tablet in your water bottle and go—there's no mess!
I also really love how refreshing and hydrating this flavor is! It makes me feel like I'm drinking a glass of lemonade on a hot summer day! With its pleasingly tart flavor, this drink is tasty and effervescent without being too heavy on my stomach.
If you don't like citrus flavors, this might not be for you.
3. Watermelon
Watermelons are the most magical fruit on earth. They grow like little green orbs in hot climates, and when you crack them open, they're so refreshingly delicious you almost don't even need to chew—you can just let them slide down your throat into your stomach. Not too sugary, not chalky, or bitter—just good-tasting water that'll keep your electrolytes balanced while quenching your thirst.
And that's exactly what you'll get with Nuun Watermelon. It's like sticking a straw in a watermelon!
It isn't overpowering at all—it's more like a subtle hint of candy watermelon than anything, which makes it perfect for athletes and others who aren't looking for an overwhelming flavor. Yet it still provides all the benefits of Nuun electrolyte tablets: faster recovery time, increased energy, and better hydration.
Just keep in mind that it's designed to be mixed with 16 ounces of water. Any more than that and your drink will start to get a little flavorless. And if you're looking for something sweet and sugary, this isn't it—Nuun watermelon has more of a clean taste instead of a sugary one.
The best part about these tablets? They're gluten-free and dairy-free! So if you have a sensitivity to either one of those things, you won't have to worry about having an adverse reaction when you pop one into your water bottle on the go.
4. Orange
Nuun's Orange is sweet and fruity, while also being cool and refreshing. If you're someone who loves a classic, go-to flavor, then this is the one for you. The flavor is just like orange soda—it's sweet without being overpowering, and it has a slight aftertaste. While some may find this off-putting, I think it improves the flavor. The aftertaste doesn't linger for long, so it doesn't get in the way of whatever else you're doing or eating.
I like to add two tablets to my 24-ounce plastic bottles, but you can use as many or as few tablets as you'd like depending on how strong or weak you want the flavor to be.
Nuun's Orange has no artificial flavoring or sweeteners, which means you can trust it to help keep your body hydrated and feeling great when you're working hard at long distances or endurance events.
Not only does it hydrate you, but it replaces electrolytes lost through sweat and exercise, especially in long-distance and endurance events. So get out there and run yourself into the ground, because when you're done, you'll have a refreshing, delicious drink waiting for you that will help bring you back to life!
Plus, it's super convenient to keep a tube in your bag or pocket for when you need a quick pick-me-up from dehydration!
5. Fruit Punch
While I am a big fan of liquid I.V, I think the Nuun tablets are so much more convenient. It's convenient to just drop a tab into my water bottle rather than measuring out a powder, and I can adjust the level of flavor to suit my taste by adding more or less water. This flavor is not too sweet like liquid I.V though, which is a big plus for me! No sugar, not sticky, and tastes good!
I find this flavor is great to take on hiking trips because it's not as strong as some of the others and I can drink it all day without getting sick of the taste. In contrast to MiO's "fruit punch" flavor (which is somewhat overpowering), Nuun is more refreshing and lighter.
I also find that it takes unusually long to dissolve in water, so if you don't plan ahead, it might not be ready when you need to drink it.
The old formula had an aftertaste, but this one tastes clean and refreshing. Highly recommend!
6. Citrus Fruit
Citrus Fruit Nuun is the last on my list because I don't love the taste. I think it's totally drinkable—just not as exciting as some of the other flavors out there. And if you're looking for something that's not going to give you a flavor punch in the face, Citrus Fruit might be perfect for you!
It's got a really strong aftertaste, which can be a good thing if you're looking for something that stays with you longer than a few minutes. It keeps me going through long runs, and I'm never tempted to stop for a snack or craving because I know it's still there. Unfortunately, that also means I don't always want to drink it when I'm not working out!
It has the same delicious, light taste as their other flavors, but with a slightly different aftertaste: very strong. Like the other flavors, it takes a few minutes to dissolve and longer if you put it in cold water. I like to wait until after the tab is dissolved to add ice.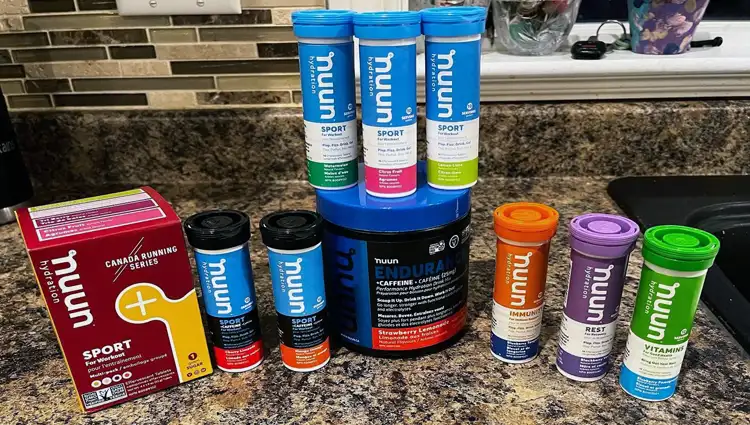 To conclude,
If you're in the market for a flavored drink enhancer, I can't imagine a better choice of a brand than Nuun. The flavors are some of the best out there and they come in lots of different flavors to fit whatever you're in the mood for.
In the end, the best flavor is really a matter of taste. I don't pretend to know what's best for you—I'm just giving you my opinion. I've tried all these flavors so many times that they're all my favorites. Hopefully, this will give you some inspiration and get you started on your own quest to find the perfect Nuun flavor for you.
Remember it's not just about the flavor—it's also about getting more electrolytes in your body. Nuun makes staying hydrated simple and tasty while offering essential levels of electrolytes in each tablet.
My only complaint about this brand is that I wish they came in larger quantities because I'd hate to waste all these little tubes they come in! But it's not a deal-breaker by any means—just something I've noticed in my many years of drinking this brand.