Staying hydrated is a lot easier when you like what you drink. And sparkling water works very well when you want a drink that never gets boring. Compared to still water and soda, sparkling water is a clear winner because it is not as dull as plain water. Nor is it loaded with sugar.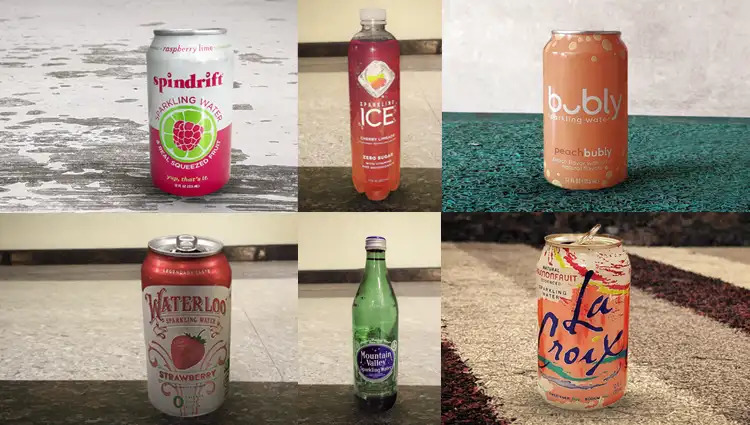 There are rows and rows of sparkling water brands in supermarkets. But some are undoubtedly better than the rest. So, let us get right down to business. Read on to find out the ten best-tasting sparkling water brands that are worth your attention.
Highlights:
Free from gluten
Kosher-certified by the Orthodox Union
Contains no sugar, according to the FDA
Bottles are free of BPA and phthalates
Chill before using for best results
Vitamin A is added to increase the levels of antioxidants
Made with food-safe colors
Pros: Sparkling ICE has a wide variety of flavors. These flavors generally taste a lot better than many of the other sparkling water brands out there. They are reasonably priced as well.
One of the biggest advantages of ICE Sparkling water is that it is keto-friendly. The drinks deliver just 5 calories per serving and it is zero carbs and sugar. Nonetheless, it does not taste bitter or boring. The taste is well-balanced and delicious.
While you can always have ICE sparkling water as such, you can also use it to create exciting new drinks. Mix and match the different variants to prepare signature cocktails and dessert drink recipes.
Cons: While Sparkling ICE has a whole list of good ingredients, some of its constituents are concerning. The brand uses sucralose instead of sugar for sweetness. It is an artificial ingredient that can trigger bloating, gas, and other conditions. Its long-term effects are unknown.
Apart from sucralose, ICE sparkling water contains artificial food colors and maltodextrin. When consumed in moderation, these do not present a problem. However, these ingredients make ICE sparkling water less appealing when compared to naturally flavored, unsweetened seltzer.
Overall Rating: 9.5/10 (Excellent)
2. Mountain Valley Sparkling Water
Highlights:
Bottled in glass, to preserve its rich taste
Serving customers for 150 years
Rich in minerals
Kosher and Pareve certified
Pros: As an established brand, Mountain Valley prides itself on being America's award-winning water and having served the country for over 150 years. Their products are bottled from springs in the Ouachita mountains. The water is sodium-free, enriched with minerals, and has the right pH levels.
Mountain Valley water never fails to deliver a clean and sparkling flavor. It has all the qualities of fresh spring water that has trickled through layers of stone, picking up the earthy goodness of minerals and other natural elements. The water has a fruity flavor that is refreshing and not overpowering.
Adding to the appeal of the product is the environment-friendly brand ethos. Mountain Valley stays away from plastic packaging. They use glass bottles and recently introduced 100% recyclable aluminum cans as a travel-friendly option. Mountain Valley water does not contain any artificial flavors, preservatives, or colors making it a healthy drink in all respects.
Cons: Since Mountain Valley water is sourced from natural springs, it has a characteristic mineral flavor. Not everyone may like it.
Overall Rating: 9.1/10 (Excellent)
3. Waterloo Sparkling Water
Highlights:
Approved by Whole30
BPA-free liners are used to make cans
No sugar no calories
No artificial sweeteners
Free of sodium, fluoride & stevia
No aspartame
Pros: Although it is a recent brand that entered the game only in 2017, Waterloo is immensely popular. Waterloo sparkling water is Non-GMO Project verified and Whole30 approved. The main appeal of this brand is its punchy flavors and clean ingredient profile.
Waterloo sparkling water has nailed the perfect level of carbonation. This singular aspect sets it ahead of competitors. Meanwhile, the flavor is spot on. Waterloo has strong but natural fruity flavoring. The citrus varieties are particularly better than the others.
We also like the fact that Waterloo has zero calories and no artificial sweeteners. It has no sodium, nor any other bad stuff. Despite the lack of sugar, it is palatable. Waterloo sparkling water is perfect for those who do not enjoy the strong and candy sweetness of soda drinks. It tastes like real fruit.
The packaging is impressive with its cheerful and colorful labeling.
Cons: The newest flavors from the brand are coconut and watermelon. These are not as impressive as their citrus range. These flavors fail to deliver the punch that is expected from sparkling water. Since watermelon and coconut are naturally sweet flavors, the lack of sugar could be responsible for the loss of flavor.
Overall Rating: 8.7/10 (Very Good)
Highlights:
Without calories or sweeteners
Product of PepsiCo
No caffeine in regular flavors
Naturally flavored
Pros: It is hard to resist the cool and funky-looking Bubly sparkling water from Pepsi. The colorful cans with cute smiles and sayings will have you instantly reach out for one. This drink has zero calories and does not contain artificial flavors or colors. So, it is likable in most regards.
While Bubly started with eight original flavors, they have expanded the product line to include seven more. The newest flavors are peach and blackberry.
Bubly is healthier than all the fizzy sodas from Pepsi. This carbonated water contains just two ingredients—water and natural flavor. So, it is a good substitute for sugary drinks and delivers similar satisfaction. That too without the guilt of caffeine or sugar.
The flavors are rich and resemble actual fruit. Overall, it is a decent drink that does not disappoint.
Cons: Bubly will quickly impress with its strong flavor and punchy fizz. However, the effect does not last. The flavor starts diminishing after the initial burst. It also does not have an aftertaste, which can be good or bad based on your preferences. Some flavors like grapefruit are too strong and not suitable for all types of palettes.
Overall Rating: 8.5/10 (Very Good)
Highlights:
Vegan and Kosher
Whole30 approved
Non-GMO
Gluten-Free
No calories, sweeteners, or sodium
Waters are filtered in a three-step process
Pros: La Croix makes seltzer look cooler than cola drinks. This brand is unique compared to most heavily flavored sparkling water brands. La Croix flavors are subtle and pleasantly refreshing. It delivers a similar satisfaction to drinking fresh and clear water, but with a hint of fruity goodness.
La Croix mentions that their sparkling water does not contain calories, sugar, GMOs, sodium, artificial ingredients, or any bad stuff. It also has an endless list of flavors, with new ones popping up all the time.
Not only does it hydrate, but La Croix also delivers a lasting aftertaste. The best thing is that the bubbles remain for a long time after you open the can. So, the fizzy effect lingers even if you take your time to drink it.
Cons: A recent lawsuit against La Croix suggested the presence of synthetic ingredients like limonene and linalool in La Croix. Although it puts the "all-natural" claim of La Croix under the spotlight, the brand has denied such allegations.
La Croix cites that all their natural flavors are derived from the natural essence of the flavoring ingredient. Whether to trust this claim or not is entirely up to you.
Overall Rating: 8.2/10 (Very Good)
6. Perrier Sparkling Water
Highlights:
Bringing joy to people worldwide for more than 150 years
Naturally flavored
Zero Calories, Zero Sweeteners
BPA free cans
Zero quinine
Pros: Perrier Sparkling water has many unique properties. Firstly, it has zero calories and zero sugar. This beverage has the right amount of carbonation that makes it refreshingly effervescent. Aside from drinking it directly, you can also add Perrier sparkling water to cocktails and mocktails. It adds the perfect dose of fizz and bubbles.
Perrier sparkling water is sourced and bottled in Vergeze, France. It contains 4% calcium, and the rest is carbonated mineral water. Another attractive factor is that Perrier sparkling water is available in metal, plastic, and glass packaging. You can choose from any of these options based on your needs.
The fizziness of Perrier is palatable. However, the carbonation is not as strong as many other sparkling water brands which makes it easy to drink. The distinct mineral taste makes it a refreshing drink for all occasions.
Cons: Perrier sparkling water turns out to be slightly more acidic than other brands. Although it goes down smoother, the acidity may not be a good thing for your teeth. This brand also focuses only on unflavored sparkling water and does not offer any other flavors.
Overall Rating: 7.9/10 (Good)
7. Clear American Sparkling Water
Highlights:
Fewer calories
Tastes great and is a good deal
Zero caffeine
Antioxidants are present
Pros: Clear American Sparkling water is a good choice if you are trying to kick a soda addiction. It tastes delicious though it is just water. The price is reasonable. This sparkling water goes well with most snacks like popcorn and pizza.
Clear American Sparkling water has strong flavors. You can choose from a variety of flavors and all of them taste good. The fruity flavors resemble the original fruit and are not too sweet.
Cons: Clear American water contains aspartame and acesulfame potassium as ingredients. These artificial sweeteners are on the FDA list of food additives to avoid. Due to the presence of these ingredients, Clear American Sparkling water is not the safest drink. You should be fine to consume it in moderation. Nonetheless, you cannot overlook the effect of these ingredients on the body.
Overall Rating: 7.5/10 (Good)
Highlights:
It is non-GMO and gluten-free
No added sugar
Gluten-free
Made with real fruits
A perfect alternative to sugary sodas
Pros: Spindrift has a variety of flavored sparkling water options. Interestingly, most flavors contain no more than two ingredients: water and fruit extract. This basic ingredient list suggests that the product is as close to natural water as possible.
Although the drink is not zero calories, it has negligible calorie levels. Unlike other brands that use synthetic extracts, Spindrift uses natural fruit instead of flavors. The natural fruit delivers a more authentic and delicious taste than other sparkling water with the same flavor from other brands.
Spindrift has an impressive array of 10 different flavors. While some flavors, like grapefruit, are mind-blowing, others like the orange-mango could be better.
Cons: The real fruit juice added to Spindrift causes a higher sugar and calorie count. While the price is comparable to that of other premium brands, Spindrift is not the most economical sparkling water brand.
Overall Rating: 7.1/10 (Good)
Highlights:
Contains no artificial colors
Suitable for those on a kosher diet
Low sodium
Product of Italy
Pros: The smooth carbonation and refreshing earthy taste of San Pellegrino help the brand stand out. Although the brand advertises that it adds just enough CO2 to keep the minerals intact, Pellegrino water is fizzier than many other brands.
This sparkling water is bottled from the natural springs in the foothills of the Italian Alps. It tastes delicious and crisp from the extensive filtering it undergoes during its journey down the rocks. It has original earthy flavors and is rich in minerals. The glass bottles are very fancy, and they make the drink look very attractive.
Cons: San Pellegrino has moderate carbonation. The bubbles are much lighter than most sparkling waters. Since it contains less CO2 than other brands, the taste may not be to everyone's liking.
Overall Rating: 6.8/10 (Above Average)
10. Voss Sparkling Water
Highlights:
Zero calorie flavored water
No caffeine
Not too overpowering
Nice skinny can
No artificial flavorings
Pros: The best thing about Voss sparkling water is its unique freshness and crisp taste profile. Voss contains unusually low levels of total dissolved solids.
The water is sourced from artesian wells in the wilderness of Southern Norway. Unprocessed and raw, the original taste and quality of the water are preserved and made available to customers.
The high-quality packaging and attractive PET bottles make Voss a brand to try. The bottles are reusable and are worth keeping because of how gorgeous they look.
Cons: Voss is priced much higher than other sparkling water brands. The ridiculous pricing may make one wonder if the goodness and purity of this brand of water are worth the hole it burns in your pocket.
Overall Rating: 6.4/10 (Above Average)