In recent years, we've seen a boom in the demand for healthier sodas, and a number of companies have sprung up to meet that need. But are these so-called "healthier" options actually better for you? Are they still delicious? We tried two popular ones—Olipop and Poppi—to find out.
What's the big deal about probiotics and prebiotics?
Probiotics and prebiotics are all the rage. We've known for years about probiotics—the good bacteria our bodies need to stay healthy. But now, thanks to new research, we're learning more about prebiotics too. Prebiotics aren't bacteria at all; rather, they're the food that probiotic bacteria feed on. This makes them important because it means we can actually help grow the population of our good gut bugs and keep them healthy. And since probiotic microbes are responsible for everything from supporting our immune systems to producing feel-good hormones that lift our moods, this is big news!
Why should I drink prebiotic soda?
Prebiotic sodas are new types of carbonated drinks that contain prebiotic ingredients and are gaining popularity among health-conscious consumers. Your gut will thank you as you go on with life knowing that every sip of this bubbly beverage is helping promote good bacteria growth and overall well-being. And if you think about it, having better digestion means better absorption of nutrients from all of the other foods you eat throughout the day.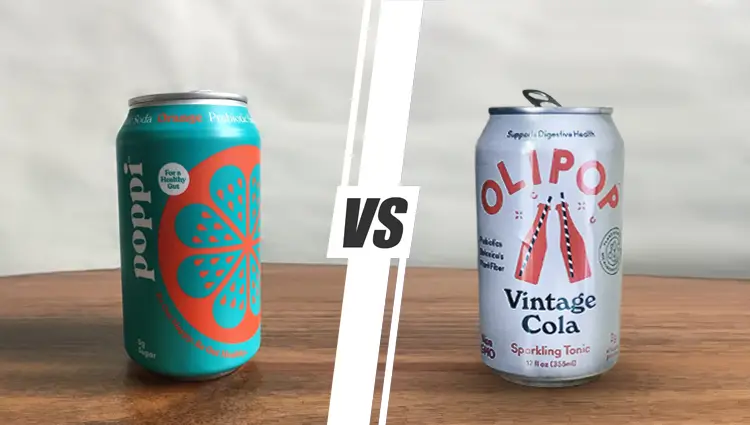 Experts agree that consuming 3 to 10 grams of prebiotics daily provides optimal health benefits. Drinking more than this can cause flatulence or bloating. Most prebiotic soda brands, such as Olipop and Poppi, offer fiber right in that range.
Olipop vs Poppi comparison
Here's a breakdown of the similarities and differences between Olipop and Poppi.
The facts about the Olipop drink
Olipop was co-founded by Ben and David who are passionate about helping people understand their own microbiomes and how they can improve their lives through diet. They started their company after they became interested in how gut health affects overall health and longevity.
The fact is, you can enjoy Olipop without worrying about the side effects of artificial sweeteners or sugars found in other sugary drinks. It's non-GMO, vegan, gluten-free, and contains no artificial colors or flavors.
Nutrition & Ingredients
Olipop has 35 to 50 calories per can, depending on flavor. It contains 2 to 5g of sugar per can, which makes it a great choice for those looking for a low-calorie beverage that still tastes great.
It also contains 9g of dietary plant fiber per can, which helps support a healthy digestive system.
The ingredients in Olipop drink vary depending on flavor. The company claims that its products contain a proprietary blend of prebiotics called OLISMART, which includes Cassava root fiber, Chicory root inulin, Jerusalem artichoke inulin, Nopal cactus, Kudzu root, Marshmallow root, Slippery elm bark, and Calendula flower.
The other main ingredients are carbonated water, tartaric acid, strawberry juice concentrate, mandarin juice concentrate, and apple juice concentrate. It also contains natural flavors which help to give Olipop its signature taste.
Flavor Options
At the time of publishing this post, Olipop has 10 flavors:
Banana Cream
Orange Cream
Classic Grape
Classic Root Beer
Vintage Cola
Strawberry Vanilla
Orange Squeeze
Cherry Vanilla
Ginger Lemon
Tropical Punch
The best part is that you can mix and match any of these flavors in whatever combination you want—it's up to you! This means that there are literally infinite possibilities when it comes to creating new flavor combinations that taste great together.
Cost and Packaging
Olipop's high price is a big drawback. It costs $3 per can, which is definitely pricey. The company does offer an auto-ship program that can reduce the price per can by as much as 50 cents, but it is still more expensive than most alternatives.
It also has different variety pack options to choose from so you don't have to buy in bulk if you only want one flavor or two flavors.
The facts about the Poppi drink
Poppi is a prebiotic soda made by husband and wife duo Allison and Stephen, who started experimenting in their kitchen while looking for a tasty way to deliver the prebiotic powerhouse found in apple cider vinegar.
The result was a super-tasty beverage that not only tastes great but also helps keep your body balanced, making it an excellent choice for people on all kinds of diets—including keto!
Nutrition & Ingredients
The nutritional content of Poppi products depends on the flavor you're looking at. If you're looking to cut back on calories, the Poppi has a slight edge over its competitor. The can contains 15 to 25 calories per serving (depending on flavor), while the Olipop contains 35 to 50 calories.
There are also no preservatives or artificial flavors in any of the Poppi varieties. They are gluten-free and contain 4 to 5g of sugar and 0mg sodium per serving.
However, you should note that there is less than 2g of dietary fiber per can on most flavors, which is significantly less than what Olipop offers.
The ingredients in Poppi drink vary by flavor, with apple cider vinegar being the main component of all flavors.
Each flavor contains a different combination of the below ingredients:
Sparkling Filtered Water, Organic Apple Cider Vinegar, Organic Cane Sugar, Strawberry Juice, Raspberry Juice, Ginger Juice, Orange Juice, Watermelon Juice, Organic Agave Inulin, Green Tea Caffeine, Natural Tartaric Acid, Apple Juice, Cherry Juice, Stevia, Lemon Juice, Lime Juice, Natural Flavors.
Flavor Options
Poppi has 10 flavors at the time of publishing this post:
Cherry Limeade
Strawberry Lemon
Raspberry Rose
Ginger Lime
Orange
Watermelon
Classic Cola
Doc Pop
Root Beer
Grapefruit
But what about the taste? Well, I'm here to tell you that all of the flavors of Poppi taste pretty good. They're not as strong as you might expect from an ACV drink—they're more like a fizzy apple juice than a shot of vinegar—but they do have that distinctive tangy flavor.
ACV has also been shown to improve digestion and reduce heartburn symptoms, which is why so many people love it as a natural remedy for indigestion!
I liked mine ice cold but not served over ice—it seemed to make the flavors pop more when I drank it this way. If you like kombucha, you will definitely enjoy these.
Cost and Packaging
If you base your decision on price, Poppi is the clear winner. A can of Poppi costs $2.50, whereas Olipop is $3 per can. Poppi also has a subscribe & save option that saves shoppers 10% off their purchase of 12 cans or more—bringing the price down to under $2 per can.
Poppi also offers a variety pack of their most popular flavors for only $29.99 on Amazon—a great way to try out multiple flavors without having to pay full price for any one of them individually.
How do I know which one is right for me?
As you can tell from the above, both Olipop and Poppi are similar in many ways. The price difference between the two is negligible, so it comes down to personal preference.
They both have their own unique flavors (so do not be fooled by the pictures on their cans), but both have similar sweetness levels that are not too overpowering—they're just right for what they are: sugar-free sodas!
They come beautifully packaged with attractive cans that make them look like expensive drinks (which they kind of are).
Poppi and Olipop are both refreshing and enjoyable when served chilled, but they have a stevia aftertaste. If stevia is not your thing, then this might be something for you to consider before making your purchase decision.
Conclusion
If you're interested in trying out a probiotic drink, both Olipop and Poppi are great options. In terms of nutrition and ingredients, they're quite similar. The main difference between them is their ingredients list: Olipop uses OLISmart, while Poppi relies on Apple Cider Vinegar. This means that if you don't mind the lingering taste of vinegar (it dissipates after a few seconds), then you should go with Poppi; otherwise, stick with Olipop!
If buying locally made products matters most then definitely go with Poppi since its produced by a woman-owned business located in Dallas, Texas 🙂