Electrolytes are important minerals that help your body maintain balance. They are found in your blood, urine, and tissues. They are also found in many of the foods you eat every day. If you have a balanced diet, you probably consume enough electrolytes to sustain normal bodily function. But for individuals who are deficient in any of the major electrolytes—sodium, chloride, potassium, magnesium, phosphate, and calcium—electrolyte replenishment may be necessary.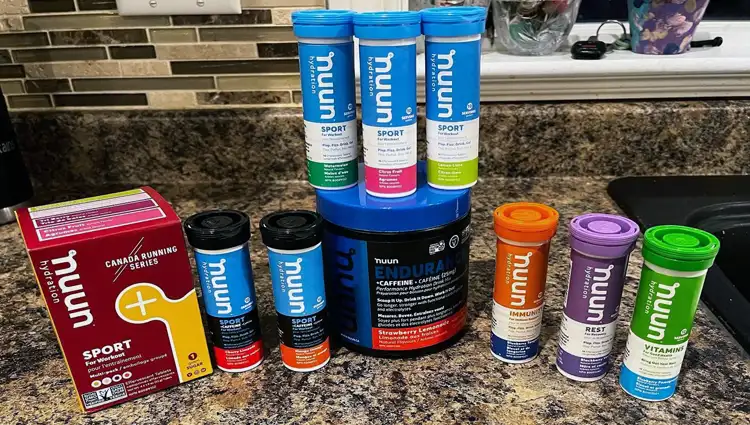 Electrolyte deficiency can be caused by many factors including:
Excessive physical activity such as exercise or sports
Excessive sweating due to hot climates or illness
Dehydration due to vomiting or diarrhea
Alcohol abuse or other illicit drug use that causes vomiting or diarrhea
If you're a person who works out, enjoys the outdoors, or is just generally active, chances are you've had an experience of dehydration at least once in your life. The symptoms are all too familiar: fatigue, lethargy, muscle weakness and cramps, nausea… and that's all before you become so dehydrated that things get serious.
Thankfully, there's a super-easy way to stay hydrated even if you're on the go or find it hard to drink enough water: electrolyte drinks. These are beverages that contain salts and minerals that help your body absorb water quickly and evenly throughout the day.
Liquid I.V. is one of the top contenders when it comes to easy and fast-acting hydration. This product uses Cell Transport Technology (CTT), which is a blend of natural ingredients that helps transport fluids and water-soluble nutrients directly into the bloodstream. The CTT formula is designed to increase hydration by up to three times faster than plain water alone, and it also contains no artificial flavors or colors.
But what if you want something else? Maybe a product with a few more nutrients? Or a different taste? That's why we've rounded up the 12 best alternatives to the Liquid I.V. hydration multiplier.
Check them out!
1. Pedialyte Powder Packs
Pedialyte Powder Packs are portable, easy-to-use packets that will help you replenish lost fluids and electrolytes more quickly than water alone. They're kid-friendly, so they're great if your little ones are feeling under the weather, and they're also a tasty option for adults who want to recover after a night of a few too many drinks. They come in a variety of flavors including fruit punch, grape, cherry, apple, berry frost, tropical punch, strawberry freeze, lemon-lime, and orange freeze.
The directions for use are simple: Mix one powder pack with 16 ounces of water (a little over two cups), stir until fully dissolved, and drink! You can store the powdered packs in the refrigerator for 24 hours and make them up anytime you need to.
2. Gatorade Thirst Quencher Powder
The second one on our list is Gatorade Thirst Quencher Powder because it is a hydration sports drink mix that contains essential electrolytes to help you rehydrate fast. It is used by some of the world's best athletes during practice and in games. The mix helps you maintain your energy level and boost your performance. The product also enhances your muscle function and keeps you performing at your absolute best.
It's available in several different flavors, so you can choose the taste you like best. It also comes in two convenient sizes, so you can either purchase the small packets or a larger container. If you buy a large container, it should last you for quite a long time as it includes 94 servings per container. The powder formula makes it convenient to carry around and easy to mix with water.
3. Nuun Hydration
Third on our list is Nuun hydration, which boosts your energy and helps with hydration. It's just as effective as Liquid I.V. The product comes in different flavors and varieties to please everyone's needs. The company provides the product in tablet form for easier mixing. This tablet can be added to your water to help treat cramps and muscle fatigue after an intense workout, or if you are suffering from dehydration. It's also gluten-free, dairy-free, soy-free, and vegan friendly, so it's perfect for everyone!
The suggested use is to drink one tablet in 16 oz of water and wait until it dissolves completely. It's made with no sugar or artificial sweeteners, it boosts your energy levels, and it makes you feel refreshed.
4. DripDrop
DripDrop was developed by Dr. Eduardo Dolhun in an effort to combat severe dehydration across the globe. The formula has helped countless people overcome dehydration from illness, endurance sports, and heat exposure in over 100 countries worldwide.
It is a powdered hydration drink mix similar to Liquid I.V. that comes in individual packets of powder for easy mixing. Drip Drop offers the same 3-4 times faster hydration rate as Liquid I.V., and you can use it as often as you need to when you are feeling dehydrated or have already become dehydrated.
The single-serving size packs are perfect for on-the-go use, so they're an excellent choice to stash in your gym bag or keep in your purse.
DripDrop is great for people who are sick with an illness that makes them vomit or have diarrhea, athletes who need to stay hydrated during exercise, and anyone who just needs a little extra pick-me-up after a night out on the town.
5. Hydrant
Hydrant is a hydration powder that is made from real fruit juice and contains no artificial sweeteners, synthetic colors or dyes, or stevia. It has a high and balanced electrolyte content, which means there's less chance you'll get the dreaded upset stomach that can come with drinking too much liquid too quickly, as well as rapid absorption, meaning it's quickly absorbed into your bloodstream—just like you want it to be. It also has a low osmolality, which means it only has a small amount of electrolytes and nutrients per unit of fluid—any more than that can cause your body to reject the drink altogether.
The individual packets are small, so you can easily slip them into your purse or gym bag without taking up too much space. They sell their mix in 12-packs of single-serve packets and offer a wide range of flavors including fruit punch, grapefruit, lime, blood orange, peach iced tea, raspberry iced tea, orange mango, watermelonade, and more. Their mix is also made with natural ingredients and does not contain any artificial flavors or sweeteners.
6. LMNT
For those of you who are following a keto, low-carb, or paleo diet, you know that it can be hard to find electrolyte supplements that fit your nutritional requirements.
That's why we love LMNT, a delicious electrolyte drink mix that makes it easy to keep your diet on track. LMNT gives you more electrolytes in the perfect ratio. LMNT gives you 1,000 mg of sodium in the perfect balance with 200 mg of potassium and 60 mg of magnesium. And best of all? It's all for only 10 calories per packet. That's right—no sugar when you're on a diet!
We love how simple LMNT makes it to get the nutrition your body needs to stay hydrated and energized on the go. Just add one packet to 16 oz of water and enjoy!
It provides you with a host of benefits including helping with muscle cramps, hydration, and recovery. It helps people who are sick feel better fast by rehydrating them quickly—even if they can't stop vomiting due to dehydration from illness or over-exertion.
Available in many flavors, including orange salt, watermelon salt, raspberry salt, unflavored, mango chili, chocolate salt, and more.
7. Propel Powder Pack
Staying hydrated is hard work—especially when you're out for a run or trying to make it through your workday. Thankfully, Propel has made it easier to stay hydrated with Propel Powder Packs.
You'll feel refreshed and revitalized, ready to tackle whatever fitness routine you've got in store for yourself today!
If you like to get out there and sweat it out, Propel Powder can help you recharge your system with electrolytes that will keep you going strong so that you can crush the rest of your workouts this week or month.
Propel Powder Packs have just the right amount of potassium to help you replenish what you lose when you do intense cardio. That way, you can keep your potassium levels from bottoming out.
Propel Powder Packs come in a variety of flavors: Berry, Lemon, Grape, Raspberry Lemonade, Kiwi Strawberry, and Watermelon. You can also get them in value packs of 3 or 4 flavors!
8. Ultima Replenisher
Ultima Replenisher is a great alternative to Liquid I.V. This product gives you clean, balanced hydration with six electrolytes and supporting minerals that keep you hydrated for 6-8 hours. Not only does Ultima Replenisher keep you hydrated—in just minutes it replenishes your electrolytes so you can keep going!
You get all the benefits of a great electrolyte drink with none of the harmful additives or extra calories. There's also no added sugar, so you can have as much as you want without worrying about those pesky carbs or cavities.
The powder dissolves in just a few minutes, and it's great for keto and athletes. The best part? It tastes just like popular sports drinks, without all the chemicals and sugar.
Ultima Replenisher comes in a variety of flavors, including lemonade, raspberry, grape, cherry pomegranate, watermelon, pink lemonade, blue raspberry, and orange.
9. Hydralyte
Hydralyte was designed to keep you hydrated and active. When you're dehydrated, it can be hard to think clearly, and it makes you feel sluggish. In extreme cases, dehydration can even cause dizziness. Hydralyte's formula is doctor-approved, and it includes 4x electrolytes as well as 75% less sugar than sports drinks.
With Hydralyte, you can get back to feeling like yourself again—fast. It's trusted by health professionals and athletes around the world for its fast rehydration formula, and it's also great for families who are looking for a convenient way to stay hydrated.
Hydralyte was designed by doctors who know how serious dehydration can be. That's why they created this formula—to make sure that everyone has access to a product that helps them stay hydrated and active throughout their day.
Hydralyte comes in a variety of flavors: strawberry lemonade, orange, lemonade, citrus burst, berry blast, and lemon-lime.
10. Zipfizz
Zipfizz is a unique energy drink powder that can be mixed with water and delivers up to four to six hours of focus and energy without the sugar crash of most energy drinks. It's an easy, convenient way to get all the benefits of an energy drink without having to consume a whole lot of sugar.
This blend instantly quenches your thirst while it soothes your throat (as well as your stomach!), delivering everything you need in one tasty dose
It also features electrolytes and herbs that help rehydrate muscles after they've been knocked out by a hard workout.
Zipfizz has 24 vitamins and minerals that you need to stay healthy. It contains electrolytes like sodium and potassium that help your body function properly and keeps it from getting dehydrated. It also has herbs from all over the world that help your body heal itself when something goes wrong. And oh yeah, there are no preservatives or artificial flavors in Zipfizz either—so there isn't a chance of any weird aftertaste or bad taste or anything like that.
Zipfizz is clear and comes in a variety of flavors, such as black cherry, grape, lemon iced tea, limon, blueberry raspberry, orange cream, orange soda, citrus, fruit punch, pina colada, peach mango, pink grapefruit, and pink lemonade.
In brief…
Liquid I.V. remains one of the leading brands when it comes to easy and fast-acting hydration—but there are also other options out there, from powders to tablets to supplements. The good news is that these products work just as well as Liquid I.V., if not better, and you'll find a lot of variety in each category. Just be sure you know your stopping points because whether you get it in tablet, powder, or drink form, you want your supplement to hit the spot.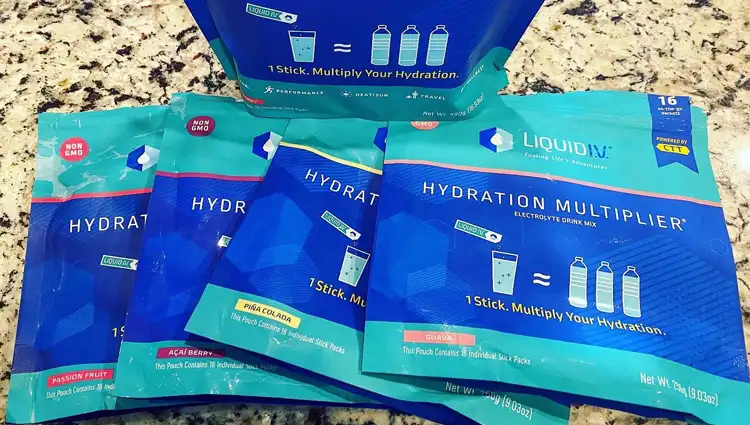 Many people do not drink enough fluids throughout the day, resulting in dehydration. In reality, it only takes about a 2-3% decrease in your body's water levels to become dehydrated. You need to drink a minimum of 8 glasses of water per day (according to the Mayo Clinic). You should also eat potassium-filled fruits, vegetables, and unsalted nuts. In order to combat dehydration and its effects on your health, you have to make sure you remain hydrated.
There are in fact quite a few options out there, and one is bound to fit your needs. No matter who you are or what kind of lifestyle you lead, I'm sure that at least a few of the brands listed above will be able to help you in your quest to find an effective, easy-to-take supplement. And if all else fails or you just want to try Liquid I.V., that's cool too. We won't judge!